Kerala's Traditional Puttu – A few interesting facts to share
Hot Puttu – placed in front of you in a banana leaf aside pappad and boiled green gram (payar & pappad), its aroma giving a nostalgic effect. Then someone places a bowl of Kadala curry and a glass of hot tea with or without milk. If you are a Malayali, you will finish it off within a few minutes. Yes! It's the magic of Puttu, which is called as steam cake by westerners. Puttu has been mesmerizing its 'fans' for the past three or four centuries.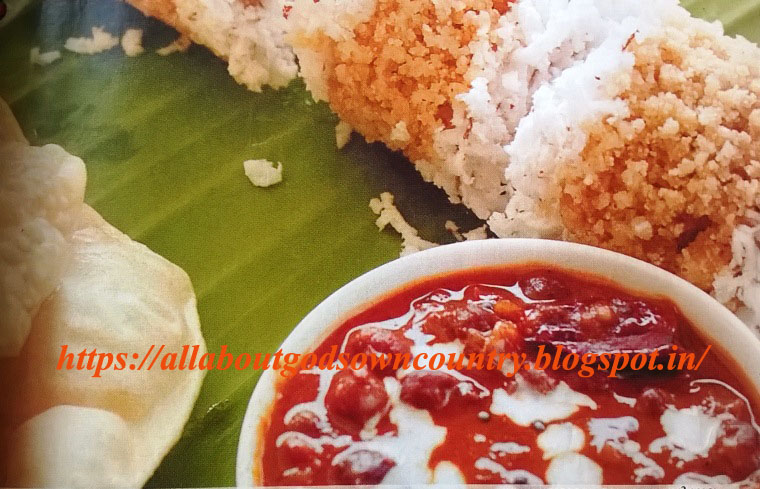 Puttu or steamed rice cake is a typical Kerala dish, often served across south India and Sri Lanka. In Sri Lanka it is also known as Pittu. Though a typical breakfast dish for all south Indian states, it's most popular in Kerala, and forms an integral part of cultural and traditional Kerala. It forms a perfect combo with several vegetarian and non-vegetarian side dishes, apart from bananas.
Have you ever thought why Puttu – served in small roadside hotels (Thattukada) and Kerala homes became an integral part of Kerala breakfast dishes? Is it because it's the easiest breakfast dish to make, and along with a bunch of banana gives an excellent and nutritious dish with almost zero fat content? Why several nostalgic moments of rural Kerala are associated with it? When was Puttu first made; when it turned the most popular breakfast or dinner dish of Kerala? Though there are no solid proofs behind its origin, and when it was first made, there are many popular legends associated with it.
Did Puttu receive its name from an Englishman?
Many believe that it was an Englishman who gave the name 'puttu' to this dish which is made of layers of rice and coconut. If so, it is the first Kerala dish to be named by British. The legend says, as rice powder and scrapped coconut are 'put' in an alternate pattern to make this tasty dish, the British man called this dish – Puttu.
The story might be true or just a myth. But we can't deny the fact that it was a favourite dish of British who well-promoted it well also, and for the same reason this delicious and nutritious dish had to stay away from many Brahmin/Namboodiri kitchens one century ago, as they hated British most! Tapioca was another dish which was regarded as taboo to many Brahmin kitchens a century back. Quite interesting! Through this article I would like to share a few more such legends, interesting stories and literary works associated with Puttu.
Where did Puttu take birth from?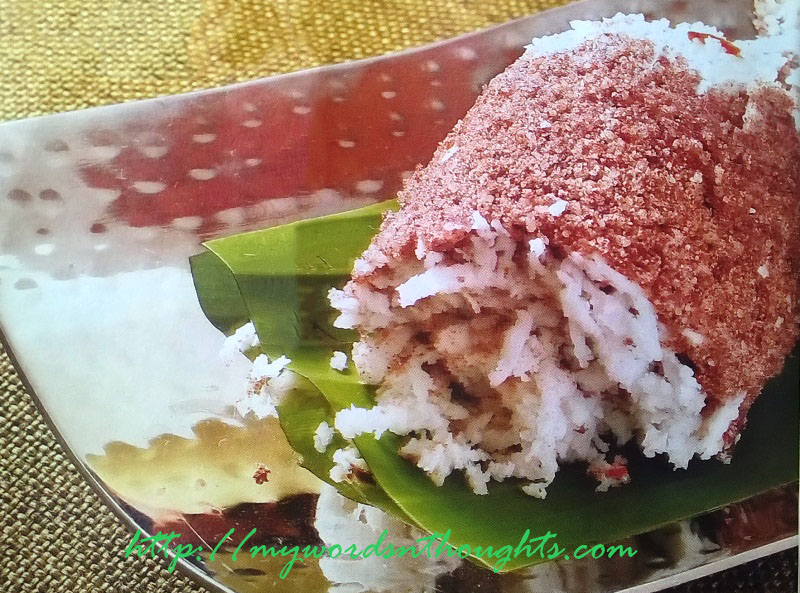 There is no clear cut evidence that Puttu originated in Kerala. Like several traditional dishes of Tamil Nadu which were warmly welcomed by Kerala people, chances do exist that Puttu too originated in Tamil Nadu. Apart from Tamil Nadu, Tamil influential regions such as Pondicherry and Sri Lanka too have steam cake in their diet. That's one reason why it is assumed so.
There are claims that Puttu existed in Tamil Nadu since 16th century. It's mentioned in Thiruvilayadal Purana authored by Paranjoti Munivar which tells the story of Siva Perumal of famous Madurai Meenakshi temple. The story goes like this. There was an old woman who earned her living by selling Puttu in the temple premises. She was a great devotee and to help her Lord Ganesha disguised as a small child approached her. When the poor woman told that she has nothing to offer for his helps, he asked her to give broken puttu in return for which she agreed.
The story may be true or just folklore. But still now one of the major offerings at Madurai Ganapathi temple is broken puttu (steam cake).
How many types of Puttu (steam cake) are available?
Infinite! That's the answer. If dosa can be made in 100 varieties, steam cake can be made in 300 or 400 varieties. Apart from normal puttu using rice, ragi or wheat, it can be also layered and made in amazing combinations. Meat Putt (Erachi Puttu), Chicken Keema Putt, Prawns Putt, Egg Putt, Fish Puttu, Colour Puttu, Colourless Puttu, Rainbow Puttu, Coconut Putt, Raisins Putt, Dasapushpa Putt, Biryani Puttu, Ayurveda Puttu, Chiratta Putt (using coconut shell), Maize Puttu, Tomato Puttu, Carrot Puttu, Mixed vegetable Puttu, Mixed Fruits Puttu, Pine Apple Puttu, Roasted Banana Puttu and many more. Oats Puttu and Spanish Puttu are some of the innovative ideas. It can be served with a wide variety of side dishes, which makes it so special.
Very often 'Puttu festival' is organized as a part of cultural events where hundreds of varieties of puttu will be served. Malayalam film star Dileep and comedy star Nadirshah together own a famous restaurant – Dhe Puttu at Edapally, Kochi where different varieties of this dish are available. It's one of the busiest restaurants of the city and the innovative idea to make different varieties of puttu has turned to be a big success.
20 years ago the duo has entertained a lot the Malayalis through their popular comedy cassette released during an Onam season – Onathinu Puttu Kachavadam (Puttu Sale during Onam season), which gave them a big break to entertainment world. It's really an amazing fact that the duo 'really' started 'Puttu' business years later. Similar restaurants have been opened across the state doing experiments with this traditional dish item of Kerala.
Chiratta Puttu is most popular among its traditional variants
Now Chiratta Puttu maker of steal or aluminum is available. But puttu made used coconut shells owns a distinct taste. Chiratta means Coconut shell in Malayalam, and as coconut is an integral part of Kerala culture, it is closely related to many of Kerala's traditional recipes too. Instead of bamboo or steel puttu maker, rice flour and scrapped coconut are filled in coconut shells and steam cook as usual. One of the eyes of the shell should be open, so that steam can escape out. Banana leaf is put on the top of the puttu, which gives a great flavour to puttu once made. Very often people clean the coconut shell, removing the husk completely and make it well polished to make steam cake.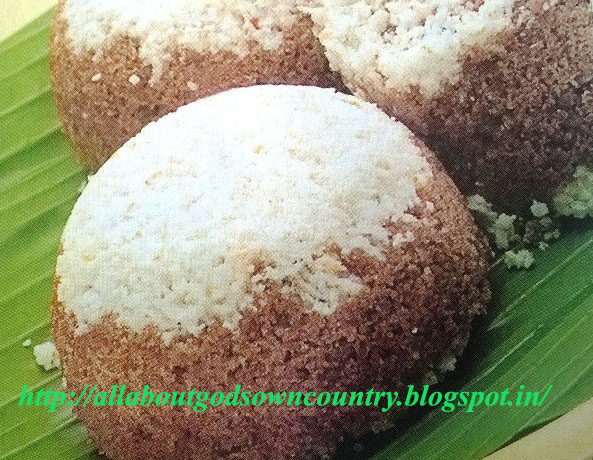 Chiratta Puttu is a famous traditional dish, and also owns several cultural links. Certain communities prepare this dish as a part of their tradition also. Like other varieties of puttu, chiratta puttu too should be served hot to get the real taste. Puttu tastes best when it is super hot!
Puttu in the book of world records
In 2006 a similar Puttu festival organized by students of the Oriental school of Hotel Management in Kaipatta, Wayanad, the land known for the famous Puttu made in bamboo stem. They made a huge puttu of 18 feet height. They specially designed a pot for its preparation, and also the steam cake maker using aluminum as a part of their preparation. They used 26 kg puttu powder and 20 coconuts for this purpose consuming 90 minutes and made the event a grand success. They also managed to enter Limca Book of Records.
Popular culture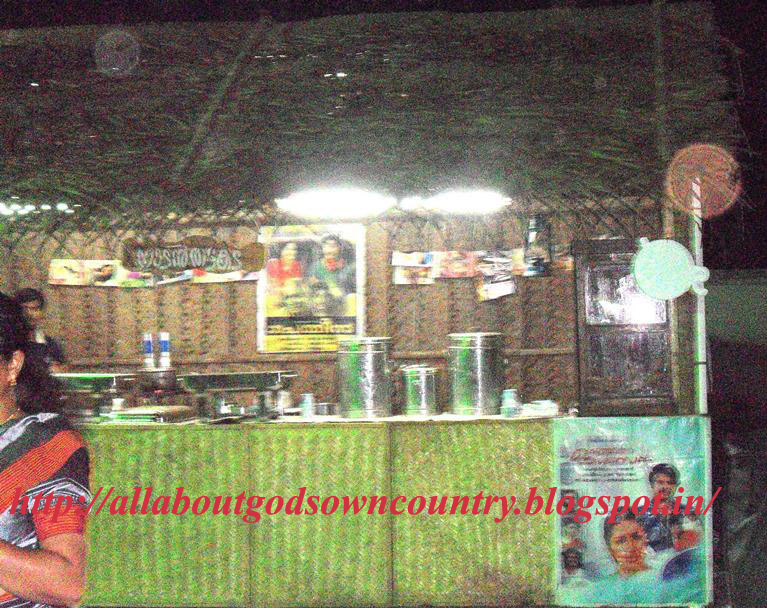 Puttu – this typical Kerala dish has been a subject of several poems and other literary works of Malayalam. It has been a part of several iconic movies of Malayalam cinema which depicts rural culture onscreen. The morning sight of a Kerala tea shop or small hotel (Thattukada) where puttu is served with banana, green gram and pappadam or kadala curry definitely gives a nostalgic feeling for all Malayalis, definitely! Open restaurants at rural areas, with hanging banana bunches, where tea shop owner makes tea, talking to his customers is worth a watch! Though such innocent sights have disappeared from towns and cities, still such tea shops are well set in rural areas where puttu or dosa is served in cheap costs.
Patturumees of Soorya Manasam is one among the best 10 roles of megastar Mammootty portrayed onscreen, and the fondness of this character to Puttu is quite famous. Often compared Puttu-making to the Engineering of a concrete building or James Watt's steam engine, Puttu has now earned a position in cuisines served across the world, not only just among Malayalis. As this dish is steam cooked without adding any oil, it's highly nutritious in content and a healthy breakfast. It is very tasty and can be served by diabetic patients too.
In writer John Paul's words, Puttu exists in a tunnel fully wound with a piece of rope. He has also mentioned about a dish he tasted – a combo dish of Puttu and Pathiri, another traditional dish of Kerala. Author Jayamohan in one of his works have mentioned about the type of coconut to be used for different Kerala dishes.
Kuthira Biryani of S. K. Pottakad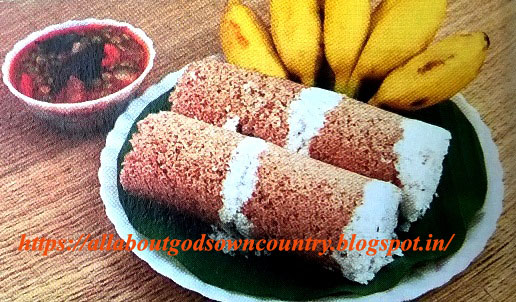 What is this Kuthira Biryani? Is it a dish served to horse? Or is it any variety of Biryani? Not at all! It looks weird if one say it's a serving of steam cake aside Kadala Curry (Chickpea Curry) and pappad (pappadam). Kuthira Biryani is not a combo served in any Kerala hotels, but a dish christened by famous writer S' K. Pottakad in his award winning travelogue – Oru Desathinte Katha. Though there is a 'horse' in this dish's name, it's actually a 'Puttu' dish.
Puttu is a healthy breakfast
It's known as steam cake in other countries. It's one of the healthy breakfast dishes served across the world. As it is steam cooked it is tasty and nutritious, and as no oil is needed, its health benefits are many.
Most recently in June 2016 the world famous chefs, George Calombaris, Gary Mehigan and Matt Preston who judge the popular cookery show Master Chef Australia reached Bangalore as a part of a food festival. When Puttu was presented before them as typical Kerala breakfast dish, they were very much impressed before its taste. Later they left India with a promise that they would promote this tasty dish across the world.
How bamboo puttu makers are prepared?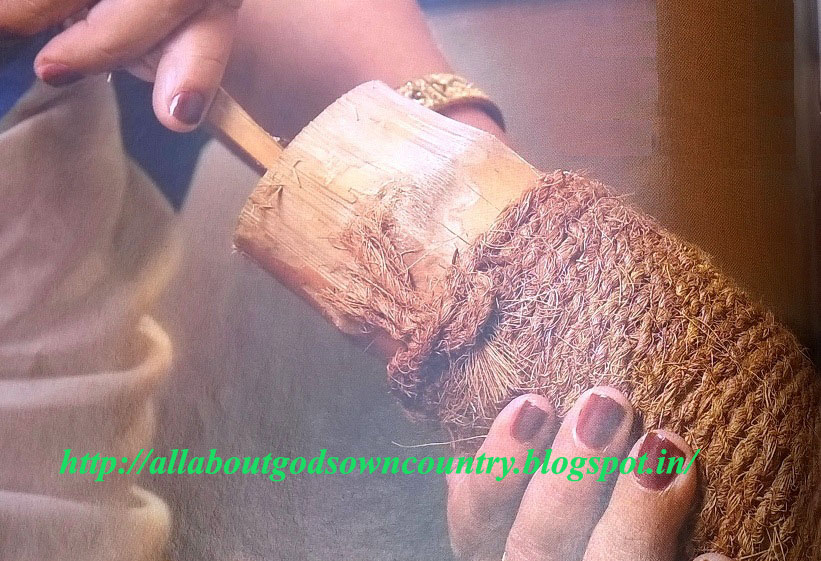 Bamboo stem without any bends are chosen to make Puttu makers. Green bamboo is dried completely by placing under sun, and the rice inside it is fully removed. Then wind it complete using thin rope made from coconut husk which prevents steam from escaping through the bamboo stem while cooking. It also prevents overheat of puttu maker during preparation. During old days, earthen pots were used to boil water, and the bamboo puttu maker is placed in it after filling flour and coconut. During old days, coconut shell is broken, rubbed to polish it well and holes are made in it which serves the purpose of 'chillu' – through which steam enters the steam maker from boiling water pot to cook puttu.
How delicious puttu is made in a traditional way?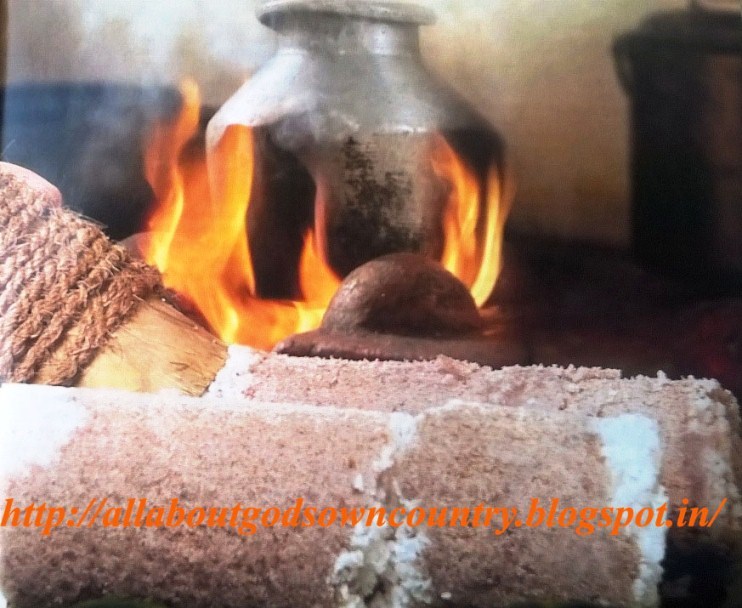 Puttu tastes best if the flour is filled in bamboo and steam cake. For the same reason, it can be compared to a beautiful tune that originates from bamboo flute, so pure and pleasant. Now rarely we do see 'bamboo puttukutti' and we are used to steam or aluminum puttukutti. I often make it easy by simply cooking using a normal steam maker, instead of puttukutti.
If made in a traditional way, putt maker is made from bamboo's stem, and winding it with rope made from coconut husk. Like a test tube baby, born inside a bamboo stem, it tastes best if rice flour is made using traditional ural (a stone grinding machine), which is not a part of present day kitchen. While finely powdered rice is used to make Idiyappam, Kozhukkatta etc, coarsely grind rice flour is perfect for making puttu.
Flour prepared for puttu should be without any clots to get the perfect and softy putt. If Unakkalari – a type of rice is used to prepare puttu in bamboo puttu maker, after preparing flour using ural, it gives the 'original' and best taste. There is no better substitute for this puttu, I am sure enough. Coconut shell with an eye open is placed above the steam cake maker. When steam comes out of the shell, your putt is well-cooked and ready to serve.
Traditional way of making puttu using bamboo is most widely seen in Wyanad. For the same reason there is a claim that puttu was born in this region of Malabar. In Wyanad, bamboo rice (mulayari) is frequently used to make this popular Kerala dish. Instead of puttu flour, the people fill bamboo rice along with scrapped coconut to make tasty puttu. As it is cooked in steam, it's very nutritious. Putting flour and scrapped coconut as 2 or 3 layers is the distinct way of making puttu.
Puttu tastes best if flour is prepared using coconut milk or water, instead of plain water, and if you have pre-decided to serve it with bananas, you can add a teaspoon of sugar to the flour also to enhance the sweetness. Among different varieties available, coconut with extra sweetness is best for making puttu. When steam comes from the steam maker, it can be assumed that flour is cooked well and the delicious item is born. Now take a stick and push puttu out of the puttu maker, and serve hot.
So, why are you waiting for? Just grab a putt maker from a Kerala store, and make this instant dish as breakfast or supper. You can use banana, chickpeas curry, potato curry, egg curry, vegetable stoo or any meat curries as its combo.
Traditional way of putt making is now a myth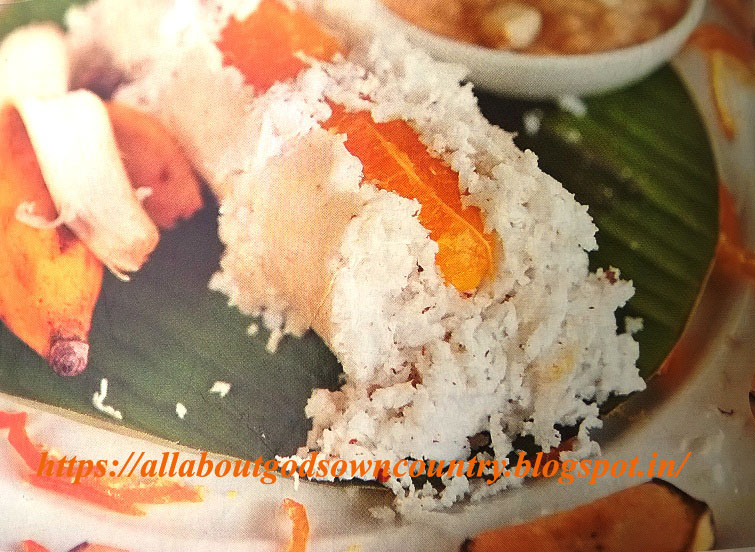 Now prepared using aluminum or steel maker, putt is definitely nutritious. But it can never replace the putt prepared using earthen pots and bamboo, where coconut shells are used as stoppers at both the ends. It is sure, if made traditional way it gives 100 times extra taste. But it is time consuming also. So let us compensate with a steel puttu maker as there is no second alternative.
Courtesy: Vanitha Magazine August 15-31 2016
Read a few steam cake recipes originally published in Vanitha Magazine. Click on the images in the gallery to read