Kalloor Oommen Philipose – The first news publisher & editor of Malayalam language
Around 1860, a printing press was installed at Kochi by British, Paul Melvin Vocal along with a few fellow people, and published an English newspaper 'Western Star' in 1864. Very soon, a Malayalam magazine was also started from the same press, and given the name – Paschima Tharaka. Kalloor Oommen Philipose, a teacher then was appointed as the publisher and editor of this Malayalam daily. Thus Malayalam got its first news editor. He joined the press on 1865 March 24, and Paschima Tharaka started its publishing as a Malayalam magazine. Before that the press published a few English magazines only, published by Europeans, mostly with the sole aim of preaching religions.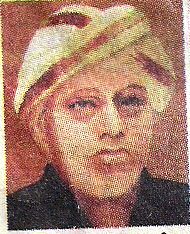 Paschima Tharaka – The first Malayalam magazine
Kerala's first magazine, Paschima Tharaka fulfilled all the qualities of a magazine, and carried forward media responsibility in all means. Kerala Pathaka – A newspaper started publishing from Kochi in 1870. Later Paschima Tharaka merged with Kerala Pathaka and started publishing in the name – Paschima Tharaka- Kerala Pathaka. Later the magazine's name was reverted to Paschima Tharaka, this publication had several brilliant writers associated with it.
Kalloor Oommen Philipose, who served as editor wrote columns about corruption of the officials of the state, and they started fearing him. The columns received a warm welcome from readers and very soon, the publication also turned a major success. Philipose even dared to send letters to Diwan, and it was backed strongly by the huge success of his publication. He became popular among masses too, and they respected him for his fearless attitude.
He managed to tie his readers to his columns, through the way he presented his articles. Apart from giving a humor touch to his writings, he also drew excellent comparisons, which was loved by readers a lot. The simple usage of Malayalam through his publications also got appreciated. He gave preference to reviews of books as well, and a column was exclusively reserved for this purpose in Paschima Tharaka. A linguistic, he had a deep knowledge of Malayalam, English and many other languages, and he loved Malayalam truly. A scholar, playwright and talented writer by all means, Kalloor Oommen Philipose is a true inspiration to many writers and reporters to follow. Kallooppara was his hometown, but grew up in Olassa.
Read a few more articles on some of the stalwarts of Malayalam literature belonging to different eras. Click on the images in the gallery to read
(Visited 2,139 times, 1 visits today)