Ghulam Muhammad Zaz – The last Santoor maker of Kashmir
Ghulam Muhammad Zaz is an artist from Kashmir, best known for making the musical instrument Santoor. He also makes other hand-crafting traditional musical instruments like Rabab and Sarangi since 1953. He is known to be the last Santoor maker of Kashmir. On the eve of 74th Republic day celebrations of the country, he was honoured with the fourth highest civilian award – Padma Shri by government of India. He was 82 years old when the award was declared.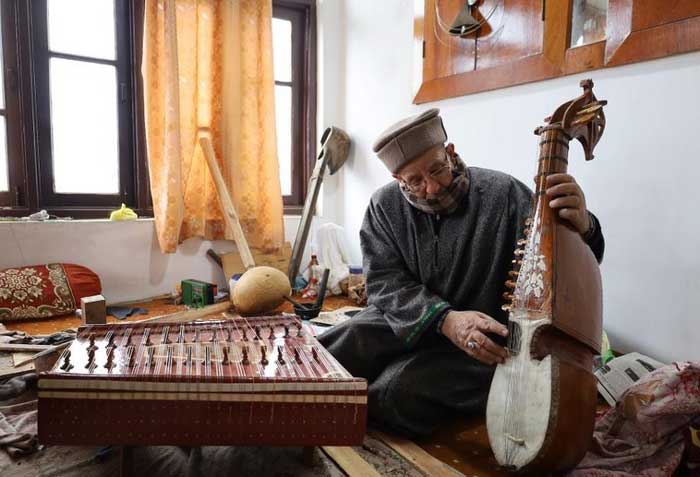 He is carrying forward the legacy of his ancestors
Ghulam Muhammad Zaz hails from Zaina Kadal area, on the bank of river Jhelum in Srinagar. He was born in year 1941 into a family of craftsmen who make and repair traditional musical instruments. At present he is the last person in Kashmir to know the craft of making and repairing traditional musical instruments, nicknamed as 'The last Santoor maker of Kashmir'.
He started his professional journey as an apprentice in 1953
He learnt the art from his father and grandfather at the age of 20. He belongs to the 7th generation of the family, associated with the making and repairing of string instruments, and unfortunately the last one in the valley who knows how to make or repair traditional musical instruments. The musical instruments made by the Zaz family are long-lasting, says one shop owner who has been selling the instruments made by Zaz family for last 3 decades. Because of his increasing age, he has reduced the making of instruments.
Many of the musical instruments do not exist anymore
He never knew any of his family members doing any other work, except craft. Initially he used to accompany his grandfather with his work. He took it as a full-time profession in his 20s. He still owns the same home and workspace with little renovation, which gave the family name, fame, money and respect for many generations. His family had learnt the art of making and repairing Kashmir's musical instruments from Santoor to Sarangi to Taaoos to Saaz-e-Kashmiri to Dilruba to Saitaar, many of which are now extinct.
He was conferred with Padma Shri by government of India in 2023, for his contributions towards art. Though he is happy to accept the award, he is equally sad also as none of his ancestors have been honoured before. He feels, it should have been given long ago.
Ghulam Muhammad Zaz – Some interesting and less-known facts
1. Known for the durability of musical instruments, one instrumentalist is still using a 35-year-old Santoor made by Ghulam Mohammad Zaz.
2. His family has made santoor to musical maestros like Pandit Shiv Kumar Sharma and Pandit Bhajan Sopori. Music maestros like Shiv Kumar and Bhajan Rustum Sopori have helped him to generate a huge customer base in America, London and Germany.
3. He often customizes the musical instrument for foreigners making some modifications, according to their need.
4. Many years ago, they used to make some of the instruments from antlers of a Stag. It's banned now. Even if it has not been banned, it would have been highly priced.
5. The craftsman has three daughters and no sons. None among his cousins, siblings, or their children learned this art and he believes it was only meant for him. He says, the end of his family's legacy was decided long ago by Peers and Fakirs, who told Zaz's ancestors that only seven generations would learn the craft.
6. To complete one musical instrument like a Santoor, he takes one full month of dedicated and exclusive work, and it may fetch him 20,000 rupees maximum. He has consciously taken the decision of not passing the legacy forward as it is not fetching him much. He doesn't want his family to suffer.
7. His workspace is a small confined room, on the second floor of the 300-year-old building, roughly spread across 80 square feet, with mud-plastered walls and half-broken windows. Even the staircase is so narrow that a single person can pass through.
8. During the second wave of the pandemic, he contracted the Covid-19 virus and was bedridden for nearly three months. After that he finds difficult to work.
(Visited 60 times, 1 visits today)