Gender Neutrality and Unisex Costumes trend in Fashion now
Gender Neutrality is the recent trend, and many costume specialists and designers across the world experiment with their ideas nowadays. Days have gone when skirts symbolized the costume for girls and trousers for boys. Now even village belles wear jeans and shirts in rural areas too. Now you can find a pair of jeans and shirts in the wardrobe of all ladies, belonging to all age groups.
Girls can wear any type of dress, and she can try men's wear too. But what about gents? Already there are only fewer options for males, and they can't experiment too much designs, patterns, colours and even accessories such as ornaments. They can't adopt women's wear too. But trends keep changing. We can see our rulers of ancient era with costumes very similar to salwars and churidars, though it's uncommon nowadays. But now there is no separate fashion quotient for men and women, and experiments are going on, breaking several myths and fashion practices which ruled fashion industry before.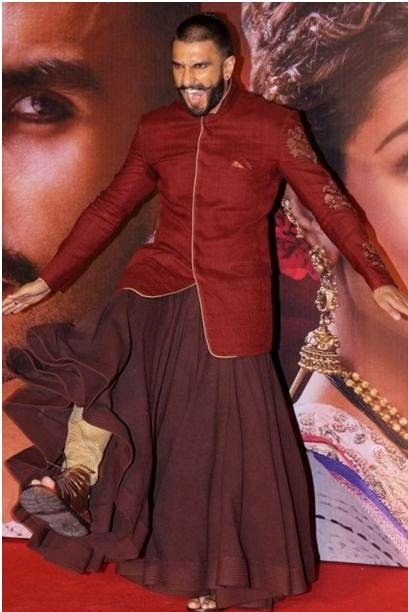 Ranveer Singh – the first one among Bollywood stars to promote the trend
Irrespective of gender, colours and cuts have become a part of trending designer party wears. In 2015 Gucci Collection, male and female models walked on ramp with same kind of costumes. Alexandro Micheal was the fashion designer behind this revamp idea, who brought similar renovated ideas to Bollywood too. Ranveer Singh walked on ramp wearing pleating skirt, and caught everyone's attraction. He was seen wearing nathni and skirt throughout Bajirao Mastani film promotions – the time when this trend just swayed in.
Finely blending culture and history, Alexandro created new variety designs and his idea of gender equality received a warm welcome from fashion world. It pointed to the great concept that masculine or feminine characteristics should never be measured on the criteria of costumes only. Very soon many designers followed his footsteps.
In child costumes, John Louis gave a new fashion statement in international fashion arena by erasing the border line between girl and boy costumes. In the recent times, almost all leading fashion brands have started designing gender and neutral wears too. Wild Fang belonging to street wear label is among those leading brands which brought innovative reforms in this trend. In the men's wear fashions of 2018 indicate that skirt is not a costume exclusively reserved for girls.
Gender, profession, status and desires – all these factors are well communicated through the costumes chosen. But latest trends suggest that it's time to cut off gender factor from the list. A form of self-expression, does costume need any sort of separation between the two?
Tips for wardrobe
1. Unisex dress are normally designed in big sizes, so that they can well fit male body. So, when ladies choose these kind of costumes, they need to choose comparatively smaller size and measurements of the same costumes.
2. For unisex shirts, buttons are stitched in the left side.
3. These costumes have loose fittings.
4. You can choose minimal accessories for unisex costumes.
5. Unisex pants are usually made using elastic fabric. If you are doubted with its size, you should wear it once and check the fittings before purchase.
6. Collar or neckline measurements can be different. Before you purchase, make sure that you are comfortable with the costume.
Image source: Indianexpress
Read a few more articles on costume trends and fashion. Here is the page link. Click on the images in the gallery to read.
(Visited 382 times, 1 visits today)