Fruit Pancake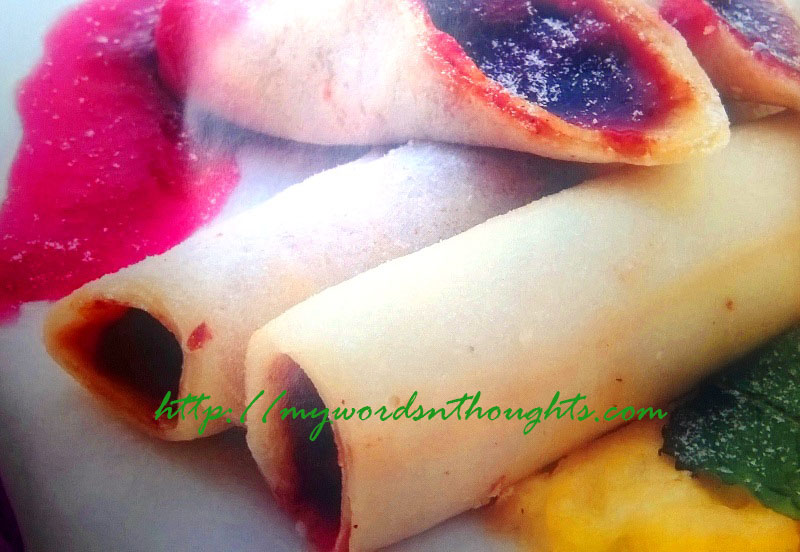 Ingredients for Fruit Pancake:
1. Wheat powder – 1 cup
Salt – As required
Egg – 1, beaten
Milk – 1.5 cups
Butter – 1 small spoon
Sugar – 2 small spoons
2. Butter – 1 big spoon
For Filling:
3. Pine apple finely chopped – ½ cup
Sugar – 1 big spoon
Water – ¼ cup
4. Mixed fruit jam – 3 big spoons
Water – ½ cup
5. Corn flour – 1 small spoon
6. Lemon juice – ½ small spoon
How to prepare Fruit Pancake?
1. Blend together ingredients no: 1 in a mixer to prepare the batter for pancake.
2. Heat a pan, apply a little butter and make thin dosas adding 1 big spoon batter.
3. To prepare the filling, mix together ingredients no: 3 and cook well.
4. When the contents cool, drain off excess water content.
5. Blend jam and water in mixer and transfer the contents to a pan.
6. Place the pan in flame.
7. Make a fine paste of corn flour adding water, add lemon juice to it and pour this mixture to the jam placed in flame.
8. Stir continuously.
9. When the contents thicken, add the cooked pine apple pieces to it and mix well.
10. When this mixture is well heated put the flame off. This is the filling used for pancake.
11. Place a little filling inside the pancakes, roll it and serve.
Source: Vanitha Magazine November 15-30, 2016
Also read a few more pancake and pan roll recipes. Here is the page link. Click on the images in the gallery to read.
(Visited 133 times, 1 visits today)