Apple Cinnamon Cake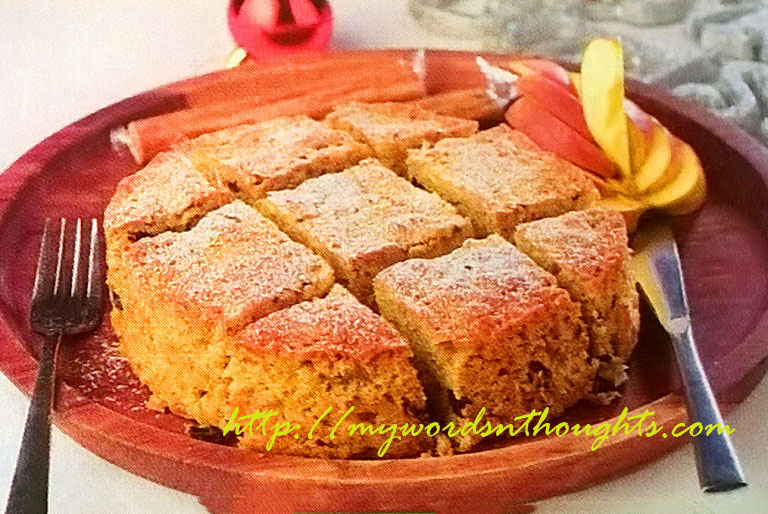 Ingredients for Apple Cinnamon Cake:
1. Maida – 2 cups
Cinnamon powder – 2.5 small spoons
Baking powder – 2.5 small spoons
2. Demerara sugar – 250 gm
Raisins – 50 gm
3. Butter melted – 125 gm
Eggs – 2, beaten
Milk – ¾ cup
4. Apple – ¼ kg (after removing skin and chopped fine)
5. Icing sugar – As required
How to prepare Apple Cinnamon Cake?
1. Preheat oven in 180 degree celsious.
2. Blend well ingredients no: 1 and add ingredients no: 2 to it. Mix the contents well.
3. Beat ingredients no: 3 and add to the above mixture.
4. Add apple pieces too and mix the contents well.
5. Take a round pan or square pan of 8-inch size and grease it.
6. Pour cake mixture to it and bake your cake in pre-heated oven for 45-50 minutes.
7. Once it's taken out, place it in wire rack.
8. Once the contents get cooled, sprinkle icing sugar.
Vanitha Magazine December 1-14, 2017
You can read a few more delicious cake and bake recipes. Here is the page link. Click on the images in the gallery to read.
(Visited 138 times, 1 visits today)