Ellarum Chollanu Song from Neela Kuyil – Lyrics in English with Translation
Song: Ellarum Chollanu from Neela Kuyil (1954)
Lyrics: P Bhaskaran
Music: K Raghavan
Playback: Janamma David
Filmed on: Miss Kumari, Sathyan
Ellarum Chollanu Song from Neela Kuyil – Lyrics in English with Translation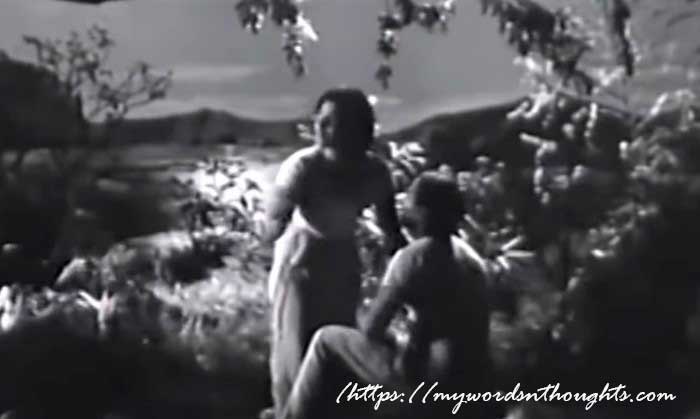 Ellaarum chollanu ellaarum chollanu
Kallanee nenchilennu…. karinkallaanu
Karinkallanu nenchilennu
Everyone is saying
Everyone is saying
Your heart carries stone
A big granite stone
Njnanonnu thottappol neela karimbinte
Thundaanu kandathayyaa
Chakkara thundaanu kandathayyaa
But when I touched it,
What I saw was
A slice of sugarcane
What I saw was
A sweet sugarcane slice
Nadaakae chollanu naattaarum chollanu
Kaadaanu karalilennu
Kodum kaadaanu
Kodum kaadaanu karalilennu
The whole world says,
Natives also say
Your heart is forest
A dense forest
Njaanannu keriyappo neela kuyilinte
Koodanu kandathayyaa
Kunji koodanu kandathayyaa
But when I entered
What I saw was a nest
Of a blue cuckoo,
A small nest is all I saw
Enthinnu nokkanu enthinnu nokanu
Chandiraa nee njangale
Ayyo chandiraa
Ayyo chandiraa nee njangale
Why are you looking?
Why are you looking at us?
Moon, O moon
Njaanilla meppott njaanilla meppott
Kalyaana chekkanund
Thaazhe kalyaana chekkanund
Am not coming up
Am not coming up
My groom is down here,
Groom is here
Chendonnu vaanganam mundu murikkanam
Poothaali kettidenam
Ponnin poothali
Ponnin poothali kettidenam
Have to buy bouquet
Cut *mundu
Have to tie a thali(mangalsutra),
A golden thali
Kaliyalla kilivaalan vettila thinnente
Chundonnu choppikkenam
Ente chundonu choppikenam
Not joking, I've to chew tender betel leaves,
& Redden my lips
I've to redden my lips.
Ennalum Eppozhum….
Yet always….
Ellaarum chollanu ellaarum chollanu
Kallanee nenchilennu…. karinkallaanu
Karinkallanu nenchilennu
Everyone say
Your heart carry stone
A big granite stone
End note:
*Mundu – *wedding dress. In this case, it's dhoti worn by village girls that time. Movie is the story of a dalit girl. It can be traditional set mundu also. It's possible, dhoti was available those days in bit pieces or cut in desirable measurements. That's why she is singing about 'cutting mundu'. There was a time when sari was a privilege to upper classes only. The movie was made in early 50s.
Neelakuyil (Blue Cuckoo, 1953) was a landmark film, the first Malayalam movie to win a National award. It was one among the first Malayalam films with a new script, rather than adaptions, & 2 of its songs became immensely popular.
If we look back till mid-1950s, no doubt, Ellarum Chollanu written in local dialect, not pure Malayalam, was the most popular romantic track. A folklore type classic, it depicts what the girl understood about her man & his real heart, though the world thinks otherwise.
Though the 1st line looks like 'Pathar Ke Sanam' it's most seen as a teasing or fun-filled song for lovers, and has been frequently used in trolls & mimes. Simple lines have deep metaphors like cuckoo nest (foretelling the story). But what I liked most is comparing his heart to sugarcane piece instead of sugar, raw, pure, hard but unadultered sweetness.
When she tells moon, she is not coming up, she is clearing her stand that she won't leave him even if heaven calls!! She also shares her marriage dreams with him, her preparations for intimacy saying, reddening her lips with betel leaf; Yes, everything as metaphors.
Rare are such songs, very simple lines, but can be interpreted in different ways, even based on our mood. Lyrical beauty, so subtle with deep meanings about promises of a bond.
(Visited 59 times, 1 visits today)