Easy Prawns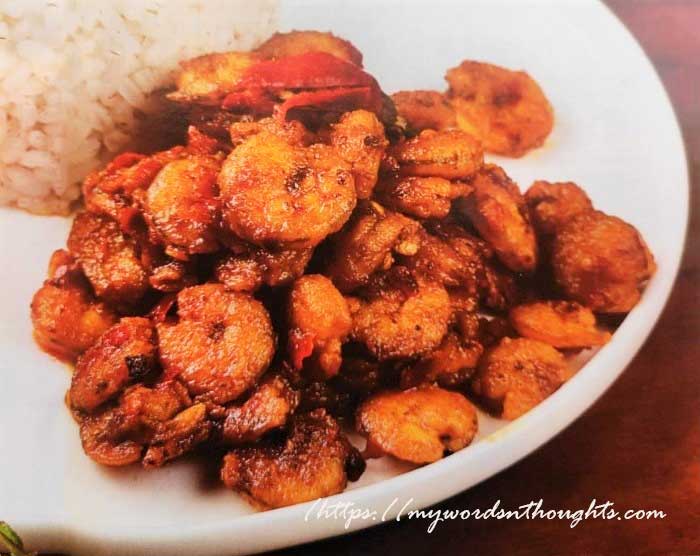 Ingredients for Easy Prawns:
1. Cleaned prawns – 200 gm
2. Water – 1 cup
Salt – For taste
3. Oil/Olive oil – 1.5 big spoons
4. Garlic crushed – 1 big spoon
Red chillies crushed – 1 big spoon
5. Butter – ½ big spoon
How to prepare Easy Prawns?
1. Add salt to 1 cup water and place in flame.
2. When it boils, add prawns to it and mix well.
3. When it boils well, remove prawns from water.
4. Boil the remaining water till it reduces to 2 big spoons.
5. Heat oil in a frying pan and fry prawns slightly.
6. In the remaining oil, add garlic and crushed chillies and sauté well.
7. Add prawns again, and mix the contents well.
8. Finally add the leftover water (in which prawns are cooked) and stir well.
9. When prawns get a good coat of gravy and it turns 'piralan' like, put off the flame.
Courtesy: Vanitha Magazine September 17-30, 2022
Note: You can bring twist to this easy prawn dish, by sauting some finely chopped onions, soon after sauting garlic and chillies. You can also add garam masala powder, chopped tomatoes etc in the last stage to give new flavours of prawns.
Also read a few more prawn side dish recipes. Click on the images in the gallery to read.
(Visited 9 times, 1 visits today)