Coconut Cake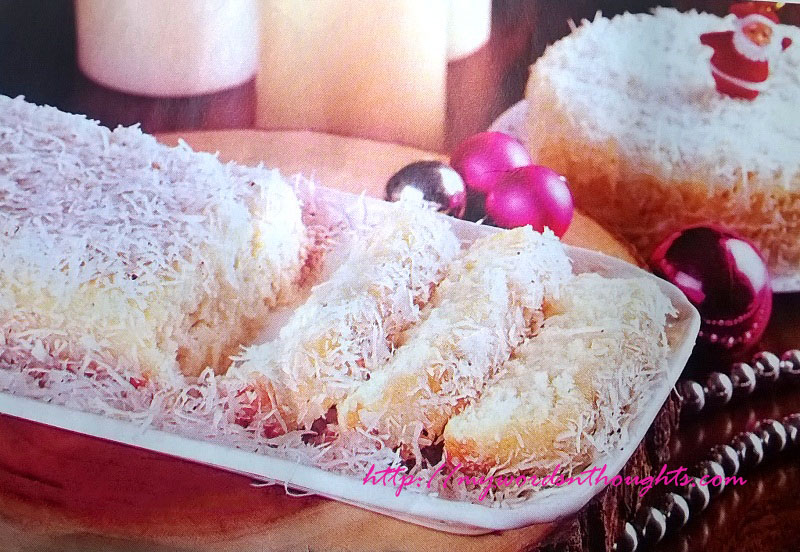 Ingredients for Coconut Cake:
1. Butter – 75 gm
Sugar – 1 cup
2. Yellow yolk – From 2 eggs
3. Vanilla-coconut essence – ½ small spoon
4. Maida – 1 ¼ cup
Baking powder – ½ big spoon
Salt – ¼ small spoon
5. Tinned coconut milk – 250 milli
6. White yolk – From 2 eggs
For sauce:
7. Coconut milk – 50 milli
Condensed milk – 50 milli
8. Desiccated coconut – To decorate
How to prepare Coconut Cake?
1. Pre-heat oven in 180 degree celsious.
2. Blend well sugar and butter.
3. Add white yolk one by one, and beat well.
4. After adding first egg, the mixture should be beaten well before adding the second one.
5. Add essence and beat again. Keep it aside.
6. Mix together ingredients no: 4 in a separate bowl.
7. Add 1/3rd of this mixture to butter mixture, and blend well, followed by half of coconut milk. Blend well.
8. Again add butter mixture, mix well and remaining coconut milk.
9. Mix the contents well and add the final 1/3rd and once again mix it well.
10. Beat white yolk till increases its volume, and slowly add to cake mixture and mix well.
11. Transfer the cake to a greased tin and place in pre-heated oven
12. Bake for 50-55 minutes till it's done.
13. Mix together ingredients no: 7 to prepare the sauce.
14. Once the cake is completely cooked, take it from oven and allow it to cool for 5 minutes.
15. Then take the cake from tin and prick here and there using a toothpick.
16. Add sauce on the top of the cake and refrigerate it to set.
17. You can decorate the cake with desiccated coconut before you serve.
Note: You can prepare desiccated coconut at home. Heat scrapped coconut in oven and bake for a few minutes till its water content is fully absorbed.
Vanitha Magazine December 1-14, 2017
You can read a few more delicious cake and bake recipes. Here is the page link. Click on the images in the gallery to read.
(Visited 173 times, 1 visits today)