Chithra Nair – Teacher Sumalatha of 'Nna Thaan Case Kodu' fame
Chithra Nair is an upcoming actress of Malayalam cinema. She shot to fame through her comic role as Teacher Sumalatha in the satire comedy, 'Nna Thaan Case Kodu' – one of the biggest hits of year 2022. Her pairing with Rajesh Madhavan was well received.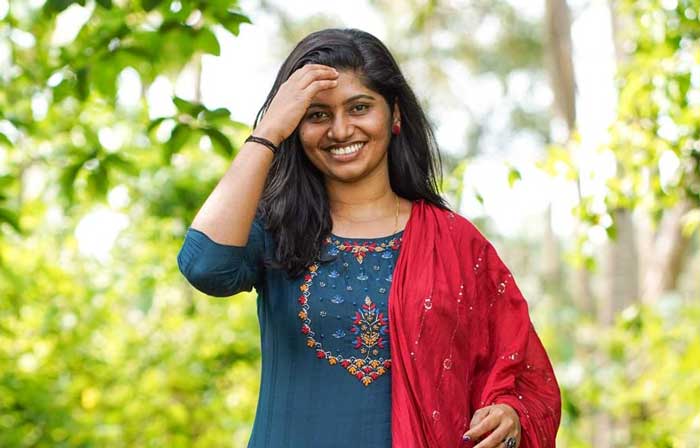 Chithra Nair's first screen appearance was for Mohanlal starrer 'Aarattu'
Chithra Nair hails from Kunnamkai of Kasaragod district. She completed TTC course and worked as a primary school teacher for 4 years before her film debut. She realized that her real passion is art and dance forms and left her job to pursue her dreams. Since young she had acting dreams too. For the past 10 years she is active in cultural events, giving live performance in dance forms. Yet she started formal learning only after her film debut. Along with her dance troupe, she has performed within and outside Kerala state.
She marked her screen debut with Aarattu in 2022, where she played the brief role of a panchayat member. Then she was seen as a reporter in 'Jana Gana Mana'. 'Nna Thaan Case Kodu' was the first movie which she had dialogues and she made it a memorable one too. Chithra is a member of a few art organizations. At the time of casting call of Nna Thaan Case Kodu, a few co-ordinators of these organizations let her know about it.
Aayiram Kannumaay Kaathirunnu Ninne Njan – One of the highlights of the film
When Chithra attended the first audition of 'Nna Thaan Case Kodu', she was asked to sing this nostalgic film song of 1980s. The song was later used in the film as a part of some of the comic romantic scenes where she shared screen space with Rajesh Madhavan, who also played an important role in the film. Chithra played an Anganwadi school teacher in the film, and in one film shot, she sings the song too.
At the time of audition, though she was familiar with the name Rajesh Madhavan, didn't know him earlier. She met him and came to know about him only during second audition. Then also, she was not aware of the fact that she is being paired with him for the film. Even during pre-shoot, she acted with another actor. Only during the real film shooting she came to know that he is 'Sumalatha's Sureshan'.
In May 2023, a video titled 'Save the date' was shared by Rajesh Madhavan through Facebook which went viral. As per buzz, they are getting married soon. Rajesh Madhavan is also a notable casting director in Malayalam cinema. Later it was revealed that it was a promotional video of the stars for their upcoming film, Aayiram Kannukal.
Chithra Nair – Some interesting and less-known facts
1. She portrayed an anganawadi teacher in 'Nna Thaan Case Kodu' teaching small kids. In real life too, she was a primary school teacher who left her career for dance & acting.
2. When she reached film sets for shooting, the person who she searched first was Kunchakko Boban. He was in front of her. But because of makeup of a mid-aged person, she was not able to identify him first.
3. During the last day of film shoot, though she didn't have any scenes, she went to meet everyone and had fun as well. As shooting location was near her home, all those 9 days she came for shooting from home. Though Kunchakko Boban had fever & was not feeling well, he joined the group singing and dancing.
4. As she was so stressed about her debut role, she went to watch the movie in theatre after 2 days only. But she received overwhelming response from audience, including her dialogue in court scene.