Chicken Thoran (Kozhi Thoran)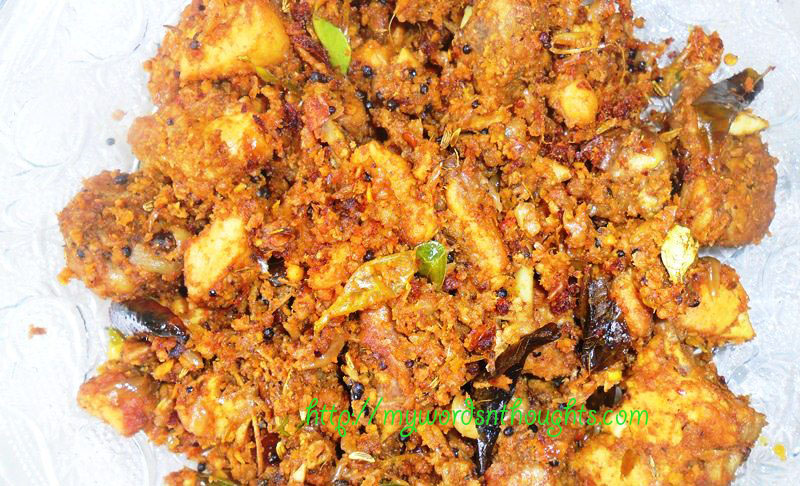 Ingredients for Chicken Thoran (Kozhi Thoran):
1. Chicken cut into small pieces – ½ kg
2. Coconut scrapped – ½
3. Red chilli powder – 2 small spoons
4. Turmeric powder – ¼ spoon
5. Ginger, garlic and green chillies crushed – ¼ cup
6. Onions big – 3, sliced thin lengthwise
7. Coconut oil – 2 spoons
Mustard and curry leaves – For seasoning
8. Pepper powder – A pinch
9. Curry leaves or mint leaves – To decorate
How to prepare Chicken Thoran (Kozhi Thoran)?
1. Heat a pan, and cook chicken adding 1 spoon oil.
2. When chicken is well cooked, cut into small pieces or smash using a mixer grinder.
3. Heat a pan and pour remaining oil.
4. Splutter mustard seeds.
5. Sauté onions, followed by ingredients no: 5.
6. Sprinkle a few curry leaves, followed by scrapped coconut.
7. Continue frying for a while.
8. Add cut chicken pieces and mix well.
9. Continue cooking till your chicken dish turns dry.
10. When water content is fully dried, add pepper powder and make a heap.
11. Add a little curry leaves or mint leaves, and press it well to the heap.
12. Serve hot.
Courtesy: Vanitha Magazine 2010, April 15-30
Read a few more chicken curry/side dish recipes. Here is the page link. Click on the images in the gallery to read.
(Visited 448 times, 1 visits today)