Chicken Roast With Pulao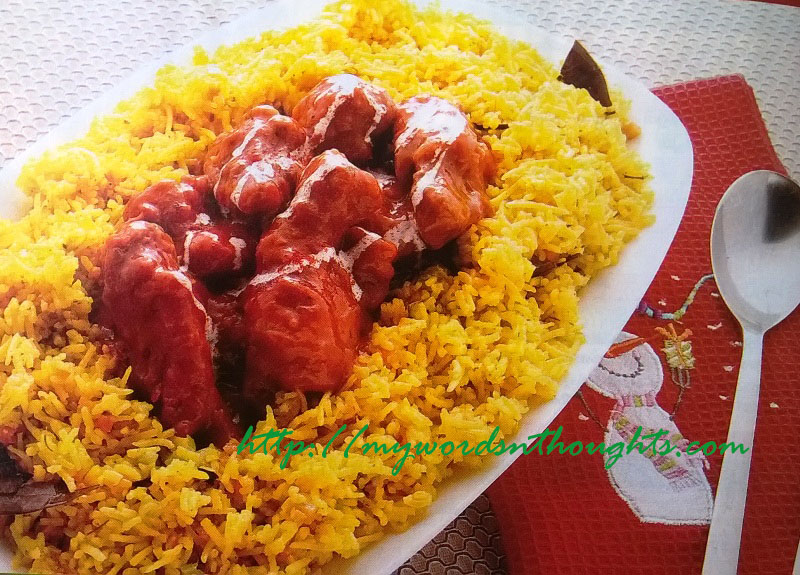 Ingredients for Chicken Roast:
1. Chicken cleaned – ¾ kg
2. Salt and pepper powder – For taste
Parsley chopped – 1 big spoon
3. Maida – 2 big spoons
4. Butter – 2 big spoons
5. Onions – 1, medium sized chopped
6. Maida – 2 big spoons
Salt and pepper powder – For taste
7. Lemon juice – 1 small spoon
8. Tomato purie – 1 cup
Sugar – 2 small spoons
9. Butter – 1 big spoon
10. Shallots – 4, chopped
11. Basmati rice – 1.5 cups
Bay leaf (Vayana Ila) – 1
Salt – For taste
12. Carrot and beans chopped fine – ½ cup each
13. Saffron – A pinch, soaked in milk
14. Cream – ½ cup
15. Kashmiri chilli powder – 2 small spoons
How to prepare Chicken Roast?
1. Remove skin of chicken and cut it into big pieces.
2. Keep aside boneless pieces for frying.
3. Cook the remaining chicken pieces (with bones) in a pressure cooker.
4. Boil chicken skin and ingredients no: 2 adding 4 cups of water to prepare chicken stock.
5. Sprinkle a little maida in boneless chicken pieces, and deep fry in hot butter till it turns golden brown colour.
6. In the remaining butter, sauté onions.
7. Mix ingredients no: 6, and add it to onions along with 1 cup of chicken stock.
8. Heat the contents in low flame. Add lemon juice and stir well.
9. Mix tomato purie and sugar in a bowl, and add to the boiling sauce.
10. Mix it well, add chicken pieces and ½ cup stock.
11. Cook chicken in low flame for next 20-30 minutes.
12. Heat butter and sauté shallots, followed by bay leaf and rice.
13. Sauté the contents well, and then cook rice adding vegetables and 2.5 cups of chicken stock.
14. Before you take rice from flame, add saffron.
15. In a serving plate, place chicken at the centre, and cooked rice around it (like a ring, as shown in figure).
16. Whip the cream and pour on the top of chicken pieces.
17. Sprinkle Kashmiri chilli powder on its top and serve hot.
Courtesy: Vanitha Magazine Dec 15-31, 2017
Read a few more Pulao recipes here. Here is the page link. Click on the images in the gallery to read.
(Visited 236 times, 1 visits today)