Chicken Kuruma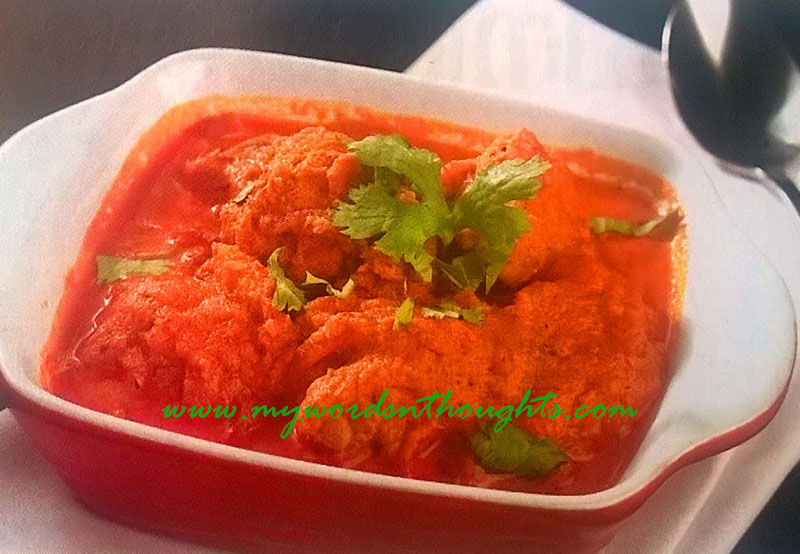 Ingredients for Chicken Kuruma:
1. Chicken – 1 kg
2. Green chillies- 4, finely chopped
Onions – 2, finely chopped
Tomato – 3, finely chopped
Salt – As required
3. Cooking oil – 1-2 big spoons
4. Onions – 1, sliced thin
5. Ginger – 2 inch piece finely chopped
Garlic – 1 bunch as whole, finely chopped
6 .Chilli powder – 4 small spoons
7. Coconut – ½, scrapped and finely grinded
Curd – ¾ cup
How to prepare Chicken Kuruma?
1. Clean chicken and cut into small pieces.
2. Add ingredients no: 2 to it and mix well.
3. Heat oil in a pan and sauté sliced onions till they turn golden brown.
4. Add chopped ginger and garlic to it and sauté again.
5. When it gets a nice masala aroma, add red chilli powder and mix well.
6. Add chicken to it, 2 cups of water and mix well.
7. Cook the contents till chicken is half done.
8. Bend well coconut paste with curd, and add to half cooked chicken.
9. Cook the chicken with lid closed.
10. Serve hot with batura or any main course dish.
Archive: Vanitha Magazine, August 1-14, 2016
Read a few more chicken curry/side dish recipes. Here is the page link. Click on the images in the gallery to read.
(Visited 140 times, 1 visits today)