Cheese Cake Crumble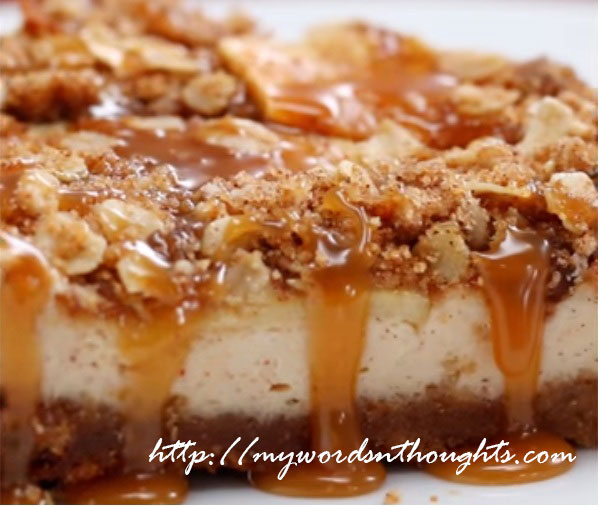 Ingredients for Cheese Cake Crumble:
1. Cream cheese – 1 cup
Sugar – 1.5 cups
2. Thick cream – ½ cup
3. Eggs – 4
4. Vanilla essence – 1 small spoon
Lemon skin scrapped – 2 small spoons
Orange skin scrapped – 2 big spoons
For topping:
5. Butter biscuit blended in a mixer (not make a fine powder) – ¾ cup
Oats – 3 big spoons
Butter – 50 gm, melted
Brown sugar – 1 big spoon
Salt – A pinch
How to prepare Cheese Cake Crumble?
1. Pre-heat oven in 180 degree celsious.
2. Grease the baking pan using oil or butter.
3. Blend together ingredients no: 1 and continue beating till it turns soft.
4. Add cream and continue the process.
5. Add egg and beat again till the contents are well mixed.
6. Add ingredients no: 4 and slowly mix it.
7. Pour the batter into the greased pan.
8. Place this pan inside a big pan, and fill 2/3rd part of big pan with boiling water.
9. Place it as such inside the oven and bake till Cheese Cake sets.
10. If needed add extra boiling water to the big pan and bake it for approximately 1 to 1.5 hours.
11. When the Cheese Cake is set, open the oven door and allow to cool.
12. When it cools completely take the cake from oven.
13. Refrigerate it overnight or for at least 2 hours before you serve.
14. Mix together ingredients no: 5 to prepare crumble.
15. Spread the crumble on the top of cake and press it gently.
16. Refrigerate it again and serve chilled.
Courtesy: Vanitha Magazine June 15 – 30, 2019
You can read a few more delicious cake and bake recipes. Here is the page link. Click on the images in the gallery to read.