Cheerapoovaali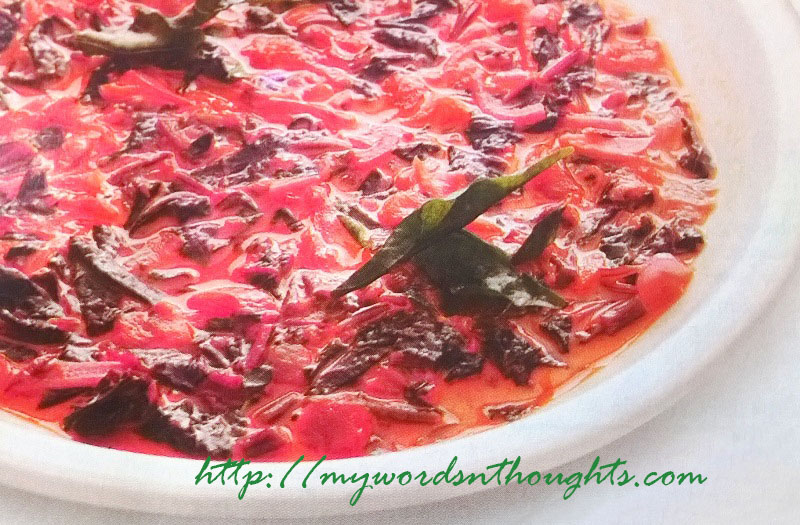 Ingredients for Cheerapoovaali:
1. Red spinach with soft stem – 1 bundle
2. Oil – As required
3. Onions – 2 big, sliced lengthwise
Green chillies – 4 or 5, split into two
4. Coconut – 1/2, scrapped
Salt – As required
5. Tomato – Sliced lengthwise
6. Vinegar – 2 big spoons
How to prepare Cheerapoovaali?
1. Extract 2 cups of 2nd milk and 1 cup of 1st milk from scrapped coconut.
2. Heat oil and sauté onions and green chillies.
3. When onions changes colour, add chopped spinach and sauté well.
4. When contents are well cooked, add 2nd milk and salt and boil the contents well.
5. Add tomatoes.
6. When tomatoes are well cooked, add vinegar and mix it well.
7. When it heats, add first extract coconut milk and put the flame off.
Recipe Source: Vanitha Magazine February 15-29, 2012
Note: I have read yet another recipe of Cheerapoovaali in August 15 – 31, 2014 edition. Main difference is, tomato is not used in its preparation. Ingredients remain the same with slight difference in quantity; such as 3 big spoons of oil, 3 sliced onions, 8 green chillies, 1 coconut and 3 small spoons of vinegar for 1 bundle of spinach.
Also read a few more leafy vegetable dishes. Here is the page link. Click on the images in the gallery to read.
(Visited 165 times, 1 visits today)