Charming Hero Vinod Khanna Passes Away, Bollywood Mourns

A few days back when a photo of Vinod Khanna surfaced the net, it went viral. The glorious yesterday star looked weak in the picture and it shocked his fans a lot. He also became a victim of death hoax. Later his family members clarified that he is better and conditions improved, and we fans too became happy. But today before noon, his death news came out. Vinod Khanna passed away on 27th April, fighting with bladder cancer (advanced bladder carcinoma). This leading star of the action era of 1970s died at the age of 70.
Vinod Khanna has given a magnificant contribution to Bollywood industry in the 1970s, and he achieved stardom playing a variety of roles onscreen. He mostly played action roles, and comedy-action films aside Big B became blockbusters, best instances being Amar Akbar Antony, Muquadar Ka Sikander, Hera Pheri and Parvarish. In all those films, he mostly played a silent parallel lead role, with a few shades of romance as well. He also played a few grey shaded roles in his career. His role as a professor in Imtihaan is one of his best roles in the 1970s. Dayaavaan, Mere Apne, Mera Gao Mera Desh, Haat Ki Safai, Inkaar, Jurm, Chandini and Kurbaani are among his major hits.
The actor was admitted to hospital in the first week of April due to severe dehydration. Though he was seriously ill, he responded positively to treatment. He currently serves as the sitting MP of BJP, representing Gurdaspur constituency in Punjab. He succumbed to death at Sir H.N. Reliance Foundation Hospital and Research Centre in Girgaon, Mumbai fighting with cancer for almost a month. Vinod Khanna's delayed movie, Ek Thi Rani Aisi Bhi got released only last Friday, where he played lead role opposite Hema Malini. Read more.
It's just co-incidence that his dearest friend from Bollywood film industry Feroz Khan also died on April 27, 8 years ago. They worked together for blockbuster movies – Kurbaan and Dayavaan, which showcased their friendship and always listed among the career best roles of both actors. Not only that, both died with same disease – bladder cancer, and too at the age of 70. Only a few months were left for Feroz Khan for his 70th birthday, and Vinod Khanna died at the age of 70. Cruel co-incidence and true friends in all means!!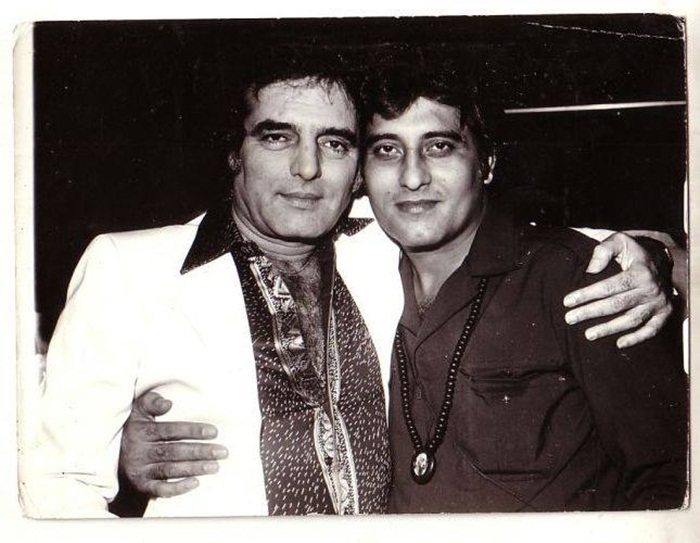 Image Source: http://www.freepressjournal.in/entertainment/how-death-united-qurbani-stars-vinod-khanna-and-feroz-khan/1058741
Related articles: Top 12 songs featuring Vinod Khanna and Top 15 performances of the charming star
You might be interested in reading a few more articles on Vinod Khanna. Here is the page link. Click on the images to read.
(Visited 322 times, 1 visits today)