Baahubali: The Conclusion Review – Dubai critic gives 5/5 for Rajamouli's Magnum Opus
Just 24 more hours and film lovers will get to know why Kattappa killed Bahubali. Despite being a regional fiction film Baahubali: The Beginning has given curiosity among the masses across the world, and social media has been flooded with numerous possible answers in the past two years. Definitely this curiosity has prompted the film crew to make its concluding part much better on a wider screen and much improved mass appeal. The historical fiction film Baahubali: The Conclusion directed by S. S. Rajamouli gets released in India an auspicious Akshaya Tritheeya day, and will have a grand opening across world in 9000 screens. The movie will be released in many Indian and foreign languages, and it will occupy lion share of theatres in Telugu speaking regions. The movie stars Prabhas and Anushka Shetty in lead roles, and include a strong supporting star cast with veteran actors like Sathyaraj and Nassar, and Remya Krishnan also plays a key role in the film.
The movie got released in Dubai on Wednesday, and has already received overwhelming response from audience. Dubai based critic, Umair Sandhu praised the performance, presentation and strong story of the film, and has already rated Baahubali – The Conclusion, 5 out of 5. He even compared the film to great Hollywood films, Lord of the Rings and Harry Potter, and praised film makers for everything which makes Baahubali – The Conclusion, the biggest film ever made on Indian screen. He also gave perfect ratings to its actors, particularly protagonist and antagonist – Prabhas and Rana Daggubati respectively. Both the actors have undergone special physical training to fit best for the role.
Umair Sandhu fell head over heels in love with each and every section of the filmmaking, from the cast to direction, and from VFX, sound, editing, cinematography and everything. Now Indian audience can't wait anymore, and would love to find answer on big screen which puzzled them for last two years, "Why Kattappa killed Bahubali?"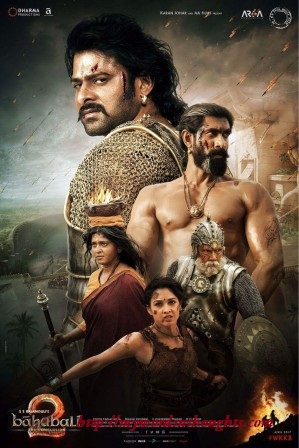 Also read: How Hrithik's Mohenjo Daro, fell flat taking inspirations from Baahubali: The Beginning
(Visited 292 times, 1 visits today)