Omana Pola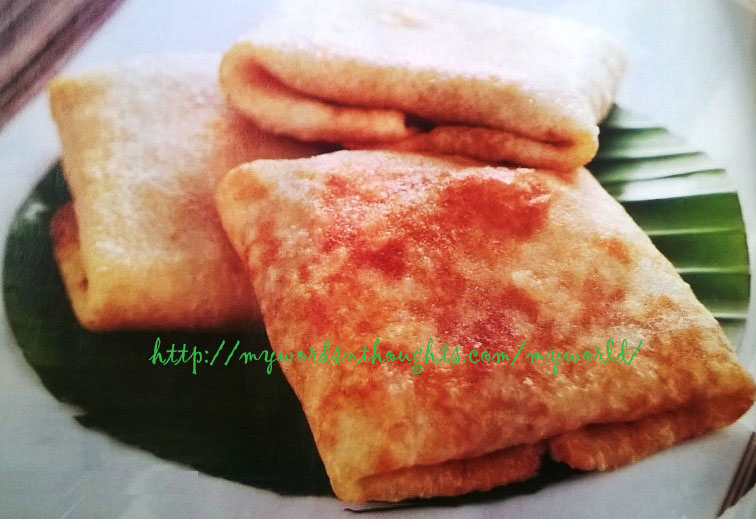 Ingredients for Omana Pola:
1. Meat boneless – 250 gm
Salt and water – As required
Chilli powder – 1 small spoon
Coriander powder – 2 small spoons
Turmeric powder – ¼ small spoon
2. Oil – 2 big spoons
3. Onions – ¼ kg finely chopped
Green chillies – 5, finely cut into pieces
Crushed ginger and garlic – ½ small spoon each
Coriander leaves finely chopped – 1 big spoon
Curry leaves – 1 stalk
4. Garam masala powder – ¼ small spoon
5. Eggs – 2
6. Maida – 250 gm
Salt and water – As required
7. Oil – For frying
How to prepare Omana Pola?
1. Mix together ingredients no: 1 and cook adding sufficient water. Water content should be fully absorbed when it's done.
2. When contents cool, cut meat into fine pieces.
3. Heat oil and sauté ingredients no: 3.
4. Then add cooked meat and garam masala powder and mix well the ingredients.
5. Sauté for a few more minutes and take it off from flame. This mixture is used as filling for Omanapola.
6. To prepare pancake, blend well the eggs, and then add maida, salt and water and prepare the batter.
7. Heat a tawa, pour a little batter and spread in 6 inch radius.
8. Place 2 big spoons of filling at the centre and fold from 4 sides to make a square shape.
9. Now deep fry each one in hot oil and serve hot.
Source: Vanitha Magazine August 15-30 2016
Also read a few all-purpose flour (maida) snack dishes. Here is the page link. Click on the images in the gallery to read.
(Visited 373 times, 1 visits today)