Chakka Payasam (Jackfruit Payasam)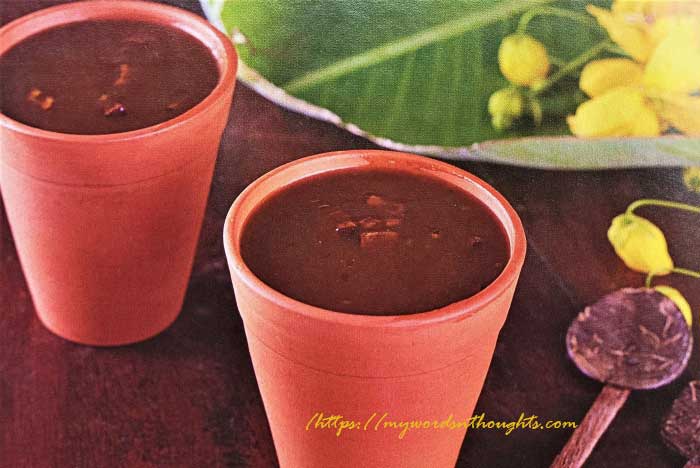 Ingredients for Chakka Payasam (Jackfruit Payasam):
1. Coconut – 1
2. Jackfruit sauted – 1 cp
3. Water – ¾ cup
Jaggery – ¼ kg
4. Dry ginger – 1 small piece
Cumin seeds – ¼ small spoon
5. Ghee – 1 small spoon
6. Coconut pieces – 2 big spoons
How to prepare Chakka Payasam (Jackfruit Payasam)?
1. Extract milk from coconut and keep aside.
2. Mix sauted jackfruit with a little coconut milk. The mixture should be of thin consistency.
3. Add water to jaggery and melt it in an urli.
4. Add jackfruit-coconut milk mixture to it.
5. As the payasam thickens, add coconut milk occasionally and keep stirring.
6. Continue the process till whole coconut milk is used.
7. Finally add dry ginger and cumin seeds.
8. Heat ghee in a pan and fry coconut pieces, and add to your jackfruit payasam.
Courtesy: Vanitha Magazine April 2-15, 2022
Read one more recipe of jackfruit payasam.
Also read a few more Payasam/Pradhaman recipes. Click on the images in the gallery to read.
(Visited 33 times, 1 visits today)