Cappuccino Cups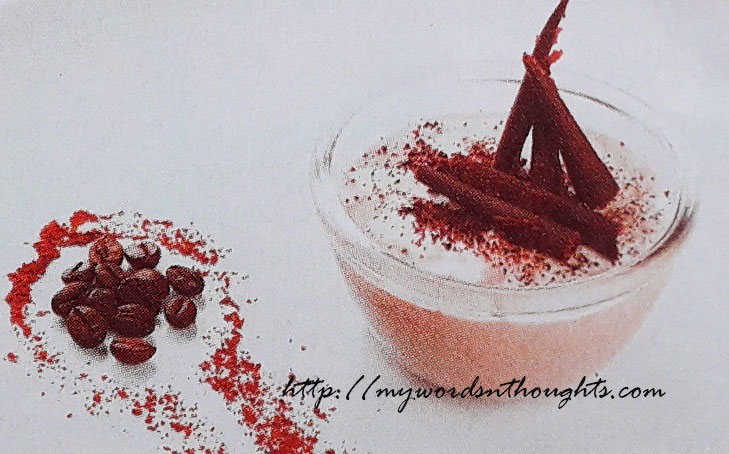 Ingredients for Cappuccino Cups:
1. Thick cream – 1.25 cups
2. Gelatin – 1 big spoon
3. Instant coffee powder – 1 big spoon
4. Plain chocolate – 175 gm + To decorate
5. Paneer powdered – 1 cup
6. Ice cubes – 6
Sugar powdered – 4 big spoons
How to prepare Cappuccino Cups?
1. Transfer half amount of thick cream to a pan and sprinkle gelatine.
2. When gelatin soaks, place the pan in stove and gently heat it in low flame.
3. Keep stirring continuously.
4. When gelatine melts completely and the cream starts boiling, put off the flame.
5. Add coffee powder and mix well.
6. Add grated chocolate to cream mixture and beat it continuously till chocolate melts completely.
7. Add powdered paneer, ice cubes and powdered sugar and beat again till it turns soft.
8. Transfer the contents to serving cups or glasses and place in refrigerator to set.
9. Beat the remaining cream and keep aside.
10. Using a vegetable peeler make curls from chocolate bar.
11. Pour cream on the top of pudding which is completely set.
12. Sprinkle a little coffee powder on each glass and decorate with chocolate curls before you serve.
Courtesy: Vanitha Magazine August 1-14, 2014
A few more pudding recipes for you. Here is the page link. Click on the images in the gallery to read:
(Visited 81 times, 1 visits today)