Boston Cream Pie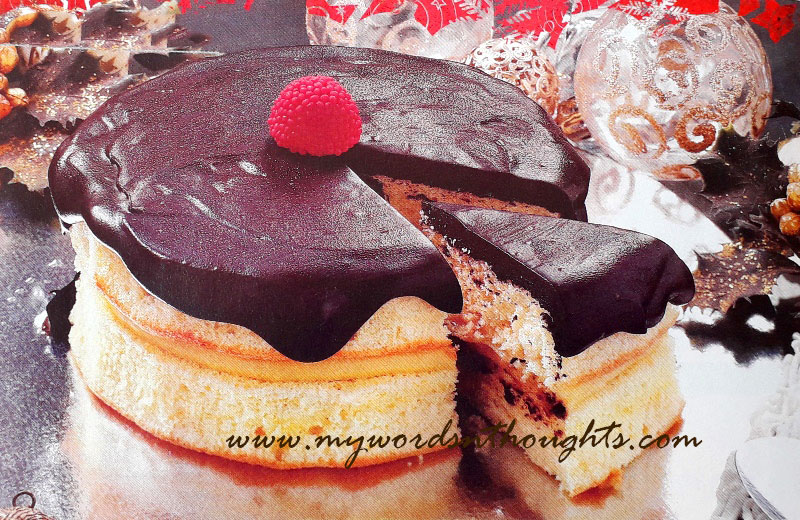 Ingredients for Boston Cream Pie:
1. Sugar – ¼ cup
Yellow yolk – 3
Maida – 1/8 cup
Corn flour – 3 big spoons
2. Milk – 1.25 cups
3. Vanilla essence – 1 small spoon
4. Eggs – 5
5. Milk – 3 big spoons
Salt-less butter – 2 big spoons
6. Sugar – ¾ cup
7. Vanilla essence – ½ small spoon
8. Maida – ½ cup
Baking powder – 1.5 small spoons
Salt – ¼ small spoon
9. Dark chocolate – 120 gm chopped fine
10. Whipping cream – ½ cup
Butter – 1 big spoon
How to prepare Boston Cream Pie?
1. Pre-heat oven in 180 degree celsious.
2. Take ingredients no: 1 in a big bowl and mix it well till the contents turn soft.
3. In a sauce pan heat milk slowly.
4. Add milk to egg mixture and slowly mix it. Keep stirring continuously.
5. Transfer the contents to a sauce pan and heat in medium flame.
6. When the contents turn thick put off the flame.
7. Add vanilla essence and mix it well. This is used as pastry cream.
8. Take two pans of 8-inch size each and grease their surface using butter.
9. Separate white and yellow yolks of three eggs.
10. Add remaining two eggs to yellow yolk and mix well.
11. Mix butter and milk and heat the contents till butter melts completely.
12. Using a hand mixer, mix egg mixture and half cup sugar at high speed.
13. When it turns soft and increases in volume, add vanilla essence and mix again.
14. Beat egg whites and add remaining sugar to it.
15. Beat the contents till small hill like structures appear in egg yolk.
16. Add it to egg-vanilla mixture and mix again.
17. Blend well ingredients no: 8 and add to egg mixture. Slowly mix the contents.
18. Add melted butter-milk mixture to it and slowly mix again.
19. Pour this batter to the pans and bake for 18-20 minutes in the pre-heated oven.
20. Take dark chocolate in a bowl.
21. Boil cream and butter and pour on the top of chocolate.
22. Mix the contents till chocolate completely melts. This is used as chocolate glaze.
23. Place cake in a cake tray and pour the prepared pastry cream on its top.
24. Spread it well and place second cake on its top.
25. Pour chocolate glaze on its top and serve.
Courtesy: Vanitha Magazine December 15-31, 2018
You can read a few more delicious cake and bake recipes. Here is the page link. Click on the images in the gallery to read.
(Visited 52 times, 1 visits today)