Bhadran – Malayalam film director of 'Spadikam' fame
Bhadran is a veteran film director and screenwriter of Malayalam cinema since early 1980s, and owns many hit and memorable films to his credit. He is known for his association with Mohanlal from his debut flick. Tried with different genres of films, he is best known for the cult classic and landmark film of 1990s – Spadikam starring Mohanlal. Idanazhiyil Oru Kaalocha, Poomukhappadiyil Ninneyum Kaathu, Ente Mohangal Poovaninju, Iyer the Great, Uncle Bun, Olympiyan Anthony Adam, Yuvathurki, Udayon, Vellithira etc are other major works as a film director.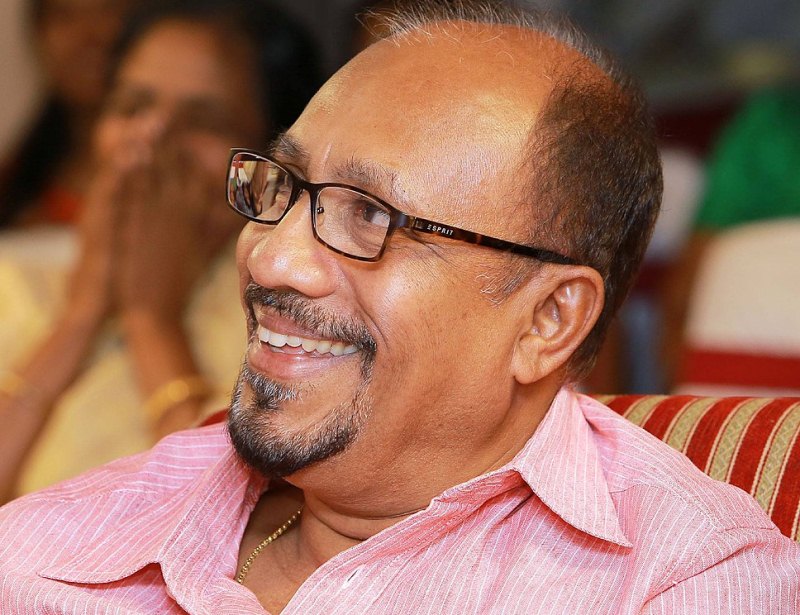 He also scripted and written dialogues for Mohanlal starrer classic hits like Sarvakalasala, Ee Ganam Marakkumo, Kizhakkunarum Pakshi and Sukhamo Devi, and Mammootty starrer Aayirappara and Vishnu. Many of his films like Spadikam, Iyyer The Great and Idanazhiyil Oru Kaalocha were way ahead of times. His films also own several evergreen hit songs of Malayalam cinema, and scripts are popular for extreme sophistication. Udayon starring Mohanlal released in 2005 was his last movie which failed to meet expectations, and he returns to film direction after a hiatus of 14 years with Joothan (2019) starring Soubin Shahir and Joju George.
Bhadran was born in Pala, Kottayam in 1949. Initially he was a singer, who took formal lessons in classic music. He has been interested in acting as well and won many prizing in acting and writing fields since childhood. He dreamt to become an actor or singer. But destiny was something else, and he turned a talented director. His cousin Hari Pothen suggested him to move to Chennai, and work as an assistant under renowned director Hariharan. He discontinued his PDC studies and moved to Chennai. As an assistant director his career began in 1974 with the movie, Rajahamsam starring Prem Nazir, Jayabharathi and Sri Vidhya.
Under Hariharan, he worked for 14 movies as an assistant which shaped his career as well as brought a lot of discipline in his profession. As a film director he marked his debut with romantic tragedy Ente Mohangal Poovaninju in 1982. He introduced a fresh theme of teenage campus love through Idanazhiyil Oru Kaalocha where a young boy falls in love with his senior. Through the movie, Bhadran told that Love is beyond age. But the movie was a commercial failure. Though he started with romantic flicks, he earned fame for action thrillers.
Bhadran – Some interesting and less-known facts
1. Since childhood he was scared of Mathematics subject and has many interesting and 'scary' incidents related to it. Later 'mathematics' became the main subject of his most popular film, Spadikam.
2. Film producer Hari Pothen is his first cousin. It was Hari who suggested him to move to Chennai to pursue a career in films. Cine personality Pratap K. Pothen is also his cousin.
3. His debut movie – Ente Mohangal Poovaninju was later remade in Tamil as Isai Paadum Thendral.
4. He mostly did romantic films in the 1980s, and with 1990s shifted to action movies.
5. He won Filmfare Best Director award for Poomukhapadiyil Ninneyum Kaathu, Iyer The Great and Spadikam.
6. He predominantly worked with Mohanlal throughout his career, and also owns many hit films with Mammootty. He also wrote several screenplays for both. He rarely worked with other heroes.
7. He directed Mohanlal in seven films and Mammotty in four films, out of 12 releases in between 1982 and 2006.
8. After Udayon in 2006, he started many projects. But none of the stories fascinated him till Judan happened. The movie is still in pipeline. Once he planned a movie with Prithviraj which never materialized and he may start it later.
9. His association with V. Dakshinamoorthy gave evergreen songs for movies like Idanazhiyil Oru Kaalocha, Ente Mohangal Poovaninju etc. Idanazhiyil Oru Kaalocha marked comeback of the composer to Malayalam films after a short break, which gave some finest compositions to Yesudas.
10. As he took formal learning in classic music, he gives great importance to his movie songs.
11. During his break in films, he got into coffee plantation and a few more related fields.
12. He prefers to stay in his hometown. Though away from limelight, he frequently watches new releases.
13. When he was in field, there were only 10-14 active film directors, while more than 600 young directors have debut in Mollywood in the past three years since 2016 – The director signs off.
14. On February 9 2023, a digital re-mastered version of his cult classic, Spadikam was re-released in theatres with some additional scenes and the movie received an overwhelming response from public. The remastering costed around ₹2 crores and the movie collected ₹77 lakhs on the first day, setting new record for any re-release of an Indian film.
Top Malayalam songs of Bhadran Movies
1. Vaathilppazuthilooden Munnil from Idanaazhiyil Oru Kaalocha
2. Aavanippoovani from Idanaazhiyil Oru Kaalocha
3. Thedithedi Ananju from Idanaazhiyil Oru Kaalocha
4. Poonkattinodum from Poomukhapadiyil Ninneyum Kaathu
5. Konji Karayalle from Poomukhapadiyil Ninneyum Kaathu
6. Nananju Neriya Patturumaal from Ente Mohangal Poovaninju
7. Aashada Meghangal Nizhalukal Erinju from Ente Mohangal Poovaninju
8. Manasuloli Marmamunu Thelusuko from Ente Mohangal Poovaninju
9. Thamburu Thaane from Ente Mohangal Poovaninju
10. Chalanam Jwalanam from Iyyer The Great
11. Kurukuthikannulla from Uncle Bun
12. Ezhimala Poonchola from Spadikam
13. Hey Chumma Chumma from Olympiyan Anthony Adam
14. Nila Paithale from Olympiyan Anthony Adam
15. Nee Manimukilaadakal from Vellithira
16. Pacha Maanga from Vellithira
17. Hridayasakhee from Vellithira
18. Thiruvarangil from Udayon
(Visited 472 times, 1 visits today)