Balamani Amma – Poetess of Motherhood
She was born into the heritage home of Malayalam literature – Naalappat of Punnayurkulam, Thrissur district, the Tharavad which has given birth to a few of stalwarts of Malayalam literature. Popular poet Nalapat Narayana Menon was her maternal uncle and celebrated writer Kamala Das (Madhavikutty) was her daughter. Malayalis have fondly called her Poetess of Motherhood or simply 'Muttassi', and she is a recipient of numerous honours and recognitions. Balamani Amma is always remembered for her immense contribution to Malayalam poetry genre in the 20th century.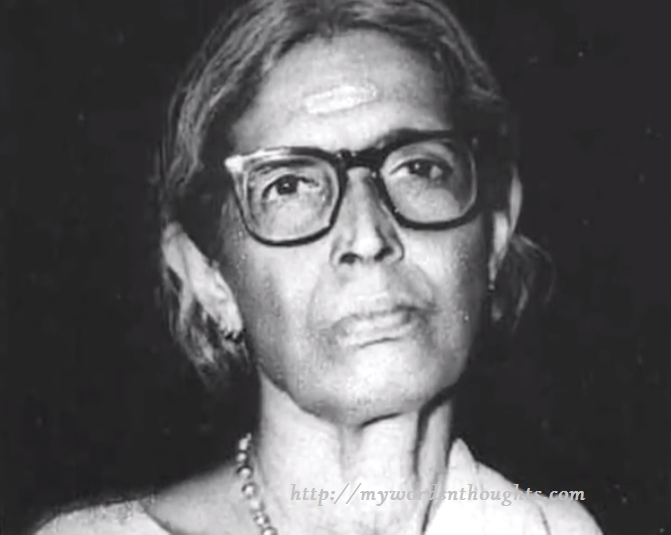 A brief note on childhood days of Balamani Amma
She was born in Naalappat Tharavad of Punnayurkulam, Thrissur district in the year 1909. July 19 is her birth date. She was born to the sibling of famous poet and translator, Naalapat Narayana Menon. Born into a higher class family, Kochu Kuttiyamma and Kunjunni Raja of Chittanjoor Kovilakom were her parents. Her education was completed in ancestral home itself.
Her uncle Naalapat Narayana Menon had a huge collection of books in his personal library at home. This library was her second school also. Also, she received encouragement from the great poet of Malayalam, Vallathol Narayana Menon. Works of her uncle and Vallathol also influenced her a lot. During her younger days, she read Bhagavatham and related works of Hindu mythology, works of Kalidasa, Tolstoy, Tagore, Vivekananda etc. She got married to V. M. Nair from Guruvayur in the year 1928.
Balamani's contribution to poetic world
She published her first poetry collection, Kooppukai in the year 1930. Amma (1934), Stree Hridayam (1939), Oonjalil (1946) and Muthassi (1962) were her works later. Her works include more than 20 collections. Kerala Sahitya Academy Award (1964), Kendra Sahitya Academy Award (1965), Padma Bhushan (1987), Vallathol Award (1993), Ezhuthachan Puraskaaram (1995) and Saraswati Sammanam (1995) were the major honours received by her.
Simplicity – Trademark style of her works
Her poems are so simple with simple words. She avoided flooded words in her works to maximum. Exactly the same is her way of talking. She talked in brief words. Through her words and works, she encouraged human beings to love this universe and other creatures of nature. Her fondness to children and grandchildren earned her the name, Muttassi, which means 'Grandmother'.
She passed away on September 29, 2004 at the age of 95. Her daughter Kamala Das died just 5 years after her.
Read a few more articles on some of the stalwarts of Malayalam literature belonging to different eras. Here is the page link. Click on the images in the gallery to read
(Visited 2,887 times, 1 visits today)