Anjaan – Bollywood lyricist who penned chartbuster hits of Amitabh Bachchan in the 1970s and 1980s
Lalji Pandey, best known as Anjaan (1930-1997) in the film industry was a well-known and celebrated Bollywood lyricist during the golden era. He owns numerous popular songs to his credit, and he has frequently associated with some of the great composers of his time such as Kalyanji–Anandji, R. D. Burman, Rakesh Roshan, Laxmikant-Pyarelal and Bappi Lahiri. He penned down lyrics for several blockbuster action thrillers of Amitabh Bachchan in the second half of 1970s and 1980s, mostly sung by Kishore Kumar. Many of those songs are still popular.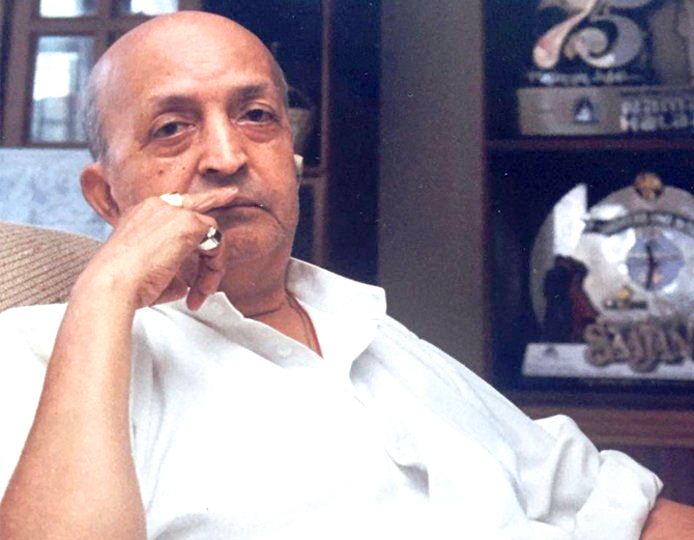 As a lyricist he got his first break through Prisoner of Golconda in 1953, where he penned Lehar Yeh Dole Koyal Bole and Shaheedon Amar Hai. Yet it took almost two decades for Anjaan to get a big break in Bollywood, and he mostly worked in small budget movies till then. In 1970s, in association with Kalyanji–Anandji, he wrote songs for many Amitabh Bachchan hits, which established his career in Bollywood. In the 1960s, O. P. Nayyar's Aapke Haseen Rukh Pe sung by Rafi was his most popular song. "Bina Badraa Ke Bijuriya Kaise Barse" for Bandhan also gave him limited success in the 1960s. Do Anjaane in 1976 marked his successful beginning with Big B and Kalyanji–Anandji, and there was no turning back. His career deteriorated only in the 1990s. By that time his son Sameer turned the most sought lyricist of Bollywood.
Anjaan – Some interesting facts
1. Anjaan's son Sameer followed his legacy and went on to become one of the most sought lyricists of 1990s. He is also credited to writing maximum Bollywood songs in the 1990s and early 2000s during his career peak days.
2. His song "Khaike Paan Banaras Waala" added to the movie Don after film's release changed the destiny of the film and made it a blockbuster. Read more here.
3. He worked in a series of Amitabh starrers in the 1970s and 1980s, mostly in association with Kalyanji-Anandji; Don, Muqaddar Ka Sikandar, Laawaris, Do Anjaane, Jaadugar, Heera Pheri, Ganga Ki Saugandh, Khoon Pasina etc to name a few. The trio formed a great combination in the 1970s and later.
4. He also penned lyrics for Amitabh's Sharabi, Aaj Ka Arjun and Namak Halal composed by Bappi Lahiri. Yaarana and Do Aur Do Paanch are his major works with Rakesh Roshan. He penned songs for Mahaan composed by R. D. Burman.
5. In the 1980s the celebrated lyricist wrote many songs for Mithun Chakravarty's films like Disco Dancer and Dance Dance, and Dalaal in 1990s, tunes composed by Bappi Lahiri. He frequently associated with Bappi Lahiri and R. D. Burman in the 1980s.
6. In the 1960s he wrote non-filmy songs for Rafi, Manna Dey and Suman Kalyanpur.
7. 'Balam Pardesia' marked his debut as a lyricist in Bhojpuri films in 1970s and later wrote many hit songs.
8. The first song filmed on Zeenat Aman – Suraj Se Jo Kiran Ka Naata was penned by Anjaan.
9. He wrote over 1,500 songs for more than 300 films during his life-time in a career spanning to nearly 5 decades.
10. A book of his poems named 'Ganga Tath Ka Banjara' was released in 1997 by Amitabh Bachchan. He passed away the same year.
Some of the best songs penned by Anjaan
1. Aapke Haseen Rukh Pe – Baharen Phir Bhi Aayengi
2. Bina Badraa Ke Bijuriya Kaise Barse – Bandhan
3. Khaike Paan Banaras Waala – Don
4. Jiska Mujhe Tha Intezar – Don
5. O Saathi Re – Muqaddar Ka Sikandar
6. Rote Hue Aate Hai Sab – Muqaddar Ka Sikandar
7. Dil To Hai Dil – Muqaddar Ka Sikandar
8. Salaam-E-Ishq – Muqaddar Ka Sikandar
9. Tera Jaisa Yaar – Yaarana
10. Chookar Mere Mann Ko – Yaarana
11. Mere Angne Mein – Laawaris
12. Kab Ke Bichhde Hue – Laawaris
13. Jiska Koi Nahin – Laawaris
14. Aaj Rapat Jaayen To – Namak Halaal
15. Pag Ghungroo Baandh – Namak Halaal
16. Raat Baaki Baat Baaki – Namak Halaal
17. Jawani Jan-E-Man – Namak Halaal
18. Luk Chup – Do Anjaane
19. Gori Hai Kalaayiyaan – Aaj Ka Arjun
20. Pyar Mein Dil Pe Maar De Goli – Mahaan
21. Aisa Sama Na Hota – Zameen Aasmaan
22. Yashoda Ka Nandlala – Sanjog
23. Mere Saason Ko – Badaltey Rishtey
24. Chori Chori Tere Sang Lyrics – Dalaal
25. Goron Ki Na Kalon Ki – Disco Dancer
Also read: Top chartbuster hits of Kalyanji – Anandji
(Visited 1,049 times, 1 visits today)