A brief note on Nadakkal Para offered to Idatharikathkavu Devi of Guruvayur Krishna Temple
When Idatharikathkavu Devi – Upadevata of Guruvayur temple comes out of the main temple with sword and chilamb (a foot trinket with small bells), the whole courtyard fills with Niraparas (Para) – offerings placed in the measuring vessel, Para. Click this link to read more about this ritual of Kerala temples. Paras may go up to 1000 or more in number, and devotees offer flowers, vermilion, turmeric, rice, rice flakes and many more items as para. Kavilamma bathed in turmeric powder blesses in devotees and returns back.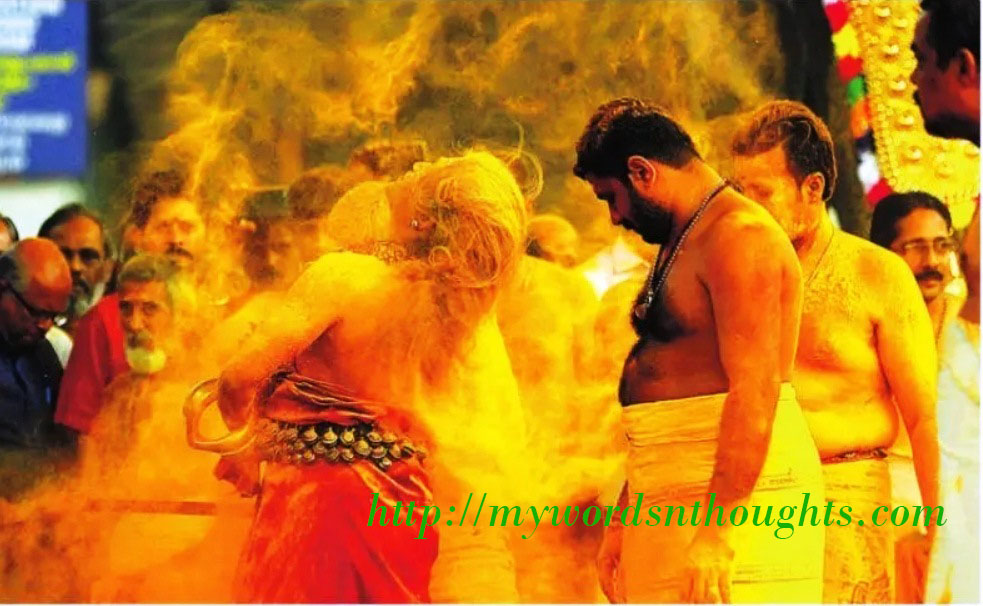 When Bhagavaty comes out of the temple to bless her devotees
Nadakkal Para of Guruvayur is conducted by Guruvayur Thalapoli Sankham as a part of Piller Thalapoli (Thalapoli of kids), and is associated with customs of the temple. Bhagavati of the sub-temple comes out of the temple at noon, after Sreekovil of Guruvayur is closed. She is accompanied by traditional Panchavadyam – the musical feast using the instruments, Thimila, Madhalam, Thalam, Komb and Idaykka. Thidamb of Bhagavathy will be carried by a leading elephant of the temple.
Panchavadyam starts around 12 am soon after the closing of the main temple and it continues for next 2.5 hours. It ends at Kizhakke Nada (East Nada). It's followed by Chempadakotti Kalasam and Pandi Melam one after the other. When the Melam is almost completed, the temple premises will be filled with thousands of devotees to witness Nadakkal Para. Velichappad who carries the sword in his hand takes vibrant moves and dances amidst the crowd. Velichappad is believed to be divine in nature, and dances as Komaram of Bhagavati. Devotees gather around to seek his blessing, and they also offer Paras to goddess in devotion.
It's followed by procession accompanied by Nadaswaram and the group circumvallates the temple pond to mark the end of the event.
Image courtesy: Mathrubhumi e-paper
You can read a few more articles related to temple rituals, offerings, customs and celebrations, mostly associated with temples across across Kerala. Here is the page link. Click on the images in the gallery to read
(Visited 943 times, 1 visits today)