Wheat Naan Khatai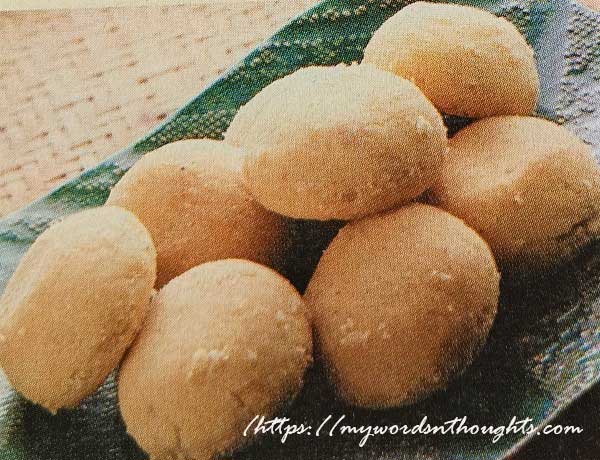 Ingredients for Wheat Naan Khatai:
1. Wheat flour – 1.25 cups
Semolina – ½ cup
Cardamom powder – ¼ small spoon
Soda powder – A pinch
2. Ghee – ½ cup
Sugar powdered – ½ cup
How to prepare Wheat Naan Khatai?
1. Pre-heat oven in 150 degree Celsius.
2. Blend ingredients no: 1 together and keep aside.
3. Mix ingredients no: 2 using palms.
4. Add wheat-semolina mixture slowly to it and knead the dough.
5. Make small balls from it, and press it gently to get cutlet shapes.
6. Grease a baking tray and place them in it.
7. Bake in pre-heated oven for about 25 minutes, till they turn slight red.
Courtesy: Vanitha Magazine March 1-14, 2005
Also read how to make normal Naan Khatai
Also read a few wheat flour snacks. Click on the images in the gallery to read.
(Visited 23 times, 1 visits today)