Vivek Sagar – Telugu music composer of 'Pelli Choopulu' fame
Vivek Sagar is a music composer and playback singer associated with Telugu cinema. He marked his debut as a music composer with highly acclaimed film, Pelli Choopulu (2016) and shot to instant fame. Since then he has done over a dozen of projects till now, including web series, Chivariki Migiledhi and Nirudyoga Natulu, and a few more. Sammohanam, Ee Nagaraniki Emaindi, Ee Nagaraniki Emaindi, Aa Ammayi Gurinchi Meeku Cheppali, Ante Sundaraniki, Mithai, Pitta Kathalu etc are among his major works. He earned nomination at Filmfare awards for his work in Pelli Choopulu and Pelli Choopulu.
An electronics engineer turned composer
Vivek Sagar hails from Hyderabad. His family is inclined towards music. While his mom mostly listens Indian film music and classical, his brother introduced him to alternative genres like rock, metal, hip-hop and instrumental. During his engineering days, he got serious into music and started learning guitar. He got attracted to Illayaraja music those days.
He formed Catharsis, a band dedicated to classical music
He completed engineering in Electronics and communications, before pursuing his passion of music. Catheris was the first band formed by him, followed by Tapeloop, which started composing music for jingles, documentaries, corporate films etc.
A short film, Sainma marked his career as a composer, and Pelli Choopulu is his first full-length film. Songs belonging to different genres – Sakhiye, Spitfire Friends, Merise Merise, Chinuku Taake and Babu Gariki became instant hits. Since then he has been consistent in producing good music.
After the big success of the film, he got more opportunities from Tollywood, and signed many ambitious projects. Yet he has always been choosy. He has also released a few singles. His studio is in Chikkadpally. Many of his tunes are classical based, and with the touch of contemporary and Western styles.
Musician Vivek Sagar – Some interesting and less-known facts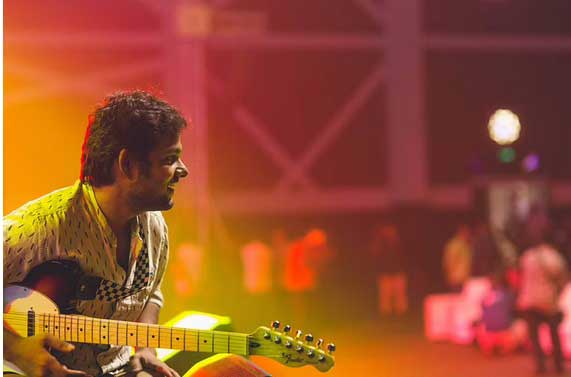 1. He is deeply inspired by composers – Illayaraja and A. R. Rahman. He has watched street performances a lot, and it also influences his music.
2. He is inspired by western, Carnatic and folk music, and many of his works are fusion collaborating folk, Sufi, rap, classical etc.
3. After engineering studies, Vivek Sagar worked at a mobile phone company as a ringtone editor for 5-6 months.
4. He rendered his voice for a few songs as a playback singer – "Jatha Kalisina", "Sanchari" from Hyderabad Gig and "Saami Saami" from Chivaraku Migiledhi.
5. Unlike many composers of present times, his albums don't hold regular pattern and arrangement, and most of his compositions are emotionally driven and content based.
6. His debut album Pelli Choopulu had no lip sync songs, yet became extremely popular.
(Visited 26 times, 1 visits today)