Top 20 Bollywood Songs of K. S. Chithra
K. S. Chithra – The Nightingale of South has done a few songs in Bollywood. Though less in number, many are still counted among the evergreen songs of 1990s and later. I agree Chithra's Hindi accent is not 100% perfect comparing her contemporaries. Yet she won one National award for best playback singing for a Bollywood song. That itself is a solid proof that she is a very talented singer. She rendered her melodious voice for 'Piya Basanti Re' aside Ustad Sultan Khan which became extremely popular. In the 1990s, Anand-Milind regularly worked with Chithra and he recorded her several popular duets aside SPB. SPB-Chithra duo was ruling Tamil cinema in the 1990s similar to Kumar Sanu-Alka Yagnik jodi of Bollywood during the same period. Anu Malik too has experimented with the same pair in Bollywood, and remained successful.
Through this column, I would like to list top 20 Bollywood songs of K. S. Chithra – my most favourite female voice down south. I have listed the songs almost based on the popularity of her renditions.
1. Kehna Hi Kya of Bombay – The songs of Bombay released in the year 1995 became a rage across the nation, and was released in several languages including Hindi. The album composed by A. R. Rahman was included in The Guardian's "1000 Albums to Hear before You Die" list, and this soft melody sung by Chithra in all versions was included in their "1000 Songs Everyone Must Hear" list. Chithra sang the original version of Uyire, which was later recorded in Kavita Krishnamurty's voice in Hindi as 'Tu Hi Re' and went on to become a huge hit. Quite sadly its music and singing voices were not nominated at Filmfare Awards (Hindi), though lead actress Manisha Koirala earned Critics' choice award.
2. Yeh Haseen Waadiyan of Roja – Rahman's association with Chithra started with his debut work Roja in 1992. She sang the Tamil version of 'Rukumani' for the movie. When the highly successful album got dubbed to Hindi, Rahman gave her the most popular sizzling track – Yeh Haseen Wadiyan, and she nailed it. The original version was sung by Unni Menon & Sujatha Mohan, and the Hindi duet by S. P. Balasubrahmanyam & K. S. Chithra. Lyrics of Hindi version were penned by P. K. Mishra.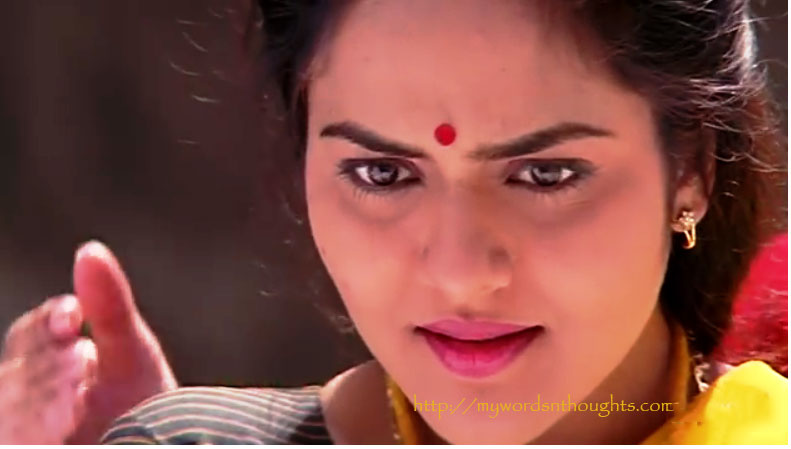 3. Kasam Ki Kasam of Mein Prem Ki Diwani Hoon – This soft duet was composed by Anu Malik, who made her sing all the songs of Mein Prem Ki Diwani Hoon featuring Kareena Kapoor (except Papa Ki Pari and Sanjana I Love You). Kareena-Chithra was noticed for the first time in the sizzling track – Raat Ka Nasha, composed by the same composer. The dance number 'Bani Bani Prem Diwani Bani', Bhatke Panchi and two versions of O Ajnabi were also recorded in Chithra's voice. Read top 15 soulful melodies featuring Kareena. Shaan also rendered his voice for this track and Dev Kohli penned the lyrics which became extremely popular.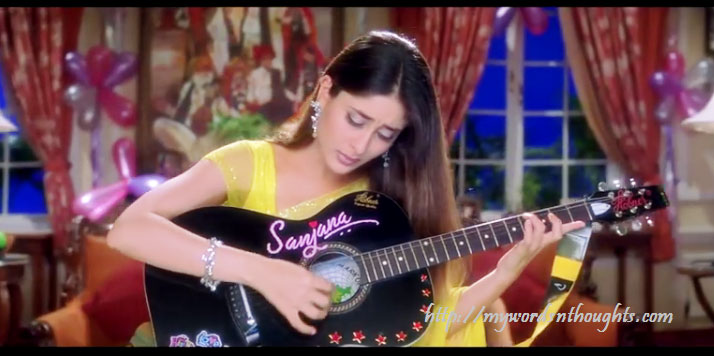 4. Tere Liye Jaanam of Suhaag – The song composed by Anand-Milind is heavily inspired from Rahman's Roja Jaaneman. Yet the melodious duet sung by S.P. Balasubrahmanyam and Chitra hit the right chord with music lovers. The song featured Ajay Devgan and Karishma Kapoor as romantic pair. The movie too was successful.
5. Tu Mile Dil Khile of Criminal – The song composed by M. M. Kreem was recorded in different versions in Chithra, Kumar Sanu, Babul Supriyo, Sonu Nigam and Alka Yagnik's voice, and a combination of two or three voices. Definitely this unforgettable melody finds place in the top 10 romantic tracks of 1990s, and can be listened in any mood.
6. Raat Na Nasha of Asoka – The first song recorded by Chithra for promising actress then – Kareena Kapoor in 2001. Though the film was only an average grosser, the music composed by Anu Malik topped many music charts. Her soft and sizzling voice well suited Kareena's dance moves and facial expressions for the film. Anu Malik has been successfully associated with Chithra for many popular tunes before.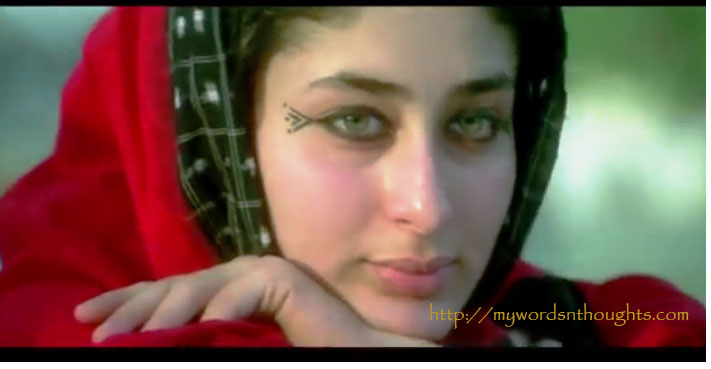 7. Payali Chunmun of Virasat – Originally an Illayaraja composition, Anu Malik reused the tune with a few modifications for the Hindi remake of Thevar Magan. Read more about Tamil Film songs reused as such for Hindi remakes. The movie gave Chithra National award, Star Screen Awards and also her first Filmfare nomination. Quite interestingly the original version sung by Janaki also received National award for best playback singer. Read more.
8. Prem Meri Aankhom Mein of Mein Prem Ki Diwani Hoon – This dance number featuring Kareena Kapoor became a huge chartbuster. Read top 10 peppy numbers featuring Kareena. Kareena looked extremely beautiful on screen, and her expressions of love were well executed by Chithra through her mellifluous voice and that's why the song went on to become a huge hit.
9. Hum Tum Se Na Kuch Keh Paaye of Ziddi – The film was a hit and Raveena Tandon was well appreciated for this work. However she got only less screen space comparing her male co-star Sunny Deol, and this duet song sung by Hariharan and Chithra topped charts in 1997. This soft melody was contrast to the dandy number "Mera Dil Le Gayi Oye" which brought Raveena to limelight after the peppy number, 'Tu Cheez Badi' from Mohra. Her voice was later reused for two duets from the movie – Salaakhein starring Raveena and Sunny. However the songs went unnoticed like the film.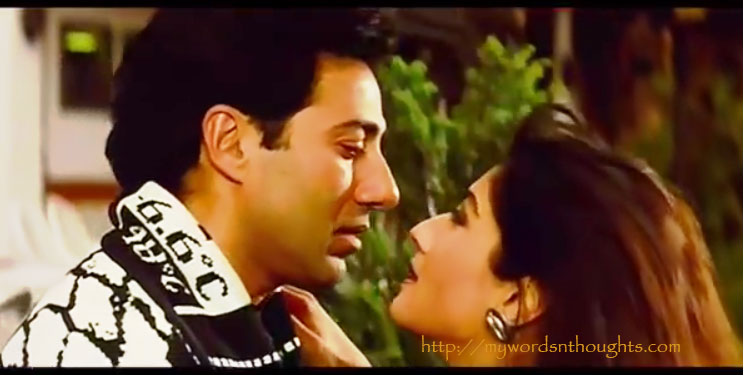 10. Title Track of Koi Mil Gaya – The song gave Chithra her second Filmfare award nomination, though she couldn't win it. Music was composed by Rakesh Roshan and the song was pictured on Hrithik Roshan and Preity Zinta. Udit Narayan sang this duet aside Chithra. Lyrics were credited to Dev Kohli.
11. Tum Bin Jiya of Tum Bin – All the songs composed by Nikhil Vinay, Ravi Pawar and T. S. Jarnail became extremely popular, and the film was a sleeper hit. Chithra sang the sad title track for the movie, Tum Bin Jiya Jaaye Kaise. The sequel of this film got released in November 2016.
12. Title Track of Tera Jaadu Chal Gaya – Definitely the song finds a place in her top 5 songs all time, and her singer Sonu Nigam's voice was also appreciated. Tera Jaadu Chal Gaya was one of the early hits of Sonu Nigam's career which cemented his position as the new lead singer of Bollywood. Music was composed by Ismail Darbar. The song was filmed on Keerthi Reddy and Abhishek Bachchan who marked their screen debut in year 2000.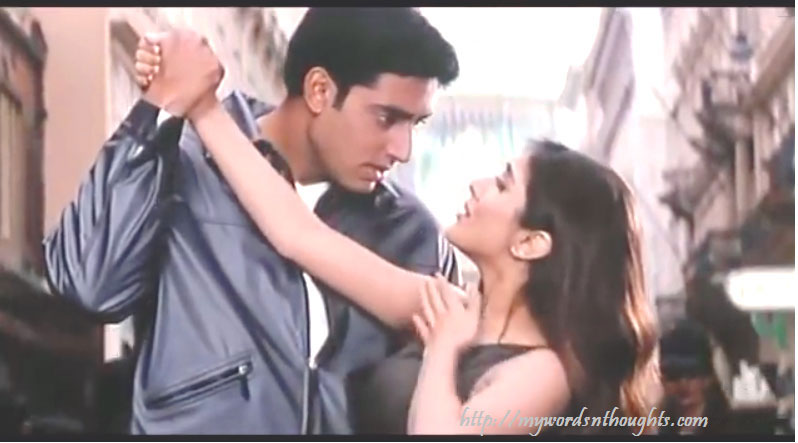 13. Saathiya Yeh Tune Kya Kiya of Love – One of the early works of Chithra in Bollywood, the song featured Revathy and Salman Khan. Though the movie was a flop, the songs became popular. She sang this popular duet aside S.P. Balasubrahmanyam, and music was composed by Anand-Milind. The composers regularly used this most successful singing pair of south Indian music of 1990s in Bollywood. Four duets were recorded for the movie, of which Saathiya Yeh Tune Kya Kiya became popular.
14. Jahan Piya Waha Mein of Pardes – Needless to say, songs of Pardes became a rage across the nation during the 50th year of Indian independence. The album composed by Nadeem-Shravan had a unique blend of romantic, sad, patriotic and fast songs. Though major credits went to Kumar Sanu for its romantic tracks, Chithra's work was also appreciated. Lyrics were credited to Anand Bakshi.
15. Roop Suhana of The Gentleman
– Originally a Rahman tune from the Tamil movie with the same name, it was one of the early associations of Anu Malik with Chithra. The original version was sung by melody queen Janaki, (
Read more here
) and its Hindi version pictured on Juhi Chawla and Chiranjeevi was also a huge hit. Chitra sang this duet with S.P. Balasubrahmanyam.
16. Hawaa Mein Kya Hai of Jaagruti – A popular duet featuring Salman Khan and Karishma Kapoor, the song was sung by Chitra aside S.P. Balasubrahmanyam. Chithra frequently sang several duets aside SPB in the 1990s. The music was scored by Anand-Milind, with lyrics authored by Sameer.
17. Mera Dil Ka Tumse of Armaan – Two Chithra songs featuring Preity Zinta were released in the year 2003 and both got noticed – Mera Dil Ka Tumse and Koi Mil Gaya. Music of Armaan was scored by Shankar-Ehsaan-Loy. Javed Akhtar wrote the lyrics.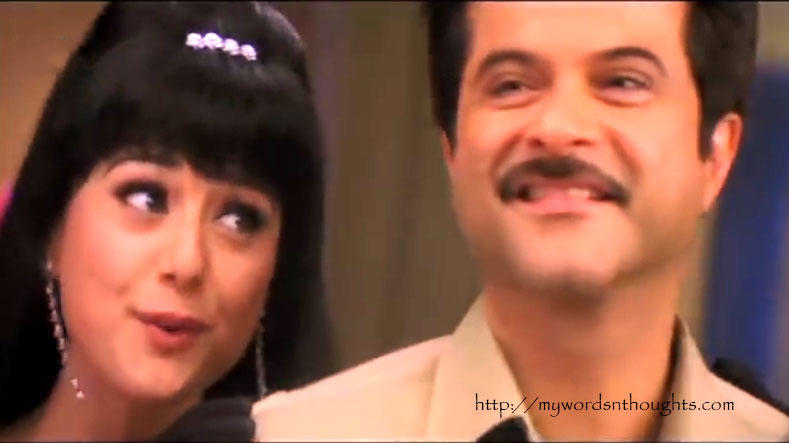 18. Yaara Suno of Rangeela
– This peppy track featured Aamir Khan and Urmila.
Rangeela and Bombay
were released during 1995, and Rahman used Chithra's voice to record one song each in Hindi version. The lyrics were penned by Mehboob. The track was originally composed for a Telugu film Super Police, and later reused for
Rangeela
.
19. Ek Bagiya Mein of Sapnay – The rendition of its original Tamil version gave National award to Chithra, and Rahman – the best composer award. All the songs – both in Tamil and Hindi were huge chartbusters, and one of the rare Indian albums to receive three National awards in music category and one more in best choreography category. The original version titled – Minsara Kanavu gave SPB the national award for the song – "Thanga Thamarai" and Prabhudeva best choreographer award for "Vennilavae" and "Strawberry Kannae" songs. This foot tapping number featured Kajol, Nassar and Prabhudeva.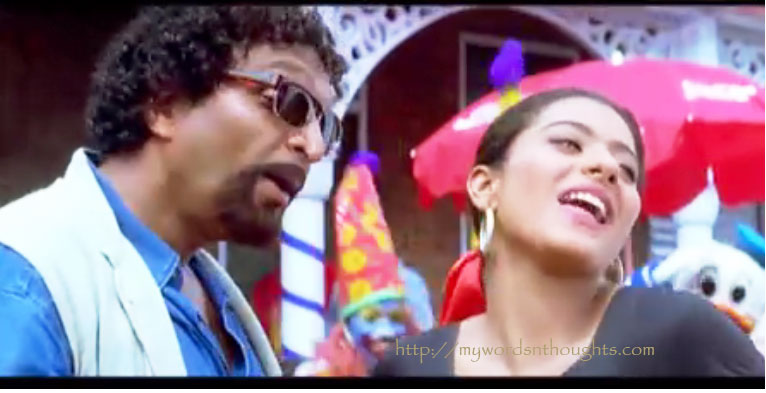 20. Mil Gaye Mil Gaye of Love Birds
– Originally a dubbed version, flawless rendition by Chithra makes it a perfect melody. She sang this popular duet aside Hariharan in both Tamil and Hindi versions. The film featuring Prabhudeva and Nagma was originally inspired from 1986 Kannada movie
Ratha Sapthami,
which was later used by Rajesh Roshan to launch his son through
Kaho Na Pyar Hai,
and the rest is history.
With the songs listed above, any melody fan can agree with the fact that she is indeed the queen of melody. She sang the popular title track of Rang De Basanti aside Daler Mehndi. But it was Daler who steal the show. Raat Hamari To Chand Ke Saheli Hai of Parineeti, Tu Maange Dil Main De Doon Jaan of Aflatoon, Dil Mere Tu Deewana Hai and Har Subha from Sooryavansham, Chup Tum Raho from Is Raat Ki Subah Nahi, Tu Hi Meri of Ada A Way of Life, Title track (sad version) of Pyar Tune Kya Kiya, Ghar Mein Bajti Dhun Ko Sun Kar from Via Darjeeling, Sawan ki Baharein and Zindagi Mein Tum Mile of Saza-E-Kaalapani etc are a few more. She regularly worked with A. R. Rahman, Anu Malik and Anand-Milind, and rendered her voice for Kajol, Manisha Koirala, Karishma Kapoor, Kareena Kapoor, Preity Zinta, Tabu, Vidya Balan, Juhi Chawla, Raveena Tandon, Urmila and many leading heroines of Bollywood. Though she has sung several chartbuster songs of Bollywood, she couldn't achieve the same status which she received with south Indian language films.
(Visited 11,714 times, 1 visits today)