Thrissur Pooram 2017 – What are the new specialties?
Thrissur Pooram 2017 falls on May 5, 2017. A visual treat to all festival fans across the world, this year too, we can expect nothing short of a grand celebration. Kodiyettam on 29th, Sample Fireworks (sample vedikett) on 3rd May and Thrissur Pooram on February 5th – The main menu this festival season. What are the specialties of Pooram 2017? Have a look.
A century-old Thimila to become a part of the eve
Thimila, also known by the name 'Pani' is an integral part of Panchavadyam, a musical treat using 5 traditional musical instruments. A Panchavadyam becomes complete only if it begins with Timila Pattu and ends with the Timila Idachal. This year it's so special to Thrissur pooram, as a 100-year old Thimila which was once used to formulate Panchavadyam in the present style is to be reused this time after a long time. The timila is currently owned by Paraykaad Thankappan Maraar, who got the honour to become Pramani of Thiruvambady's Panchavadyam team for the first time.
This Thimila, which carries the reminisce of many past poorams, originally belonged to Annamada Achutha Maaraar, who played the role of Pramani (Head) of Thiruvambady's Madhathil Varavu Panchavadyam for long 60 years. Before Achutha Maaraar passed away in 1984, he handed over his thimila to his favourite disciple Paraykaad Thankappan Maraar, who plays the role of Pramani for Thiruvambady this year. It's for the first time he is assigned to the role of Pramani, and he uses his guru's Thimila for this year's Pooram festival eve. Thankappan's father Naanu Aasan and Achutha Maaraar have together participated in many temple poorams of glorious yesterdays. Thankappan made his arangettam in 1975 which finally resulted in the handover of this heritage Thimila to him by his guru.
During the glorious years of Achu Maarar too, he used to give opportunity to his favourite disciple, Thankappan Maarar. At the age of 80, Achumaraar handed over his baton to Nanu Maraar, who later stayed as Pramani of Paramekavu group for many years. During all those years Thankappan used to assist his father in Panchavadyam. When Chottanikkara Vijayan led as Pramani for Paramekkavu's Panchavadyam team, Thankappan stayed on his right hand side with his guru's timila.
Though this Timila is a century-old, it's not damaged yet, says Thankappan Maraar who creates waves of magic with this musical instrument. He also certifies that its sound is bit different. It's basically because of the wooden part used for its making a century ago. Thankappan Maarar gets the opportunity to lead the team after a long wait of 34 years, and let us wish him all the very best.
First Pooram without Davis Ettan in the new century
This year, Davis Ettan won't be a part of Thiruvambady Bhagavathy's group. A well-known figure of elephant festivals of Kerala he is best known as a great elephant lover. He has been a part of Thrissur pooram for so many long years. He passed away on February 5, 2017 following a massive heart attack this year leaving behind a void that's not easy to fill very soon. He spent a life time for the welfare of elephants and families of mahouts, and was serving as the district president of Elephants Owner's Federation.
He had an A-Z knowledge of all elephants which participate in Pooram every year, and was fondly called 'Aana David' by people who loved him. Many people used to clear doubts with him, regarding elephants and their participation in Thrissur Pooram. He shared a great relationship with elephants and mahouts, and used to enquire about them.
Despite being a Christian, this native from Chittilapilly was closely attached to Thiruvambady temple and elephants. He used to shake elephants' tusks and pat them with love which showed his deep love to the animals. He played a significant role in choosing the final list of elephants that make their way to participate in Thrissur Pooram every year.
He broke into tears soon after the death of Thiruvambady Valiya Chandra Sekharan, a famous elephant belonging to Thiruvambady. He stayed close to the elephant for the last 42 days, forgetting everything, even his own home. It was his deep relation with Gopi Varyar which attracted David Ettan's attention to the world of elephants and Thiruvambady temple. Their friendship started during academic years, and when he bought an elephant for the first time, he christened it as 'Thiruvambady Kutti Shankarana'. Thiruvambady team and elephant lovers will definitely miss him this festival season.
Other specialties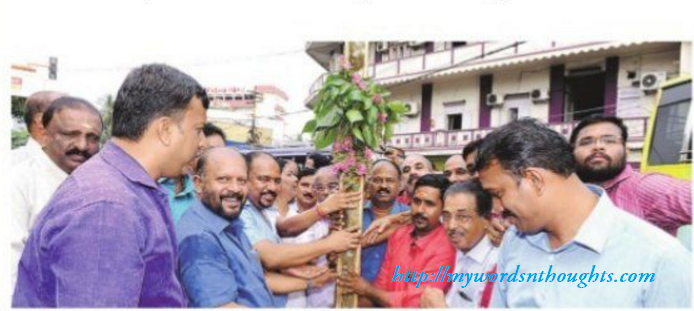 This year, Fiber Panthal is to become a part of festival eve for the first time. It's made at Naduvilaal, made by Thiruvambady Group. Fixed on iron pillars, its height can be adjusted as per need. Work can be completed easily too. Now the team has targeted to build a panthal of 100-feet height and to find a place in book of records. Two vehicles can pass by through the panthal at the same time.
Started countdown from 100th day to Pooram, many Pooram fans are already engaged in the discussions about Thrissur Pooram 2017. They are active through whatsapp groups and Facebook pages, giving details about the full schedule of Thrissur Pooram this year. They also invite people and friends to join Pooram festival this year. Though people are still in dilemma about fireworks to be displayed this season, they find interest to discuss about elephants, Panchavadyam, making of Panthal and of course, history of many Poorams witnessed by cultural capital of Kerala in the past.
Panthal work for both groups has already been started. Other major works have also begun, and people have already started flowing to main town and nearby places, as a part of several preparations. Very soon Thrissur is to witness the biggest elephant festival of Kerala.
Stay tuned to get more updates of Thrissur Pooram here. If you want to know more about this festival, click the link here.
A few photos of the temples decorated during the eve
Image Courtesy: Mathrubhumi e-paper Thrissur edition April 25 & 26, 2017
You can read a few more articles related to Thrissur Pooram celebrations commenced in the month of Medam, the biggest temple festival of Kerala. Here is the page link. Click on the images in the gallery to read
(Visited 700 times, 1 visits today)