T. P. Muthulakshmi – Female comedian of Tamil cinema
T. P. Muthulakshmi (1931 – 2008) was a character artist of Tamil cinema from late 1940s throughout mid-1970s, who excelled in comic roles. She was one of the early established female comedians of the industry, with more than 350 films to her credit. She joined film industry as a background dancer in 1948 movie, Chandralekha, and got her first acting role in 1950 film, Ponmudi, which gave her a major break. Though she shared screen space with all male comedians of 1950s and 1960s, her pairing with A. Karunanidhi was an instant hit. Films like Veerapandya Kattabomman established them as one of the leading comedy pair of the era.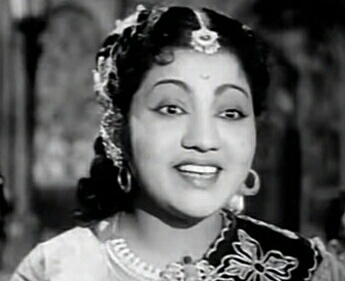 She marked her career as a background dancer in 1948 film, Chandralekha
T. P. Muthulakshmi was a native of Tutucorin. Her full name is Thuthukudi Ponnaiyapandiyan Muthulakshmi. Though she studied only till 8th grade, she was interested in dancing and singing and took formal classes in both. Since childhood she wanted to become an actress. To pursue her dreams she moved to Chennai, where she was helped by her uncle M. Perumal who worked as a background dancer for K. Subramaniyam's films. Initially she also got break as a background dancer in Chandralekha, where she danced with the lead heroine of the movie, T. R. Rajakumari.
1950 film – Ponmudi was her first acting role
She joined Gemini studio at a monthly salary of 65 rupees, and worked in bit roles in movies for a few more months. Ponmudi released in 1950 gave her the first credited role as an actress. The movie was produced by Modern Theatres. Her role as Bhavani, K. R. Ramaswamy's wife Bhavani in 1951 movie – Or Iravu and the role of a dumb woman in Thirumbi Paar (1953) gave her major break as an actress. Initially she played bit roles on screen, and slowly established as a lady comedian.
Apart from comedy, she also played other character shades on screen
She got married in 1958, and continued her career till early 1970s, before she retired. She led a quiet life away from limelight for more than three decades till she passed away in 2007. Some of her other major acting roles are Mayabazar, Makkalai Petra Magarasi, Thanga Padhumai, Veerapandiya Kattabomman, Kadan Vangi Kalyanam, Annaiyin Aanai, Nadodi Mannan, Aaravalli, Vannakili, Kappalottiya Thamizhan, Kalyaniyin Kanavan, Iruvar Ullam, Anubavi Raja Anubavi, Naan etc. With early 1970s she reduced her work and was last seen in Kula Gouravam released in 1974. Towards the end of her career, she experimented with character roles as well, apart from comedy, and also played senior lady roles.
T. P. Muthulakshmi – Some interesting and less-known facts
1. She appeared in the mural dance of Chandralekha (1948) which marked her screen debut as a background dancer.
2. She was one of the early established female comedians of Tamil cinema.
3. She was married to P. K. Muthuramalingam, a supervisor of the state agency. Her brother-in-law T. P. Gajendran has directed a few movies, and also played minor roles on screen.