Sweet Boli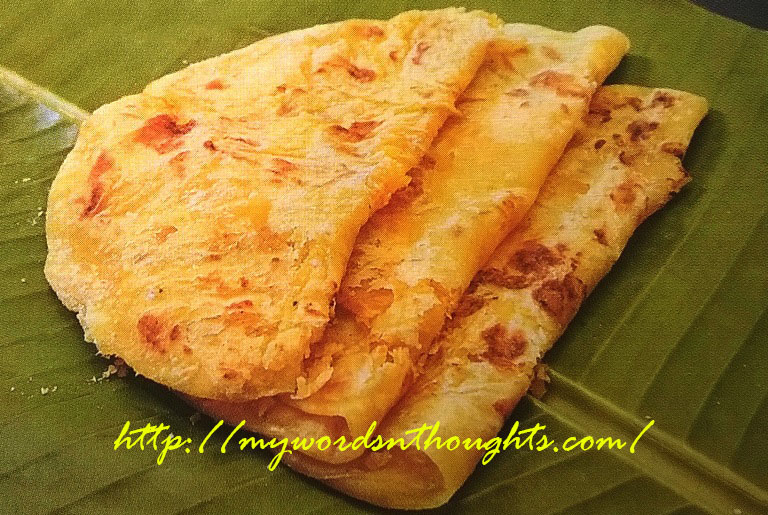 Ingredients for Boli:
1. Ghee – 3 big spoons
2. Kadala paripp (Bengal Gram daal) – 1 cup
3. Sugar – ½ cup
4. Cardamom and nutmeg powder – ½ small spoon each
5. Maida – 1 cup
Turmeric powder – ½ small spoon
Salt – As required
6. Gingelly oil – As required
7. Rice powder – For rolling
How to prepare Boli?
1. Cook Bengal gram and drain off excess water.
2. Then make a fine paste of Bengal gram.
3. Heat ghee in a pan and add Bengal gram paste to it along with sugar.
4. When gram is fried, if you want, you can add excess ghee.
5. When the mixture turns sticky and separates from pan edges add cardamom and nutmeg powder.
6. Mix well and put the flame off.
7. Mix turmeric powder and salt with maida.
8. Add water and prepare dough similar to chappatti.
9. Make small balls out of it and soak them in gingelly oil for 15 minutes.
10. Take each ball in your palm, press it and place gram filling at the centre.
11. Now wrap the ball from four sides, and if excess maida is present, tear it off to make it perfect.
12. Dip each ball in rice flour and spread like chappatti.
13. Fry in hot tawa and serve along with Vermicilli or Paal Payasam.
You can go through my boli recipe here, where I have explained a little more detailed.
Courtesy: Vanitha Magazine September 1-14, 2017
Also read: Maampazha Semiya Payasam recipe
You can read a few more delicious gram flour sweet recipes. Here is the page link. Click on the images in the gallery to read.