Stuffed Tomatoes With Chicken Sausage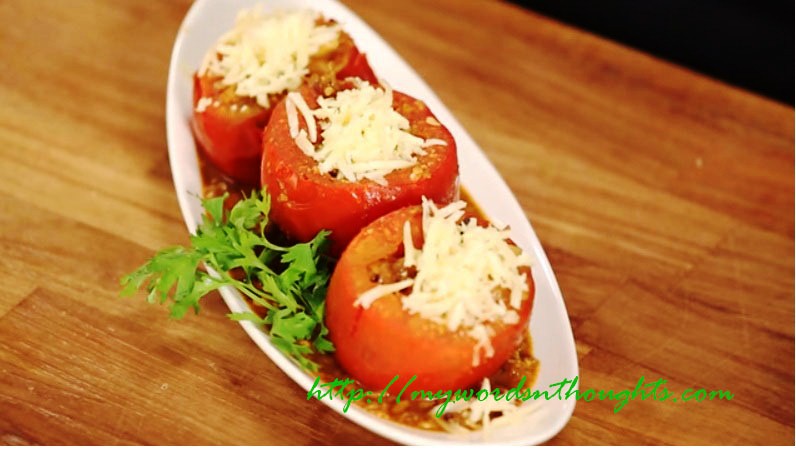 Ingredients for Stuffed Tomatoes with Chicken Sausage:
1. Tomatoes (small sized) – 8
2. Chicken sausage – 150 gm
Garlic – 2 cloves
3. Butter – 2 big spoons
4. Salt – A pinch
5. Corn – 2 big spoons
6. Salt and pepper powder – As required
7. Cheese – 1 cube, grated
How to prepare Stuffed Tomatoes

with Chicken Sausage

?
1. Cut one tip of tomatoes and remove the inner pulp using a spoon.
2. Cut sausage and garlic to very fine pieces.
3. Melt butter and add a pinch of salt.
4. Sauté tomatoes for just 1 minute and keep aside.
5. In the remaining butter, add corn and sauté for 1 minute.
6. Add sausage and garlic and sauté the mixture for 1 more minute.
7. Add pepper and salt at this stage and take off from flame.
8. Insert this sausage filling into the prepared tomatoes and sprinkle grated cheese on its top.
9. Bake in microwave oven for 30-40 seconds till cheese starts melting.
10. Serve hot.
Courtesy: Vanitha Magazine October 15-31, 2010
Also read another recipe of stuffed tomatoes.
Read a few more tomato recipes belonging to different categories. Here is the page link.
(Visited 119 times, 1 visits today)