Steam Cake & Laddu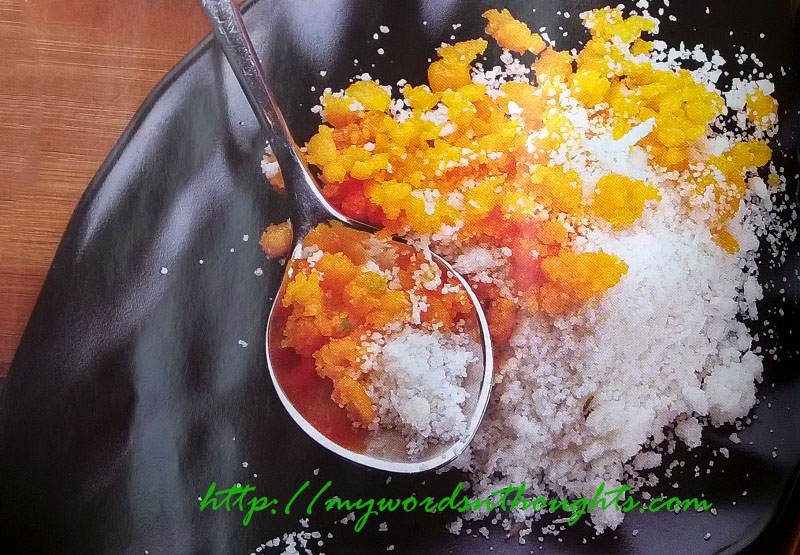 Ingredients for Steam Cake & Laddu:
For Steam Cake:
1. Rice flour – 2 cups
2. Salt, water – As required
3. Coconut scrapped – 1 cup
For Laddu:
4. Ghee – 2 big spoons
5. Cashews broken – 1 big spoon
Raisins – 1 big spoon
6. Sugar – 1.25 cups
Milk – 1 big spoon
Water – 1.5 cups
7. Saffron – A pinch
8. Gram flour (besan) – 1 cup
Water – As required
9. Oil – For frying
10. Cardamom – 4, powdered
How to prepare Steam Cake & Laddu?
1. Add sufficient water and salt to rice flour and prepare flour for steam cake.
2. Add ½ cup scrapped coconut and mix well.
3. Prepare steam cake by filling flour and remaining coconut flour in alternate fashion.
4. Steam cook it and keep aside.
5. To prepare laddu, heat ghee in a pan and fry cashews and raisins.
6. Mix together ingredients no: 6 to prepare sugar solution.
7. While boiling the solution, filter off the foam that forms on its surface.
8. Add saffron to it, and keep it warm aside.
9. Add water to gram flour and prepare batter for laddu.
10. The batter should be slightly thick in consistency if compared with dosa.
11. Heat oil in a pan and pour the batter through a strainer with round pores.
12. Batter falls to hot oil like beads.
13. Deep fry boondi and later immerse them fully in sugar solution.
14. Add cardamom powder and fried raisins and cashews to boondi.
15. Make small balls when it's slight warm to get perfect shape.
16. You can mix both powdered steam cake and laddu and serve it as a tasty dish.
Note: After preparing flour for steam cake, you can blend it once in a mixer. Your steam cake turns soft.
Courtesy: Vanitha Magazine February 15-28, 2018
You can read few more delicious steamcake recipes here. Here is the page link. Click on the images in the gallery to read.
(Visited 176 times, 1 visits today)