Shepherd's Pie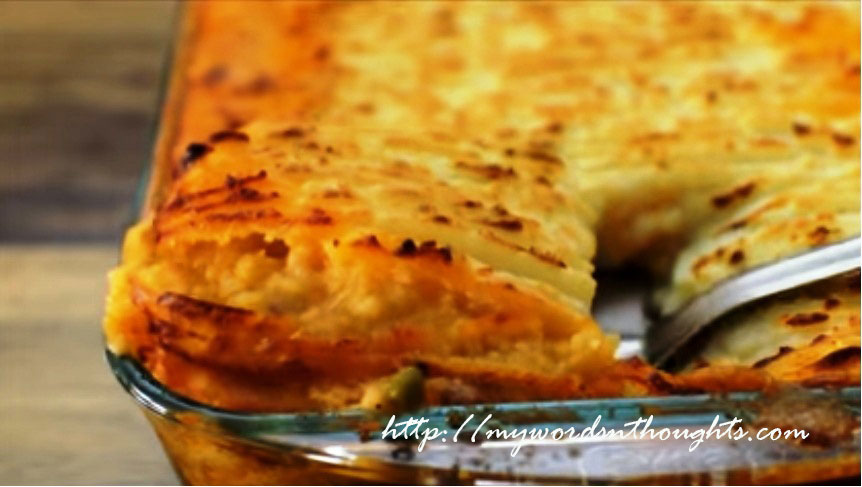 Ingredients for Shepherd's Pie:
1. Potato – ½ kg, boiled
2. Butter – 2 big spoons
Salt – For taste
3. Oil – A little
4. Onion chopped – 1 cup
5. Minced meat – ½ cup
Salt and pepper – As needed
6. Tomato sauce – 3 big spoons
7. Maida – 3 big spoons
Water – ½ cup
8. Cheese – A little
How to prepare Shepherd's Pie?
1. Add butter and salt to boiled potatoes and smash it well.
2. Pre-heat oven to 180 degree Celsius.
3. Heat oil and sauté onions.
4. Add minced meat, salt and pepper and mix the contents well.
5. Cook till water content from minced meat is almost absorbed.
6. Add tomato sauce and fry the contents for a while.
7. Add maida and water and mix it well.
8. When the contents start to thicken, take off from flame.
9. Spread this mixture to a baking dish and place smashed potatoes on its top.
10. Spread cheese on its top and place inside preheated oven.
11. Bake the pie till upper side of the pie turns golden brown.
12. Serve aside bread rolls.
Courtesy: Vanitha Magazine March 1-14, 2018
Read a few more tart and pie recipes. Here is the page link. Click on the images in the gallery to read.
(Visited 81 times, 1 visits today)