Pineapple Payasam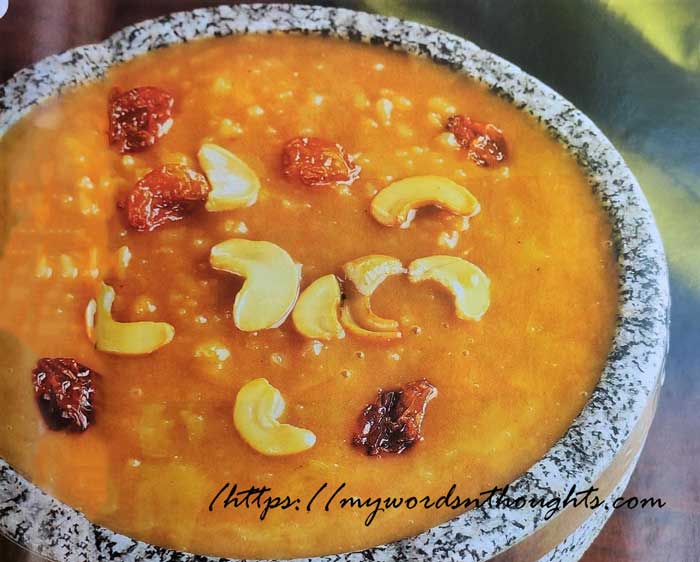 Ingredients for Pineapple Payasam:
1. Coconut scrapped – 5 cups
2. Jaggery – ½ kg
Water – 1.5 cups
3. Raw rice – 1 cup
Bengal gram – ¼ cup
4. Well ripen pineapple cut into fine pieces – ½ cup
5. Cumin powder, dry ginger powder – As needed
How to prepare Pineapple Payasam?
1. Extract 1 cup first milk, 4 cups of 2nd milk and 8 cups of 3rd milk from scrapped coconut.
2. Add water to jaggery, boil and melt it. Prepare 2.5 cups of jaggery solution.
3. Cook washed (and strained) rice and Bengal gram in third extract of coconut milk.
4. When rice is cooked well, add pineapple pieces and cook again.
5. When all ingredients are cooked well and contents thicken, add jaggery solution.
6. Allow it to thicken for a while and add second extract of coconut milk.
7. Keep stirring and cook till payasam thickens.
8. Add cumin powder and dry ginger powder, along with thick coconut milk and mix well.
9. Put off the flame before payasam boils.
Note: You can also substitute pine apple with Poovan Pazham (a small type of banana) and rice with broken wheat too.
Courtesy: Vanitha Magazine September 3-16, 2022
Also read a few more Pradhaman/Payasam recipes. Click on the images in the gallery to read.
(Visited 22 times, 1 visits today)