Chena Varuthupperi (Yam Fry)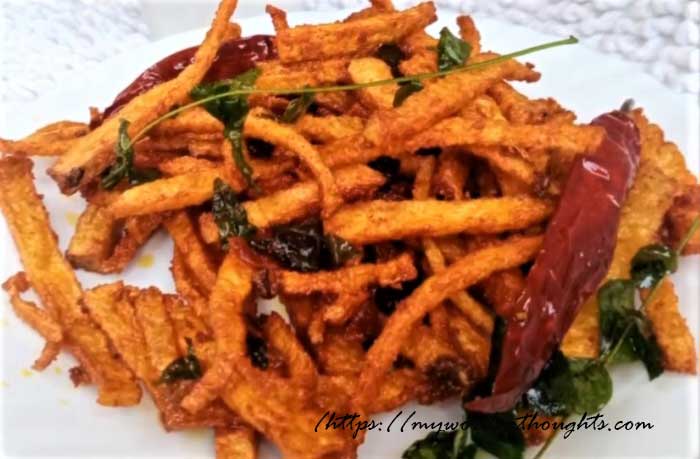 Ingredients for Chena Varuthupperi (Yam Fry):
1. Yam – ½ kg, sliced into thin sticks
2. Turmeric powder – 1 small spoon
Salt – As needed
3. Oil – For frying
How to prepare Chena Varuthupperi (Yam Fry)?
1. Add turmeric powder and salt to elephant yam and fill water in the container till yam fully immerses.
2. Soak yam in water for half an hour.
3. After half an hour, completely remove water content from yam and allow it to dry a little bit.
4. Heat oil in a pan and deep fry yam pieces.
Note: You can make the same yam fry using less oil in 5 minutes using a microwave oven. Spread yam sticks in a tray and grease it with a little oil. Microwave it for 5 minutes. Flip the yams in between, to cook the other side too. Your yam sticks should turn crispy.
Courtesy: Vanitha Magazine, August 20 – September 2, 2022
Read a few more snack recipes. Visit my page.
(Visited 8 times, 1 visits today)