Palavattam Pookkalam song from Manichitrathaazhu – Lyrics in English with Translation
Song: Palavattam Pookkalam from Manichitrathaazhu (1993)
Lyrics: Madhu Muttam
Music: M. G. Radha Krishnan
Playback: Yesudas
Filmed on: Mohanlal, Sudheesh
Palavattam Pookkalam song from Manichitrathaazhu – Lyrics in English with Translation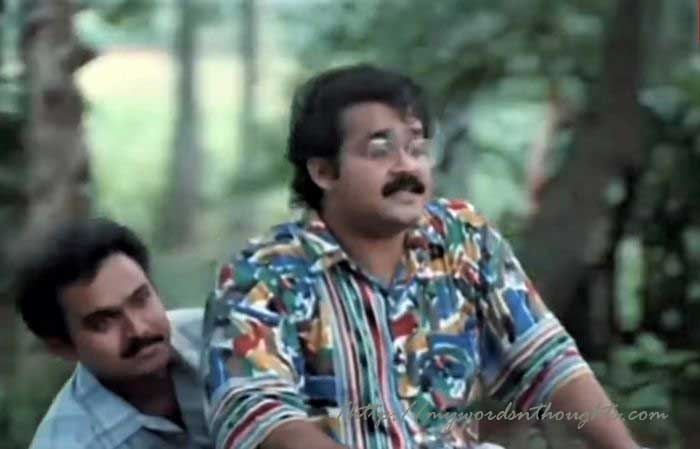 Palavattam pookkalam
Vazhithetti poyittangorunaalum pookkaamankombil
Priyamulloralaro varuvanundennu
Poonkuyilonnu padipparanju
Poonkuyilonnu Padipparanju
Many times, spring lost its path
And reaches the branch of mango tree –
Which never blossoms…
In that tree branch,
Sitting one cuckoo, singing & saying,
Someone dear is to come
Ninayathanerathen padivathilil
Oru padavinyasam kettapole
Varavayalorunalum piriyatha madhumasam
Oru mathra konduvannallo
Oru mathra Konduvannallo
At an unexpected moment,
I felt like,
Someone's footsteps at my door step
Is it that *Madhu month,
That a single moment brought in,
Which never goes if in case comes in?
Today, did that single moment bring the *Madhu month??
Kothiyode odippoy padivathilil chennen
Mizhirandum neettunna neram
Niraye thalirkkunnu pookkunnu kaaykkunnu
Kanavinte thenmavin komb
Ente karalile thenmavin komb
The moments when I run with desire,
Reach the front door
And extend both my eyes,
Is fully sprouting, blossoming & bearing fruits,
The mango tree branch of dreams
The branch of mango tree in my heart
*Madhu month – March-April when mango tree blossoms
(Visited 100 times, 1 visits today)