Palappam with Idli Rice and Rice Flakes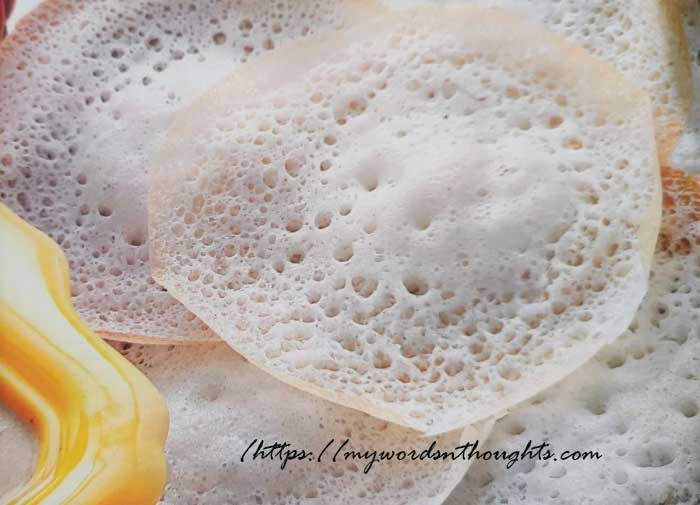 Ingredients for Palappam with Idli Rice:
1. Raw rice – 1 cup
Idli rice – 1 cup
2. Coconut – 1
3. White rice flakes – 1 cup
Cooked rice – 2 small spoons
4. Yeast – ¼ small spoon
5. Milk – ½ cup
White yolk – 1, beaten
6. Salt and sugar – As needed
How to prepare Palappam with Idli Rice and Rice Flakes?
1. Mix raw rice and idli rice, wash it and soak in water for 6 hours.
2. Extract 3 cups of coconut milk from coconut.
3. Completely remove water from soaked rice.
4. Grind rice, along with cooked rice and 2 cups of coconut milk, and prepare batter.
5. Add extra coconut milk only if needed.
6. Add yeast to batter and ferment it for 8 hours.
7. Heat milk, and add to fermented batter along with white egg yolk, salt and sugar.
8. Mix the batter well and allow it to rest for half more hour.
9. Heat Appam pan and pour 1 big spoon full of batter to it.
10. Rotate it once, to get a perfect round shape.
11. When bubbles form in laces close the lid and cook your palappam.
12. After 1-2 minutes, open the lid. Your palappam is ready.
13. Continue the process for remaining batter.
Courtesy: Vanitha Magazine April 16-29, 2022
Also read a few more appam and idiyappam recipes. Click on the images in the gallery to read.
(Visited 16 times, 1 visits today)