Nostalgia of Kerala's Mango Season is here
'Mambazhakaalam' – This single word holds a sack of nostalgic memories of childhood. When schools close across Kerala just with the beginning of hot summer season for 2 months, mango season might have just begun. It's a time when children's 'gangs' gather around countryside trees with stone in hands. Read more about 100+ varieties of mangoes available in Kerala.
Mango is like a 'friend at the fingertip'. He reaches you so easily; just you need to give a call. Mango pickle, mango chutney, mango curries, mango juice, ripen fruit or a piece of raw mango with salt, he is close to you in numerous ways, during your joys and sorrows. Mango pickle or salted mango is handy for every mom at home when she is busy or some uninvited guest comes for lunch.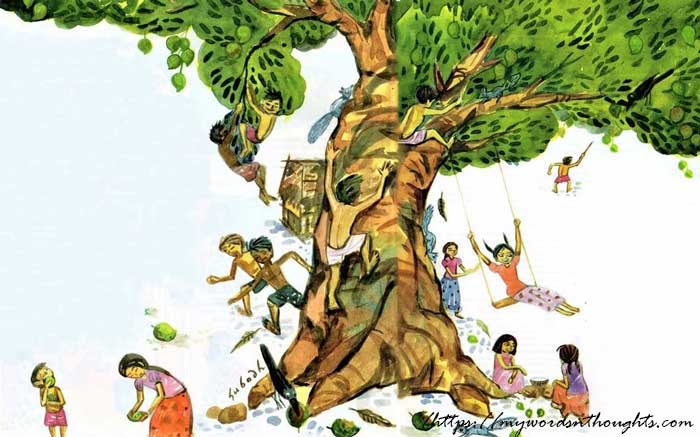 Even if you grow old and your hair starts graying, old memories of a mango tree in the courtyard of your house or LP school can take you back to childhood, and make you feel like a child. Your memories can blossom again like mango flowers (Maampoo). If no one is near, and if you see a stone, it can tempt you to throw at the mango bunches – A reflex action very hard to resist! How much easily can your age go in the reverse gear! Yes, like your old friends during your active years. That much the term 'mango' – maanga in Malayalam is associated with the life style and memories of an average Malayali.
Mango season and summer vacation are thick friends
Yes, you heard it right! As I told earlier, when schools close after final exams, kids will be in a very relaxed mood and it's the season of mango flowers and blossoms too. So, both are just like thick friends, coming together every year in repeated mode. When a kid writes his final exam timetable in one of his book pages, mango season might have already blossomed! Just like a teen girl in love, mango trees show all mannerisms of happiness at that time. Yes, the beginning of mango season, just like youth age is coming!
When flowers slowly turn into small mangoes and start slowly ripening, schools might have closed, and there begins the search of young gangs for big mango trees with tasty mangoes. Mangoes need not turn to ripen fruits. Raw mangoes too are kids' favourites. They only need salt as an accompany.
Cricket, stone throws and memories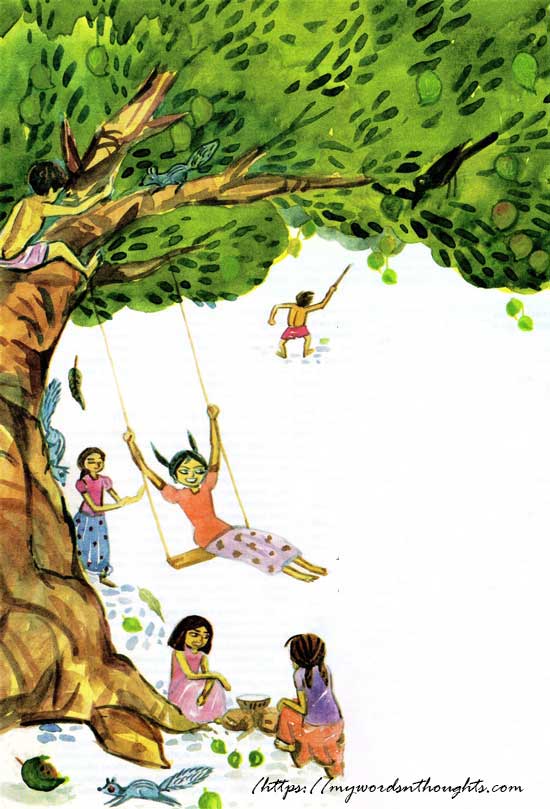 Mango tree has always been the friend of playground. If we look back the childhood days of ours, at least one mango tree would be there in family courtyard, backyard or the outer space where kids prefer to play. Agricultural fields always had mango trees. As time moved forward, people turned busy and fields and courtyards started shrinking, mango trees along with other trees also started disappearing with greenery which was once abundant here. Yet mango trees have not fully disappeared from sight and kids always love their presence.
Kids of present generation may take risky tasks like playing game in mobile while climbing a mango tree. But there was a time when such electric gadgets were not there, and kids fully enjoyed summer vacation giving a lot of physical exercise to body. Those days, when schools close, the play space of kids get shifted to the shades of mango trees, which protect them from hot sun. Trees give their umbrella shades. When some play cricket, some make swings and some others make playhouses to play family and kitchen. Others play games beneath the trees. But the smartest among all are more interested in throwing stones at mangoes, than playing under shades.
Throwing stones to mangoes is still an art
Time has changed a lot. Yet some things never change. Yesterday or today – throwing stones to mangoes is a fascination of kids, young teens and even adults. In fact, in many places where kids play or return after studies from tuition classes during vacation, mango trees used to be their 'victims'. Excitement to take wickets in playground or aiming & succeeding in hitting target at mango trees remain the same. Don't you agree?
Raw mangoes are mostly smashed using stones and eaten. But when kids return after play, they love ripen mangoes most. It's a different kind of nostalgic feel, thinking about those days when kids squeeze mango fruits, after removing the stalk & stain portion. Those days, not many health drinks or carbonated drinks were available and mango juice was the best option to quench thirst and get away with tiredness, hunger & sweat.
There used to be some regular spaces and regular mango trees too. When kids pass through such spaces, they will definitely search if any mango, raw or ripen is found on ground. It's also a time when mango fruits fall off from higher branches where stones can't reach, and only option left is to wait till they ripen and fall.
Is the first ever 'aim' of a kid – a mango?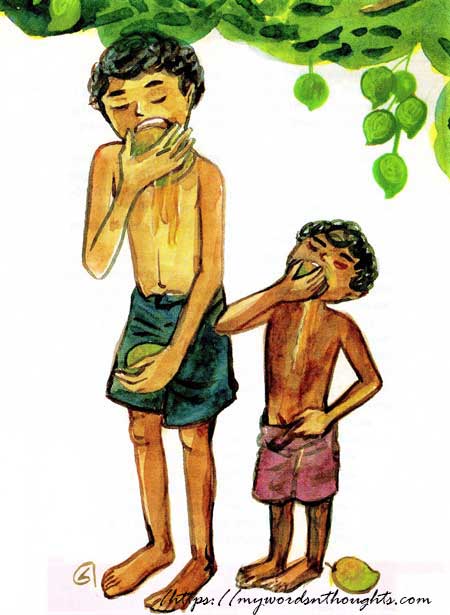 Just think for a moment. Many of you may agree with this point. From aimless throws of early childhood to throws with aims as the child grow up – yes, it's the part of every human's life, either it's aiming a mango or something else. Many times, you are not even sure if the thrown stone hit the 'target', yet you still keep trying. Sometimes the throw is within your hold; aim not so high. Many times, your aim may be very high, yet you try to reach there.
Let's leave philosophy and come back to our nostalgic thoughts related to mangoes. The king is someone who hits the mango with the first throw. Believe me, it increases the self confidence of a child manifold. Is there anything connecting with child's psychology? Not scientifically proven yet. But definitely it can influence kids going through similar situations. When you aim so high and hits the target, the confidence it gives is undeniably strong.
There is also another group of kids, who don't throw stones at mangoes, fearing parents and others. Afterall it's not a right thing to throw stone at a mango tree of a courtyard belonging to someone else. It's something like stealing without the permission of owner.
The gone Corona season has taught us a lot. It definitely brought back those food deficit old days, though for a short interval. People started using fruits and vegetables available in backyard, rather than throwing them away. All of us started using food with much control, throwing away waste very much less. People started using money with more control. Jackfruit and mangoes returned back to the dining table of Malayalis once again!
The mango season of tastes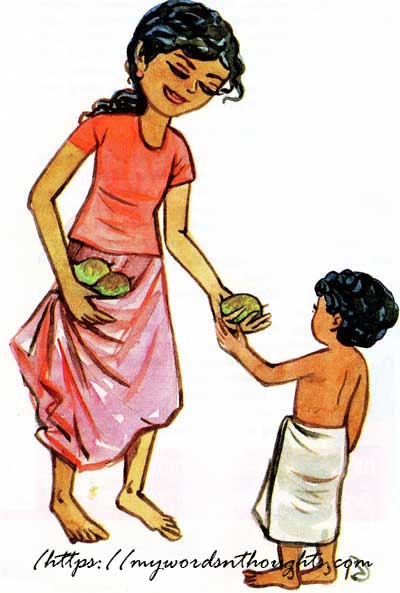 From flower to seed, mango is almost edible. Most of its parts can be used to prepare any dish. There was a time when people used mango leaves as tooth paste to clean teeth. Now we can't see such sights. Like a human, each mango has its own personality. There are different local mangoes available in different parts of Kerala, owning its own integral traits and tastes. Read more. Not only in taste, in structure, size and colour shade of leaf, in stem/wood and even in height and branching, each mango tree differs from one another.
Most interesting fact is, even if the mango variety is same, it tastes different in different places, based on the geographical features where it's grown. Moovandan Mango cultivated in Kottayam may differ in taste from the same mango variety grown in Vaikam. Moovandan is also available in another 'black' flesh variety, which is sweeter. Its flesh has more intense yellow, like local mango varieties, and hence known as 'Karutha Moovandan'.
While boys are aiming mangoes, girls mostly are involved with 'collection'. Those days skirts were most common. If the skirt is long, it can be folded to make a bag like structure and mangoes are put inside it. Tender mango (Kanni Maanga) is also every kid's favourite. Mostly used to make pickles, it can be also salted. Those days kids used to tear the tender mango, remove seed and crush it along with red chillies, salt and shallots. A drop of coconut oil can be added in the final stage. It makes a good combo for rice or gruel.
Five local tastes of mango (Dishes made from mango)
Mamboo Kichadi (Mango Flower Kichadi) – Put mango flowers in a little curd. Crush a little mustard seeds, salt and chillies and add to it. Temper it using coconut oil, mustard seeds, red chillies and curry leaves. Kichadi is ready. You can also make chutney by grinding mango flowers and coconut together.
Kanni Manga Thoran (Tender Mango Thoran) – Split tender mango into 4 lengthy parts and remove mango seed. Crush coconut, red chillies, curry leaves, salt, cumin and garlic together. Rub it along with mango pieces. Then prepare as normal thoran. Simply cook it, and dry well.
Pacha Maanga Madhura Chammanthi (Green Mango Sweet Chutney) – Take two scoops of green mango and crush it along with a shallot, chilli powder, salt and ½ spoon sugar or jaggery. When you prepare Chapati and Dal at home, it makes a sweet chutney to be taken along with it. You can also add sweetness to coconut chutney, but don't add shallots.
Maanga Maathramulla Avial (Mango Avial) – Take a well-ripen (not fruit) Moovandam mango and cut into lengthy thin pieces, similar to avial pieces. Cook it along with normal avial coconut gravy. Never add any other vegetables. You can add curry leaves and coconut oil at end, if you want.
Morillatha Maanga Sambharam (Buttermilk without Buttermilk) – Crush raw mango and add to chilled/cool water. Also crush ginger, green chillies and curry leaves, and add to it. Your buttermilk for hot summer is ready, where buttermilk is not used.
When mango trees turn pathfinders to strangers and travellers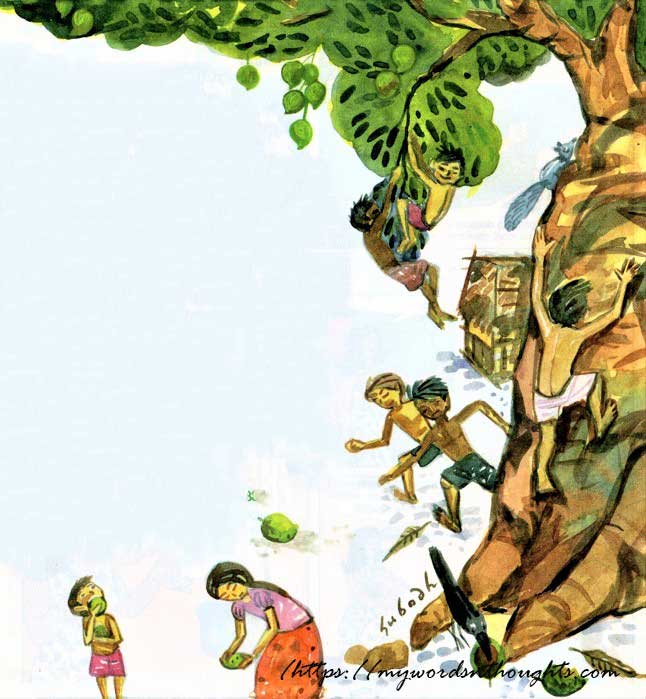 There was a time when almost every Kerala home had a mango tree or jackfruit tree in the courtyard or backyard. A full family or group of friends sharing common thoughts used to assemble there for gossiping. Green trees used to give a lot of fresh air, cool shades and cooling atmosphere too. But as space shrank, population increased and land turned more expensive, people cut trees and started making homes with shrinking space around. Slowly trees started disappearing from housing plots. People also, because of busy schedule and a time when most ladies go out for work, as it's not easy to maintain spaces with trees & clean the surroundings, they cut off trees, or prefer to choose housing plots with less or no trees planted.
If we rewind a few decades, most homes had a mango tree, which stood as a guide or marking to the home, showing its address. Only senior most persons can understand the full story, as they belong to a generation when they closely lived with nature and its elements. Like a sweet mango, many such memories are nostalgic to elderly people.
There was a time when people were very fascinated to local tastes in mangoes and even try to get seeds from that particular mango tree which they tasted, to plant in their courtyard. They simply think, even if I may not be alive when this mango tree blossoms, my kids and grandkids will definitely get this taste. Yes, a time when trees were planted for future generations. It was a time when local varieties were mostly seen, which take long time to blossom. Now it's the time of hybrid mango trees which take only a few years to give seeds and seedling.
Who planted those old & big mango trees on either side of public roads? Who knows! There was a time when on the either side of National Highway between Thiruvananthapuram and Angamali, hundreds of mango trees planted. They offered shade to the travellers and also gave a greenery effect. But unfortunately, when road was broadened many of them were axed. Some of them still stay in the memories of old people, spreading carpets of shade.
MC road was constructed during the rule of Travancore kings. Poverty was spreading in rural places and as a remedy, Maharaja ordered to plant different types of trees on roadsides. Apart from mango, jackfruit and a few more varieties were planted. Yes, those trees planted on either side of MC road tell stories of a few generations, not just a few years.
There are around 42 varieties of local mangoes commonly available in Kerala
Local mangoes, called 'Naattu Manga' in Malayalam are not hybrid ones. They are just carried forward from one generation to next. Naattumaav, Kilichundan, Kotta, Kadukaachi, Karpooramaav etc are some of them. Karpooramaav got that name because its mangoes have camphor (Karpooram in Malayalam) smell. Kadukaachi is short tree type. As Moovandan blossoms for the first time when it three years old, it got that name. Moovandan literally means 'someone with three years'. Kilichundan got that name as its tip resembles bird beak (Kili Chund in Malayalam). It is believed that the very popular Neelam mango came from a place called 'Neelam' of West Bengal. In short, taste, shape, place etc are different criteria used to name mango varieties.
When MC Road was broadened, the older trees were decided to be axed, leaving behind younger ones. That time, Nature Society of Kottayam decided to collect the seeds of their mangoes. It originated the idea – Maanga Vandi, which means 'Mango Vehicle'. There was a 300-year old Kottumaav variety mango tree in Laikadu of Changanassery. Maanga Vandi flagged off its journey in 2013 from this place, and ended its journey at Kattachira near Ettumanoor. Almost in the middle portion of State Highway in Kattachira, 11 mango trees were planted. Since 1984, they were conserved by High Court. That's why they decided to end journey there.
When the vehicle reaches every location, they handed over a few baskets to local people. Their task is to collect leftover seeds of mangoes either eaten by local people or by birds. After 4 days those baskets were collected and sent to Kottayam Social Forestry. Their task was to produce saplings from those seeds and freely distribute among people. This task, which was conducted for three continuous years was fruitful, and thousands of mango trees spread across Kerala now is the outcome of this successful effort.
Mango season in Malayalam poetry
"Angana Thaimaavil Ninnaadyathe Pazham Veezhke
Amma Than Nethrathil Ninnuthirnnu Chudukanneer"
Each and every kid is familiar with Vyloppilli's famous Mambazham poetry. When the son playfully plucks young mango bud of the tree, his mother overreacts and scolds him. The boy gets hurt and in tears, he says, he won't be there when the young mangoes ripen. His words come true and the child dies. The poem explores the plight of the mother and her thoughts when the mangoes finally ripen. When a child listens to this poem in his classroom, his mind flows to that grieving mother and even tries to comfort her. Even after the class is over, it stays as a paining memory in kid's mind.
The poetry was published in 1936 in the Onam Edition of the Mathrubhumi newspaper. Vyloppilli Sreedhara Menon also included this poem in his autobiography, Kavyaloka Smaranakal. 85+ years have passed since the great poet penned this poem with simple words. But still it wounds every heart. That's the emotional depth of this wonderful piece of work. The main inspiration behind this poem is the memory of his brother, who died at the age of 4.
The mango tree which inspired his work is still there in the courtyard of Higher Secondary School, Mulanthuruthy of Ernakulam district, giving shade to countless children. He was teaching science in the same school those days. He stayed near the school, and even during vacation used to visit school. His poem blossomed in his thoughts during one such visits during hot summer season, when memories of his dead brother flashed in his mind. Years ago, he lost his younger brother, and there stays a mango tree in the courtyard of his ancestral home. While observing the mango tree in the school veranda, his memories climbed a few steps and reached his younger brother, and that pain was penned down as "Mambazham".
Mambazham & Mango tree in popular culture
How can we forget the hilarious dialogue of Mohanlal in the film, Doore Doore Ou Koodu Koottaam? "Salt Mango Tree" still lingers in our memory and makes us laugh. Mohanlal's association with Mambazham can never be ignored easily. He acted in two films, Kilichundan Mampazham (2003) and Mampazhakkalam (2004) which got released in a small time gap. The romance between Abdu and Amina & the song while carrying a boat full of mangoes. How can we easily forget "Annarakkanna Vaa" song from Bhramaram where the child calls Moovandan Maav. The song had a version in Mohanlal's voice too.
"Kilichundan Mampazhame, Kilikothaa Thenpazhame….." Though the lines look simple, it was not so simple for Beeyar Prasad to pen his maiden lyrics. When he met Priyadarshan to write the lyrics, script was only half written. Sreenivasan told him that movie title is Kilichundan Mampazham. Priyan gave him the song situation and Vidya Sagar gave him the tune. But it was not easy for Beeyar to 'fall' into the tune and he roamed kilometres inside that hotel room in Chennai.
Then he started thinking with the word Kilichundan Mampazham. Suddenly an idea struck his mind. The idea that, though many birds came flying the heroine kept waiting for him like an untasted mango. The first four lines of the song were born! Suddenly he got a childhood memory where his cheek got burned with mango stain, and he penned it down as "Innu Manjunapol Pollidunnu Nee Kadam Thannorummayellaam….." The director who was not much interested in the new lyricist at first, got impressed by this single line.
The root strength of certain beliefs
Like those tender mangoes fallen and spread on ground, people of older generations also have a few thoughts and memories spread in their mind. Some of them are regarded as a part of culture, while some others as mere superstitious beliefs.
Old people say, mango tree planted in the southern side has short life span. When someone dies in home, the mango tree planted in the southern side of backward also dies. Even now, the wood for cremation is collected from any mango tree planted in the southern side.
Mango tree blossoms earlier, was considered as a bad omen. Never desire too much seeing mango flowers and your own children; Stones are thrown only to mango trees with fruits…. You can find countless sayings with 'Mango' which have not shed from common talks.
Those days, if mango tree delays in blossoming, some cruel activities were also conducted. 'Mothiram Idal' (Putting ring) is one such cruel activity done on Naattumaav. The bark of the tree is peeled off resembling a ring. It's around 5-6 feet high. It's believed that next year the tree will definitely blossom.
Another method is to put swing in one of the lower branches of the mango tree, and swing on it, fully shaking ('disturbing') the tree. Then comes the 'quotation' team with threatening and warning, and even hurting the tree using a knife. Every day, morning or evening, they come near tree, and gently give warning message. "You didn't give mango this year. I planted you, watered and took care of you believing you will give me mangoes in return. Next year, if you don't give mangoes, I will cut and destroy you". Does a mango tree have ears? Has any of these methods turned fruitful? Only god knows…..! When it's a tale, there is no space for questioning. Right?
Mango print sari and mango chain form a part of Kerala culture
Not just the case of countless traditional curries & desserts with mango, Malayalis can't let go mango easily. Mango print dress and mango chain are favourites of a Malayali girl. There was a time when Maangapinju Maala (Chain with green mango design) was an integral part of every Kerala bride's ornament box. Now also many girls love this traditional design. Fashion of Maangapinju Maala has not faded yet.
The colour and design of this chain made it immensely popular among Malayalis. During early days, mostly Hindu brides used this design. Ear rings with mango design also became popular. Slowly it became a part of ethnic collection of everyone – a classic piece of every Malayali woman's ornament collection. But Malayalis can't claim the Mango print in dress, known as Paisley Print. Not just Malayalis, it's popular across India for centuries and regarded as an auspicious symbol. It's of Persian origin, quite popular in Indian subcontinent and West also. Mughals played an important role in popularizing this print among Indians.
Salt and mango and those old memories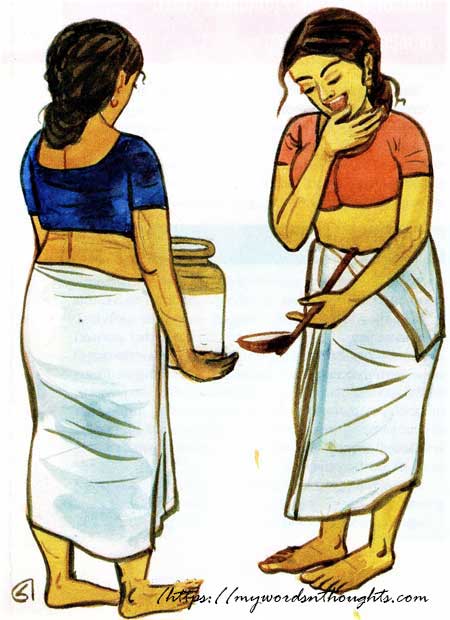 Take a bit of raw mango with a little salt and chili. When the saliva hits the taste buds, it directly leads to many nostalgic memories of childhood, mixed with sweetness and bitterness. Aiming at mangoes, collecting them or running away when the owner reaches there with a stick – all these memories look so pleasant today, right?
That girl in skirt who squeezes mango might be roaming in the countryside of your memories right now. Your good old friend who played cricket with you under the shade of mango tree might have grown up now. Even memories have that mango smell. The old granary (Pathayam in Malayalam) where mangoes are stored to get fully ripen might be holding that smell even now. It's just waiting for you to forget your busy schedule and return back to your roots. When the Bharani (the container used to store pickle) filled with Kadumanga is opened, it gives a distinct aroma.
Squeezing mango fruit into curd and adding a Bird Eye Chili (Kanthari Mulaku), when mother tricked you to eat rice, you easily fell into the 'trap', right? Do you still ponder such thoughts? Please do share below.
A song is in my tongue-tip right now. "Kondupovoo Njangaleyaa Maanchuvattil……". Let's get into a time machine, rewind a few years and go back, so that we can stand beneath that mango shade. Those Madhurikkum Ormakal (sweet memories) might be still waiting there.
Article & Image Courtesy: Vanitha Magazine
(Visited 92 times, 1 visits today)