Madavoor Vasudevan Nair and Kalamandalam Geethanandan – Two legends who embraced death while performing on stage early this year
In the 18th century Kunjan Nambiar started a new art form which integrated several elements of entertainment – Thullal, of which Ottan Thullal became immensely popular among the masses. Many legends have come and gone, and a few stayed long in the hearts of spectators. One among them was the gifted artist, Madavoor Vasudevan Nair who played a magnificent role in the recent times to popularize this art form. Padmabhushan recipient, Madavoor Vasudevan Nair, one of the leading acharyas of yet another traditional art form of Kerala, Kathakali , one among the last practitioners of the south Kerala style (Kaplingadan) school of the classical dance-drama.
Both these legends have one thing in common, a fulfilled desire which every artist dreams of – To leave the eternal world while playing his most favourite character on stage in front of god….in front of audience. It's indeed a strange co-incidence that both these renewed artists of the respective art forms left us so unexpectedly while performing on stage, and that too, within a short interval of time in the early 2018.
Death of two legends while performing on stage within a gap of 1 week or so is so surprising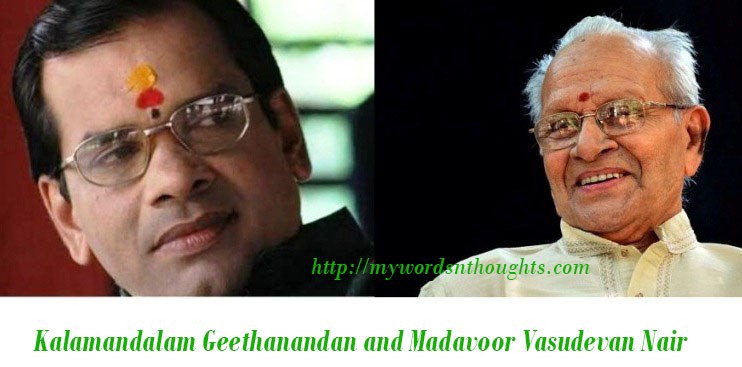 Kerala's art world couldn't easily accept the death of one of the most renowned Ottan Thullal artist, Kalamandalam Geethanandan on 29th January 2018. It was indeed surprising to many that he fell down in the course of time as a Thullal artist with costumes, while performing on stage. He collapsed on stage while performing at Avittathur Mahavishnu Temple in Irinjalakuda in the late evening around 8 pm. He was only in his late 50s, with many contributions to Kerala art still in pending stage. He was so early to go. He played a great role in popularizing Thullal among masses in the recent times and a leading guru too.
It was a great shock to art lovers when it lost one more artist in similar fashion within a small interval of time. Kathakali's favourite artist Madavoor Vasudevan Nair left the world on 6 February 2018 while performing Raavan's Thiranottam in Rambha Pravasam, that too in a dramatic moment. He was 89 years old. Though many were sad with the demise of one of pioneers of Kathakali in the modern times, as an artist it was something like getting Mukti to such a renowned artist and a devotee of Vishnu, and every reader would agree with this statement. It's really a surprising co-incidence that Kerala lost two renowned artists of traditional art forms, while performing on stage, that too within a short interval of 1 week or so, something which is not heard of earlier. It's indeed fortunate for a blessed artist or professional to leave the world while doing his profession or performing live before live audience.
Kalamandalam Geethanandan popularized thullal among the masses
After Kunjan Nambian, someone who carried forward his legacy was Malabar Raman Nair, who fully dominated the scene in the early 20th century. After Raman Nair was gone, the artist who continued the legacy was Kalamandalam Geethanandan, who popularized the art in India and abroad. Kesavan Nambeesan, his father was a Thullal artist who taught him everything about this art form. Later he joined Kalamandalam, where he was guided by Kalamandalam Divakaran Nair. He bi-hearted many stories, and he realized that his tastes in dance, acting and music can be fully exhibited through Thullal art form.
He experimented and added many new elements to Thullal, taking inspirations from Kathakali and other art forms and succeeded too. Saugandhikam, Kiradham, Garuda Garvabhangam etc are some of his glorious moments on stage which earned acclamation, and he frequently presented them in different shades. His sense of humour, body language and energetic presentation added new life to the mythological characters he played on stage. He played a magnificent role in adding humour elements in many of the classic works of Kunjan Nambiar and well explored on stage what the great artist told through words, taking Ottan thullal to next level.
He often searched characters and people of distinct traits from different fields of social life and link with his mythological characters and awoke laughter among the audience, which made him indeed popular among the masses. He used to add some instant elements too while performing on stage. He made musical instrument, Idaykka a part of his performances, though it was not common in this art form. Kothachira of Palakkad is his hometown, and similar to the native artists like Kalamandalam Gopi, Balasubramanian, he was very much interested in melam, and that's why he added Idaykka to his stage performances. Gamakadhwiti – a musical form using the combination of idaykka and mridangam inspired him a lot.
Though many criticized for his inspirations from Kathakali, he completely ignored all those, and fully concentrated to entertain audience in whatever way he can. He was fully supported by his fans too. Apart from his contributions to thullal field, he also succeeded as an actor in entertainment field. He didn't want to keep himself isolated from other art forms, and dreamed to succeed in varying art forms too. After got noticed through film roles, people easily identified him on festival maidans, and it helped him to popularize his art forms more. For state art festivals, he became a leading guru too, and disciples won prizes at state level competitions.
He also earned countless awards and recognitions and his talents were recognized by Kerala Sangeeta Nadaka Academy and Kerala Kalamandalam. He dreamt the recognition of Thullal in the national level, and during his last days he was working restless to fulfill this dream. Through the immense contributions he gave to the field, he placed Thullal almost at the same level of Kathakali and Ottan Thullal. If he had not left us, he would have glorified the field for next two decades giving immense contributions. Yes, in the big drama directed and played by time, we are all only mere actors, and small mishaps happening while performances may not be justified even with the course of time.
Madavoor Vasudevan Nair – the leading Acharya of Kaplingadan style of Kathakali dance form
On January 14, Madavoor performed in Kathakali village, Airoor. He showcased Ravana in Bali Vadam Aattakadha. Though he was stepping towards 90, he surprised the audience through his body language and movements and facial expressions. With flexibility he handled Thiranottam forgetting his age. The appearance of Raavana just before kidnapping Sita & natural presentation of Ravana during the killing of Jadayu – he showcased his talents in Kathi role of Kathakali and shined on stage. He collapsed on stage while performing Ravana's Thiranottam in Rambha Pravesham and death danced on stage stepping on Madavoor's body performing Parakaya Pravesham magic. It's nothing short of a 'Veera Mrithyu' (eternal death) for a blessed artist.
A simple man with a simple way of living, it was Madavoor's true asset as a person without any makeup. A disciple of Chenganoor for a Jupiter year, he followed his guru's legacy throughout his life journey. His early training was under Parameswaran Pillai. Kaplingadan with south Kerala style, he performed on numerous concerts, both Pacha and Kathi and almost all mythological characters. He was believed to have some shades of his guru Chenganoor in acting. Though he started off playing Pacha (female roles) during initial days, he gained prominence in Kathi roles later.
He served as the head of South Kerala style in Kerala Kalamandalam. At that time, Kalamandalam Ramankutty Nair also served as a teacher there, and both entered history books as Kathi artists of Kathakali who received Padma Bhushan. He followed the legacy of his guru Chenganoor and was a pioneer of Kathi characters such as Ravanan, Duryodhanan, Narakasuran, Jarasandhan, Khadolghagan, Baanan, Hiranyan, Keechakan etc. While Kalamnadan Ramankutty Nair ruled Kathi roles on stage during his glorious years, Madavoor created a niche of his own following south Kerala tradition. He never compromised his style or expressions with changing times and also learned fame as a leading teacher in the field. Kalamandalam Rajasekharan is one among his successful students, and Madavoor presented and taught south Kerala School of art.
While ruling the stage as a pioneer of Kathi characters, he left the stage without telling anyone. Apart from a leading artist and teacher, he also served as an administrator of Kerala's biggest art school – Kerala Kalamandalam. He practised what he learnt from his guru and till his death he safeguarded the south Kerala school of art as its Acharya.
Read a few articles related to Kerala art, traditional music and dance forms followed since many decades and centuries. Here is the page link. Click on the images in the gallery to read
(Visited 459 times, 1 visits today)