Kozhukatta Payasam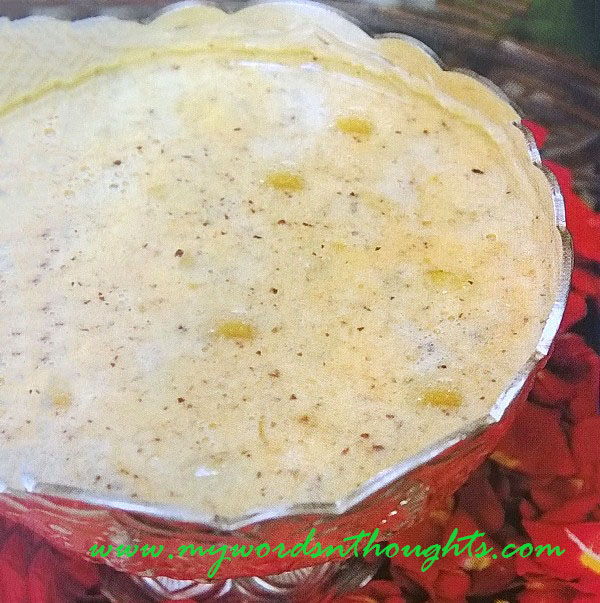 Ingredients for Kozhukatta Payasam:
To prepare Kozhukatta:
1. Coconut scrapped – ½ cup
2. Jaggery powdered – ¼ cup
3. Rice powder – ½ cup
4. Cardamom powder – A pinch
5. Ghee – ½ tea spoon
6. Water – ½ cup
To prepare Payasam:
7. Milk – 3 cups
8. Milkmaid (Condensed milk) – ¾ tin
9. Cardamom powder – ¼ tsp
10. Ghee – ½ tsp
How to prepare Kozhukatta Payasam?
1. Add scrapped coconut and jaggery to a pan and fry in medium flame.
2. Jaggery should melt completely. Stir occasionally.
3. When it turns thick, add cardamom powder and mix well.
4. Take off from flame and allow the mixture to cool.
5. Grease your hands with a little oil and make balls from this coconut mixture.
6. In the given measurement, you can make 35-40 balls.
7. Mix ghee and water in a pan and boil it well.
8. Take rice flour in another plate and add boiling water to it.
9. Using a spoon mix the contents and prepare the flour.
10. Before it completely cools off, mix it well to prepare soft dough.
11. Make small balls from it and keep in a closed container for a while.
12. Heat milk in a thick bottomed pan and reduce to low flame.
13. Continue cooking till milk reduces its volume to half and turns thick. Stir occasionally to avoid sticking to bottom.
14. Grease your palm with ghee and press rice balls softly.
15. Place coconut ball inside it and enclose it completely. Seal the edges.
16. Now make it to perfect round shapes once again.
17. Continue the process for remaining dough left, and keep in a closed container for a while.
18. Add condensed milk and cardamom powder to milk and boil for three minutes.
19. Slowly add the balls to it.
20. Cook in medium flame for next 7-8 minutes. Then take off from flame.
Courtesy: Grihalakshmi August 16-31, 2017
Also read a few more payasam and pradhaman recipes. Here is the page link. Click on the images in the gallery to read.
(Visited 233 times, 1 visits today)