Kallappam and Duck Stew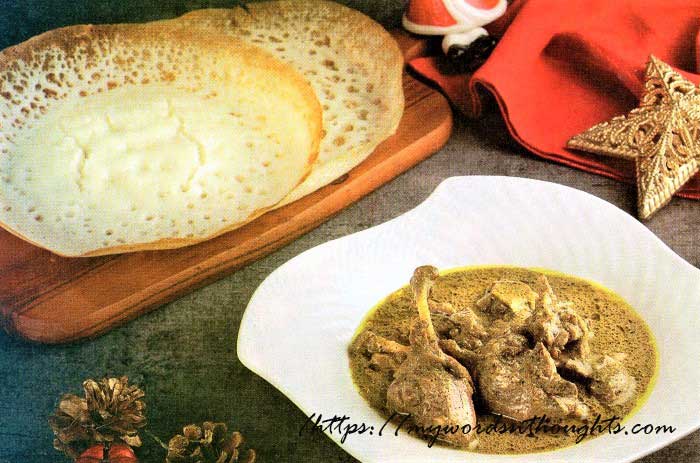 Ingredients for Kallappam:
1. Rice flour – 2 cups
2. Coconut – 1, scrapped
3. Toddy – As required
4. Salt and sugar – As needed
How to prepare Kallappam and Duck Stew?
1. Take 2 big spoons of rice flour, add sufficient water and prepare 'Kaappu', by boiling the contents till they thicken. Keep stirring while preparation.
2. Extract milk from coconut.
3. Mix all the ingredients together, adding sufficient salt and sugar.
4. Rest the thick batter overnight and allow it to ferment. Use a big bowl to avoid overflow of contents.
5. Next day (or after 6-8 hours) you can prepare appam using the batter.
Ingredients for Duck Stew:
1. Duck – 1, cut into pieces
2. Coconut – 1, scrapped
3. Coconut oil – As needed
4. Onion – 4, chopped
Green chillies – 6, chopped
Ginger-garlic paste – 2 big spoons
Turmeric powder – ¼ big spoon
Green (Raw) coriander powder – 1.5 big spoon
5. Garam masala powder – 1.5 big spoons
Pepper powder – 1.5 big spoons
6. Salt – For taste
Curry leaves – A little
How to prepare Duck Stew?
1. Clean duck, cut into small pieces and keep aside.
2. Extract first and second milk from coconut.
3. Heat oil in a pan and sauté ingredients no: 4.
4. Add ingredients no: 5 and sauté again.
5. Add duck, salt and curry leaves, and mix the contents.
6. Add 2 cups of 2nd extract of coconut milk to it and transfer the contents to a pressure cooker.
7. Cook it till 4 whistles.
8. When pressure drops to zero, add first extract of coconut milk.
9. Heat your duck stew and put off the flame. There is no need to boil.
Courtesy: Vanitha Magazine December 10-23, 2022
Note: If you use raw coriander powder for this preparation, the thick gravy of the curry gets a green colour. If possible, use freshly powdered coriander seeds.
Read a few more duck recipes. Visit my page.