Kaabil Review – Hrithik shines in every frame of an average script
So, the wait is over and one of the most awaited movies of the year 'Kaabil' got released on the occasion of Republic day. Apart from 'Hrithik' factor the movie also remained in spotlight for the inevitable clash with King Khan's Raaes, unfortunately the movie also got released the same day. As a great fan of both these stars, I would love to see both the movies performing well at box office, and yes it is!
Both the movies made an impressive opening at box office. In terms of collections though SRK's gangster film has an upper hand over Hrithik's revenge saga, mouth-to-mouth word may change the equation in future days at box office. Though I have not watched Shah Rukh starrer yet, I would like to give a small note on Kaabil.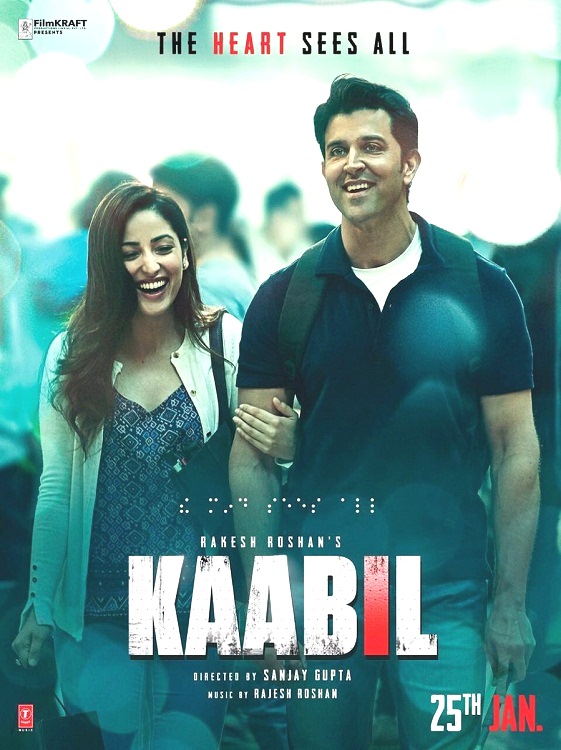 Papa's movie
Hrithik was launched by his papa long back in year 2000 through 'Kaho Na Pyar Hai'. Since then the duo-combination has set fire box office records several times. Though Rakesh Roshan didn't wear director's cap this time, he carries off his role as the producer. Hrithik's uncle composes music for this film as usual. And he included two of his finest early compositions – Dil Kya Kare and Saara Zamane in the music album. Dil Kya Kare is only a promotional song, not included in the movie. The movie is directed by Sanjay Gupta who has earlier contributed several action thrillers to Bollywood.
What's this movie about?
I should say it's an innocent love story of two blind people which later transforms to a revenge saga. This formula has been explored several times on Bollywood screen before, and still popular. Though it's a perfect masala potboiler, it's one of the cute stories Bollywood witnessed in the recent times. It also adds a few of flavours which a Bollywood fan expects to see onscreen. The lead roles are portrayed by Hrithik Roshan and Yami Gautham and real life brothers – Ronit Roy and Ronit Roy in the negative roles as brothers. Bollywood has rarely witnessed real life siblings playing siblings onscreen, that too in negative roles.
Kaabil – Movie review
If you are in a relaxed mood and want to watch a masala movie this weekend, Kaabil is a good choice, if only you are not expecting too much. For an ardent Hrithik fan, it's a perfect choice and paisa vasool, as you are able to see different shades of Hrithik throughout the film. You can see Hrithik as a cute innocent lover and dangerous killer, and in this movie, you may miss his dance moves for which he is best known for.
Hrithik has done a lot of background work for the film, and as an innocent lover, he looks cute onscreen. It's hard to believe that this actor is 43. He appears like a lad of late 20s or early 30s onscreen. He has also done an impressive performance throughout and he gives a delightful visual treat. He appears in almost every frame of the reel. Some of the dialogues of the movie too offer light moments to cherish. Yami Gautham looks OK, and they together form a cute couple onscreen. Their romantic scenes are well-pictured.
But what I feel is the story could have executed much better, particularly in the second half. Script is not great, but average, and the success of the film solely depends of the performances. Whole film revolves around Hrithik, and offers Hrithik fans a visual treat. Music is only average, and the supporting star cast had less to do in the script and execution. But they have done their parts almost without flaws. The movie definitely has many loopholes, and a few foolish mistakes. Yet it's definitely a one-time watch.
Comparisons with Mohanlal's performance in Oppam last year
Mohanlal played the role of a blind lift operator in Priyadarshan's directorial venture in Malayalam – Oppam. Movie was released just a few months before the release of Kaabil, and emerged as a major blockbuster. The movie garnered positive reviews for its plot and direction and Priyadarshan is to remake the film in Bollywood with Ajay Devgan playing the key role of blind protagonist. Obviously comparisons will be drawn.
Since the beginning of the first frame, I compared the performance of Hrithik with Mohanlal, and I should say Hrithik couldn't beat the senior's performance. Also as I have watched Oppam most recently, I couldn't see Hrithik's movie as a fresh plot, originally inspired from a couple of foreign movies.
My ratings
I can harmlessly give 3 to 3.25 out of 5 for this revenge saga. I would have easily given it 3.5 ratings if I had not watched Mohanlal starrer Oppam. Both the movies can be categorized as thrillers. But Hrithik has definitely given one of the finest performances in the recent times. After a series of setbacks, I am happy to see Hrithik returns in a bang. Success of the movie is very important, after the disastrous Mohenjo Daro and currently the movie is doing great at box office. Now I eagerly wait to see Ajay Devgan's performance as a blind man for the Hindi remake of Oppam.
Kaabil contains necessary ingredients of a masala entertainer and is definitely a one-time watch. You can take your family or friends to nearby theatres to watch this film. I recommend Kaabil for movie buffs who want a perfect Hrithik entertainer. Enjoy!
Read

a few more films reviews

of new generation cinema written by me. Here is the page link. Click on the images to read.
(Visited 285 times, 1 visits today)