Jagga Jasoos Review – Get ready for a fantasy ride
How would it appeal to be, if you are in a strange world filled with fantasies, animals with some naughty behavior, background resembles an old fairy tale; in short how will you feel like if you have entered Alice in Wonderland? Jagga Jasoos offers the same things for you, perhaps never experimented on Indian screen before. It appeals to audience like a desi version of Disney world. Just forget the story, logic and everything. Just watch what the visuals on screen bring for you, and where you are leading towards. Here is my review for Jagga Jasoos.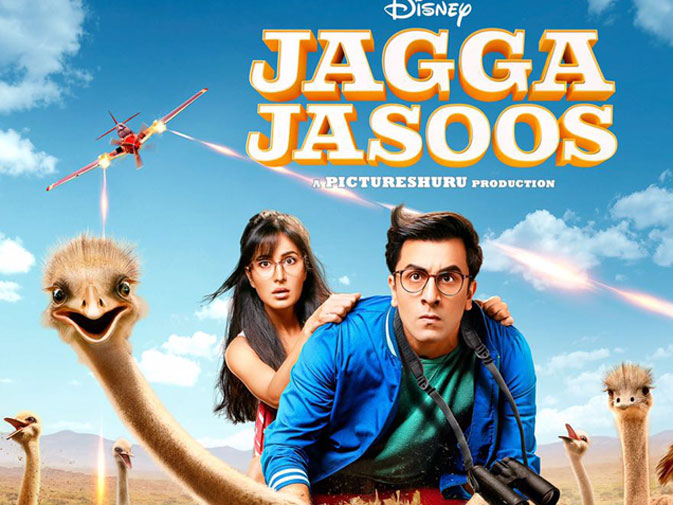 What's Jagga Jasoos really about?
It's the story of a son searching his father, and the hurdles he face to fulfill his mission. And throughout his journey, a journalist gives him her support. Doubtlessly it's a new treat of a simple theme which has been plotted several times on Bollywood screen, and the journey through a fantasy world and joyful moments place the movie in a new level.
Anurag Basu – The real star
It took almost four years in making. Anurag started off without a complete script in hand, and he changed the script many times and re-shot many scenes too, mounting the total cost to 100 crore+, which is not at all easy to get back. Earlier too, many delayed movies have received stipulating and overwhelming response from public – Mughal-E-Azam and Pakeezah being the best instances. The director has also risked himself by attempting something new, and took a new path Bollywood has never experienced before. We can see glimpses of his early venture, Barfi here and there, though the director cleverly hides them.
In this new path filled with multiple fantasy elements, he wisely planted different animals, tribal life, north-east culture and many more, which have been rarely explored on Indian screen earlier. Hats off to the director who completed this delayed project on his will even after facing so many hurdles, which include the real life breakup of its lead stars Ranbir & Katrina and mounting of expenses, almost doubling the estimated figure calculated a couple of years ago. And a real thumps up to the camera work of Ravi Varman who added extra colour to each and every beautiful frame of the movie. Camera work is so amazing, matching the standards of the direction, and so is the action choreography too.
It's not easy to carry the whole film without boring through songs only, with less dialogue. Though the director can't claim for a strong script, he managed to keep engaging the audience through the dialogues delivered in the version of songs, perhaps never experienced on Indian scene before. He also gave an extremely fresh look to Ranbir, and his unconventional role as a singing hero is definitely going to stay in audience's hearts for a while.
Ranbir Kapoor is the real star in terms of performances
It's not easy for a hero to interpret what the character carries in his mind, without using dialogues. With every movie, Ranbir's potential to convey a character to audience is improving. In fact he surprises audience in many occasions, either in emotional scenes or in humour scenes, with correct modulation how he expresses himself. Ranbir's performance in Jagga Jasoos is definitely one of the best performances of the year, and one of his career-best performances too. Definitely his role as a stammering college lad is phenomenal. Though he has done a stammering boy's role in Ajab Prem Ki Ghazab Kahani earlier, the emotional scenes he played onscreen are quite matching with 'Barfi', the actor's work with the same director last time. Through his role as Jagga, he shows how the acting skills of an actor can lift the movie to next level.
As an actress Katrina Kaif is still to improve a lot. I think after every Katrina film, every critic recite the same words. Yet in this film, she has done her best, and she looks absolutely perfect in her comedy timing and the role of Shruti she portrayed in the film. Her scenes gave fun moments and laughter at regular intervals, and contributed to the film as well. After all, Katrina has received success in this kind of funny and entertaining roles than emotional ones. The supporting star cast including Saswata Chatterjee and Saurabh Shukla has also done their part best.
Story is the real drawback of the film
Direction is fine, performances are nice, camera work and special effects are of high standard. But the real drawback is lack of a strong script. In a loose script, the director added many spices and fantasy elements, giving it a new treat. There are several plots started nicely, but not explored or executed perfectly. The appearance of 2-headed villain in the climax scene also leaves a few puzzles behind. Is the director thinking about a sequel?
My ratings for Jagga Jasoos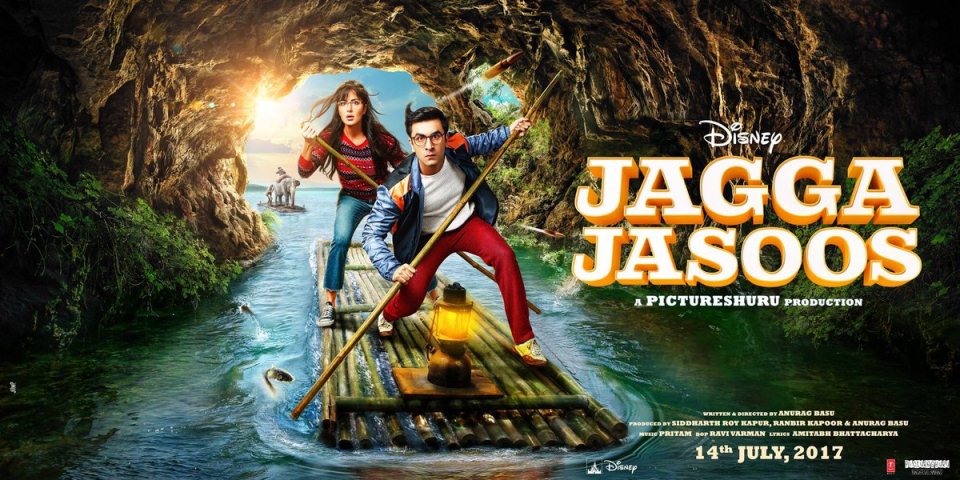 Overall the movie is packed with all elements needed to make it a hit. Music, background score, camera work, action choreography, visual effects and performances have supported the director in this film. High budget is the only issue. Otherwise it would have been a commercially successful venture at box office. Whether the movie manages to cover its shooting and other expenses cost, only time will say.
If Jagga Jasoos is compared to the big movie of the year – Bahubali: The Conclusion, the movie has the same flaws. Read my review here. Both the movies lack strong script, but great efforts have been made to give a visual treat to audience, and I have rated both these movies for their visual treat, neglecting the efforts done on scripting side. A fresh treatment Bollywood has never experienced before, I would like to give 3.25 out of 5 for Jagga Jasoos. If you are expecting a fun ride with your family members, especially kids and want to feel relaxed this weekend, Jagga Jasoos is the option. If you are serious about movies, Jagga Jasoos could be disappointing to you.
What I feel is the director took a lot of efforts to bring this almost shelved project to reality, implementing his talents and creativity. His vision too is absolutely brilliant though it's a different fantasy path he took. Solely for that, audience can support the director and go to nearby theatres and watch with your family.
Also read: Jagga Jasoos – Finally a release date
Read a few more films reviews of new generation cinema written by me. Here is the page link. Click on the images to read.
(Visited 197 times, 1 visits today)