Irachi Idiyappam (Meat Idiyappam)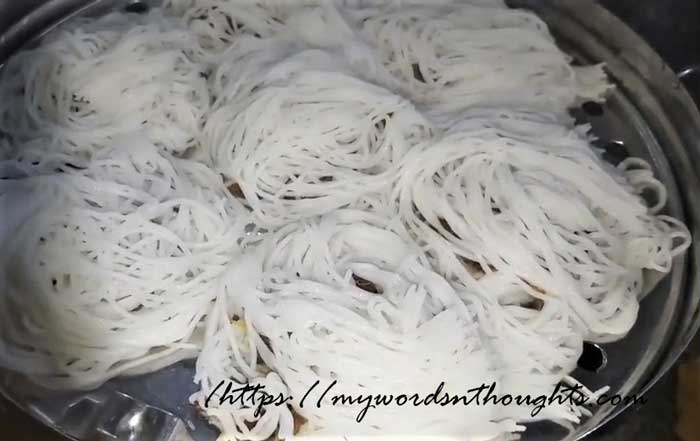 Ingredients for Irachi Idiyappam (Meat Idiyappam):
1. Rice flour – 2 cups
2. Salt – For taste
3. Chicken chopped – 250 gm
4. Ginger – 1 small piece
Garlic -5 cloves
Green chilli – 1
Onion, small – 1
5. Tomato sauce – 2 tsp
Soya sauce – 1 tsp
Pepper powder – ¼ tsp
6. Salt and oil – As needed
How to prepare Irachi Idiyappam (Meat Idiyappam)?
1. Mix rice flour in boiling water, adding salt.
2. Prepare the dough for idiyappam.
3. Chop all ingredients no: 4 into small pieces.
4. Heat oil in a pan and sauté the above ingredients.
5. Add chicken too, and sauté for a few minutes.
6. Close the lid and cook chicken.
7. When chicken is well cooked, add ingredients no: 6.
8. Mix them together and take from flame.
9. Use this chicken as filling (instead of coconut) while squeezing the dough in Idli moulds. Place the filling in between.
10. Steam cook like normal idiyappam and serve.
Courtesy: Vanitha Magazine May 1-14, 2005
Also read yet another stuffed meat idiyappam recipe.
Also read a few more rice main course recipes. Click on the images in the gallery to read.
(Visited 8 times, 1 visits today)