Instagram Reels Fame Chaithania Prakash
Chaithania Prakash is a newcomer actress associated with Malayalam cinema. She marked her screen debut with 2022 movie, Oru Ronaldo Chithram, which went unnoticed. She got recognition through her second release same year, Haya. She came to limelight through the infinite reels and dance videos, she posted in Instagram. She took a lot of efforts in recreating film sequences, and even earned appreciation from artists who played those roles on screen before.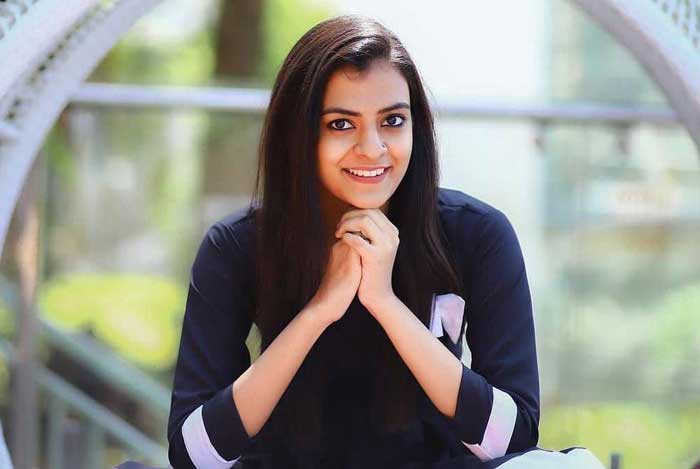 1.5 Million followers in Instagram
Chaithania Prakash has a huge fan following crowd in Instagram. In fact she gained popularity through her reels. She made her first reel while studying in class 9. It was only her curiosity, seeing others making reels and posting in social media. Within 1.5 years she earned 15 lakh followers in Instagram. She frequently puts reels in Instagram, and earns a lot of appreciation.
Her first recreation music reel belonged to movie, '3'. Actress Shruti Hassan who played female lead in '3' made it her story. When she recreated Manju Warrier's scene from Asuran, the actress complimented her through a message. Her reel from 'Uyare' was also appreciated by actress Parvathy, who played the lead role in the film.
She danced with Bollywood actor Ranbir Kapoor for a promotional video of his film, Shamshera. It was a dream moment for a 19-year old girl. The video was shot after her concept was approved by the team. Though she wanted to finish it in one take, Ranbir insisted for a second shot for perfection.
When her medical dreams shifted to acting
Kalanjur of Pathanamthitta is Chaithanya's hometown. Since 7th standard Chaithania Prakash is studying in Thiruvananthapuram. Her father K. V. Prakash is running a financial organization. They shifted to capital city to promote Chaithanya's acting talents. Mohiniattom is her favourite dance form.
During her school days she dreamt to become a doctor. Like many, her dreams also got shifted in her teens. While studying in 10th, she got attracted to acting. She engaged herself in reels, TV serials and shows like Star Magic, music videos etc. She got her first film, Oru Ronaldo Chithram through an audition. The film shot in a college campus, gave a good campus experience to Chaithania Prakash, who has opted for distant education for completing graduation in English literature. Though youngsters from 8th grade to married people played her classmates in the movie, it gave her a positive vibe only.
Chaithania Prakash – Some interesting and less known facts
1. She is trained in dance since childhood. While studying, for CBSC state Kalolsavam, she frequently earned prizes.
2. She made her first TikTok video while studying in 9th standard. When she started gaining attention in TikTok, it got banned in India and then she shifted to Instagram.
3. Her idea to recreate famous film scenes instantly clicked among viewers, and provided her first ladder to success and popularity.
4. Costumes for her videos are collected by her mother Bindu, even if taking a lot of efforts. Chaithanya is doing makeup herself for videos.
5. Shershah is her personate favourite, close to heart. Her mom giving instructions is visible in the video. Her mom shot her early videos, her best critic too.
6. She believes if we pay too much attention to negative comments, we won't reach the position where we dream about. Initially she used to get hurt with bad comments. She prefers to remember people who stood with her with positive comments and appreciation, from early days.