Eggs with Tomato Cap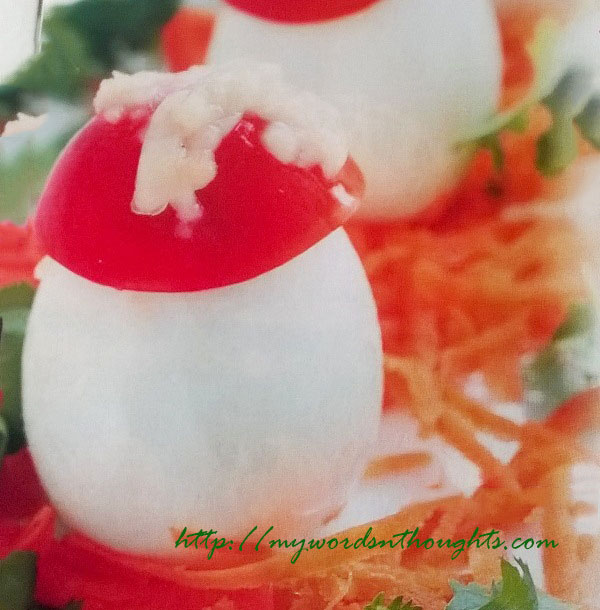 Ingredients for Eggs with Tomato Cap:
1. Boiled eggs – 10
2. Carrot – 2
3. Cheese – 5 cubes
4. Coriander leaves – As required
5. Tomato – 5
6. Chaat masala – 1 small spoon
7. Lemon juice – From 1 lemon
How to prepare Eggs with Tomato Cap?
1. After removing shell of eggs, slightly slice the lower portion of eggs so that they can be fixed on a serving plate.
2. Grate carrot and cheese together.
3. Add chopped coriander leaves to it.
4. Mix it well and spread on a serving plate.
5. Place eggs in standing position in the plate.
6. Cut tomatoes into two halves each and remove the seeds using a spoon to get red 'caps'.
7. Place each cap on the top of eggs.
8. Grate a little cheese on its top and sprinkle chaat masala.
9. ,Finally sprinkle lemon juice in the serving plate and on the top of eggs.
Archive: Vanitha Magazine April 15-30, 2010
You can read a few more egg snack recipes here. Here is the page link. Click on the images in the gallery to read.
(Visited 49 times, 1 visits today)