Do you know about Poothappattu – Song of the devil?
Similar to every art and poetry forms, Poothappattu also owns a story. It follows a tradition, closely linked with social life of Kerala, harvesting of crops in the Ponnani region, and also many more. It tells the strong story of the bond of motherhood, and a relationship between Kunjunni – a child, and his mother Nangeli. The story completes with a third character – a female ghost who has been denied motherhood. Though it's only folklore, the message it gives is really touching! Yes, we may not look for justifications or truth behind this story.
Though the Malayalam word 'Pootham' or 'Bhootham' means Ghost, it also has an inner meaning 'something which is pure'. Let us see how Pootham is sacred and pure.
The story of Pootham and Nangeli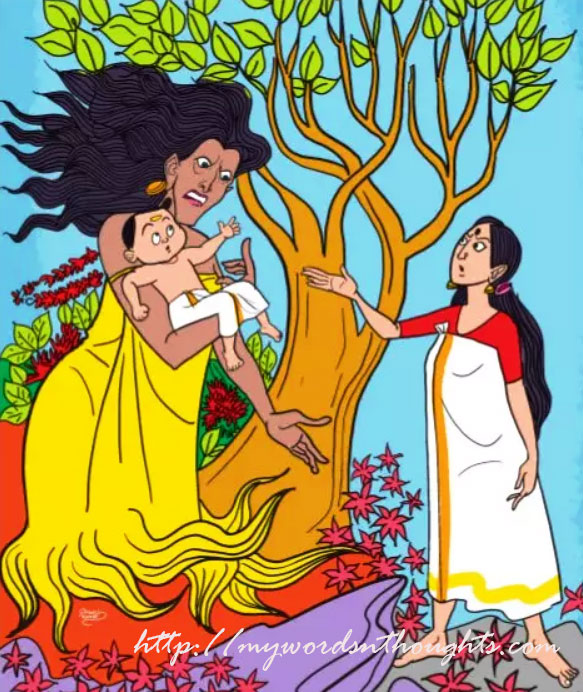 There was one female devil (Pootham) who lived behind the rocks of Parayan Kunnu, a hill. She spends her daytime peeping through the gaps in rocks. When shepherds grace cows in the nearby places, she drinks milk from lonely ones, hiding from everyone. It's the hobby of this devil to mislead people, when they are set to relatives' homes in the late evening. She may demand them for beetle box (pan box which contains beetle leaves and other ingredients). She chews pan & spits it in red colour. That's why ixora flowers are blood red – folklore says.
In the lonely nights, she loosens her hair lock and stands nearby the path laughing aloud. When some man reaches the place in the late evenings, she misguides & attracts them and takes them to nearby palm trees. Through magic she gives an illusion than top of palm trees are 7-storied buildings. When she reaches the top of the tree, she shows her true colours. She kills them, drink blood and flesh, and what left is – hair & bones. It's the story of her older days, and she has changed a lot now. Now Pootham is not cruel; or she has such bad habits. Now she is calm, but in deep grief of not having a child.
Nangeli Amma got a child after a lot of prayers. She pampered her a lot and looked after him taking extra care. Unni, the child is now 7 years, and his mother decided to send him to school for Ezhuthiniruthu (beginning of studies). She gave him palm leaves and Narayam (used to write, similar to a pen), and Unni set for his first journey to school. He wore a Kerala dhothi, and his mother kept watching him till he was away from her eyes. Unni was enjoying the sights as he walked towards his school.
Pootham happened to see him through the 'windows', when she was peeping through the rocks. She had a great desire for the child, and a mother woke inside her. She changed to a girl, and stood on his way. She promised him that if he is willing to throw away his ezhuthani and palm leaves in the nearby forest and follow her, she can help him to write with jasmine flowers in the tender leaves of mango tree, sitting beneath its shade enjoying the cool breeze. Unni believed the 'girl's' words, threw away his leaves and pen and followed the ghost.
Unni didn't return home till evening, and his mother felt worried. She went out in search of her child, calling out his name. At last she met them beneath a flower tree. Unni was in a happy mood, enjoying with the Pootham. They were making flower garlands beneath the tree. Pootham tried to scare Nangeli so that she leaves the place. But Nangeli was not willing to accept her defeat. Pootham also lust her with expensive gifts, but Nangeli was not willing to give in. She pierced her eyes and presented them to Pootham, saying that her child is more precious to her than her eyes.
Now Pootham tried to play trick with her. She created a replica of Unni using the stem of ixora plant and gave it to Nangeli, as she is blind now. But the mother could easily identify that the new child has no smell of her breast milk and hence not hers. When Nangeli was to curse the ghost, she returned the child.
Pootham was given a blessing
Nangeli too was pleased seeing the motherly love of Pootham and she gave her a blessing. When paddy fields fully dry up after Makarakoyth (reaping rice in the Malayalam month Makaram, which falls in February-march), Pootham can visit the child. As per beliefs, Pootham visits the place every Makaram season after harvesting. But she is still in search of the home in which Unni was born! Really a heart wrenching story!
It's one of the very popular poems written by Edasseri Govindan Nair. The poem owns the heart beats of Ponnani, and is loved and nurtured by all Malayalis with a villager's soul. As story says, when Pootham searches Unni in every home, children accompany her without feeling scared. It's also told that after the harvest season of Makaram in Valluvanadu regions of Kerala, ghost reaches every home playing her musical instrument (thudikott & kuzhal vili). She also wears an anklet full of bells (chilamb) making a lot of noise.
Edasseri Govindan Nair & his masterpiece work, Yakshiyum Poothavum (Poothapaattu)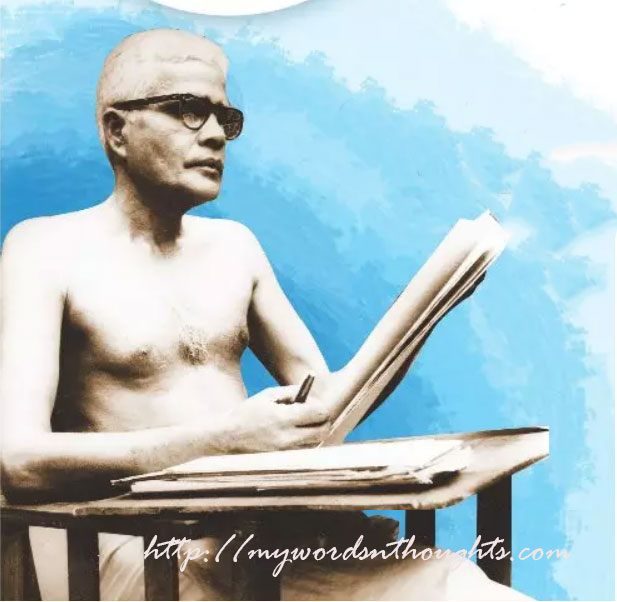 Yakshiyum Poothavum is not just a piece of poetry, but a poem with a full-length story, a visualization of Edasseri Govindan Nair's poetry work, Poothapaattu. Based on this story, a dance form/ballet has been created named 'Poothapaattu'. With a folk touch, it's presented in Valluvanadu regions of Kerala. It's a folk story passed over from one generation to the next, and being followed as a tradition. Such stories are enough to create a fantasy inside human's mind and alter his imaginations. Yakshi, Pootham, Marutha, Odiyan, Ottamulachi – there are so many stories closely connected to the cultural & village life of Kerala people. But very often, people use such ghost stories to scare others too.
Edasseri Govindan Nair was born into a poor Hindu family. He had seen the days of poverty during his younger days. He lost his father, and had to discontinue his studies at the age of 15. Yet his mother dreamt to teach young Edasseri and wanted to send him to high school. But the financial condition of the family didn't allow her to do it, and Edasseri decided to do some odd jobs to financially support his pure family. To learn accounting he moved to Alapuzha from his hometown. When he set for the journey, his mind was filled with the shivering figure of his mother, who was already ill. He intensely desired to buy a woolen cloth for his mother. He carried this intense desire in his mind.
After two months of hardship, he managed to earn 2 rupees, which was a huge amount that time, enough to buy a woolen cloth. He sent the cloth through a person from Kuttipuram. But before the present reached her, she left her. This incident shocked teenager Edasseri a lot, and later he wrote many poems pouring out his heart, his deep love towards his mother and so on. He wrote,
"Avalkk Kulirinu Kambili Thedi-
Ppinneedenno Njaan Chelke
Oratti Mannu Puthachu Kidappoo
Veedaakkadame Mama Janmam."
Who else can arrange such a folk tale on motherhood to a beautiful symphony, except Edasseri! Yes, he knew the true meaning of motherhood, and the bonding between a mother and her child.
Article & Image Courtesy: Mathrubhumi Vidhya edition
(Visited 4,428 times, 1 visits today)