Choco Flan Cake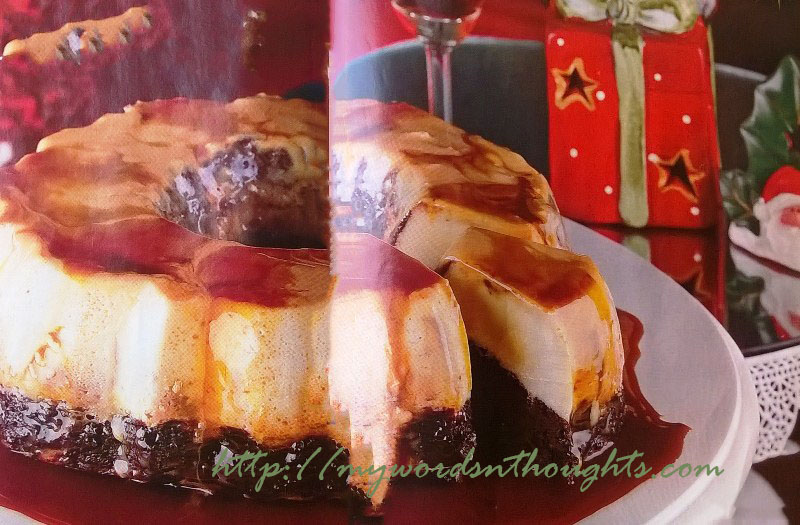 Ingredients for Choco Flan Cake:
1. Dulles Day Louche – 150 gm
2. Maida – 60 gm
Coco powder – 45 gm
Baking soda – ½ small spoon
Salt -1/4 small spoon
3. Dark chocolate grated – 100 gm
Ghee (salt less) – 85 gm
4. Buttermilk – ½ cup
Sugar – ½ cup
Eggs – 2
Vanilla essence – 1 small spoon
To prepare Flan:
5. Evaporated milk – ¾ cup
Condensed milk – 1 tin
Cream cheese – 100 gm
Eggs – 3
Vanilla essence – 1 big spoon
How to prepare Choco Flan Cake?
1. Pre-heat oven in 180 degree celsious.
2. In a greased bundt pan, pour Dulles Day Louche.
3. Transfer ingredients no: 2 in a bowl and blend well.
4. Melt ingredients no: 3 in a sauce pan and allow it to cool.
5. Add ingredients no: 4 to it, beat well the contents and make it soft.
6. Add maida mixture slowly to it and blend well.
7. Pour this mixture in the bundt pan on the top of Dulles Day Louche.
8. To prepare flan, blend well ingredients no: 5 to soften it.
9. Pour it on the top of chocolate mixture, wrap it with a silver foil and immerse in a big roasting pan.
10. Pour boiling water till 1-inch high and place in preheated oven.
11. Bake for 1 hour.
12. When pan is fully cooled, refrigerate it.
13. Immerse the pan in hot water for 5-10 minutes and flip reverse into the serving plate.
14. Pour caramel sauce on its top and serve.
Note: It's possible to prepare Dulles Day Louche at home itself. Take a condensed milk tin (without opening its seal) and place inside a pressure cooker. Remove the paper coat before you place it in cooker. Pour water till the level of the milk tin. After the first whistle, simmer the flame for 40 minutes. Put off the flame and you can use it when it completely cools off.
Also read the recipe of Chocolate Cream Flan
Vanitha Magazine December 1-14, 2017
You can read a few more delicious cake and bake recipes. Here is the page link. Click on the images in the gallery to read.
(Visited 343 times, 1 visits today)