Chilled Kozhukatta Pine Apple Payasam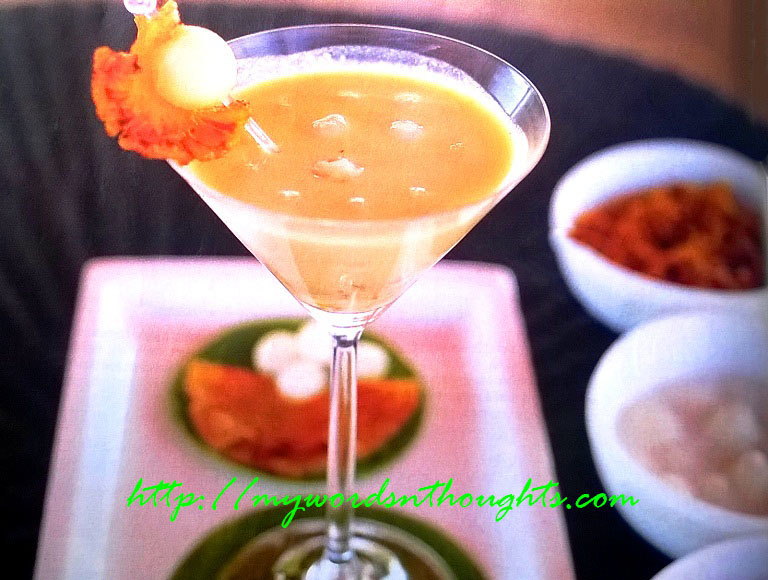 Ingredients for Chilled Kozhukatta Pine Apple Payasam:
1. Rice powder – 150 gm
2. Water – 200 milli
Sugar – 2 big spoons
3. Coconut milk – 4 big spoons
4. Pine apple finely chopped – 100 gm
Sugar – 2 big spoons
5. Coconut milk first extract – ½ litre
Cardamom powder – 1 pinch
Condensed milk – 2 big spoons
6. Jaggery scrapped – 5 big spoons + 1 small spoon (80 gm)
How to prepare Chilled Kozhukatta Pine Apple Payasam?
1. Add boiling water to rice powder and prepare flour for kozhukatta.
2. Make gooseberry sized balls out of this flour.
3. Add water and sugar to a pan and allow it to boil.
4. When sugar dissolves completely, add 4 big spoons of coconut milk and boil the contents in low flame.
5. Add the rice balls to this solution, mix well and cook for next 15 minutes.
6. Take off from flame and allow it to cool.
7. Take a thick bottomed pan and sauté pine apple pieces and 2 big spoons of sugar.
8. Sauté till contents turns dry and slightly change the colour.
9. From the rice ball solution, separate rice balls.
10. In the remaining syrup, add ingredients no: 5 and caramelized pine apple.
11. Mix the contents well.
12. Add scrapped jaggery to it and if you need extra sweetness, add a little more sugar at this stage.
13. Transfer this solution to serving glasses and put kozhukatta balls too.
14. Serve chilled.
Archive: Vanitha Magazine, September 1-14, 2016
Also read a few more payasam and pradhaman recipes. Here is the page link. Click on the images in the gallery to read.
(Visited 163 times, 1 visits today)